Keto coffee has become popular all over and for good reason. It's full of healthy fats and caffeine to provide stable energy. Whether you like cold brew or traditional iced coffee, you're sure to love this easy keto iced coffee recipe.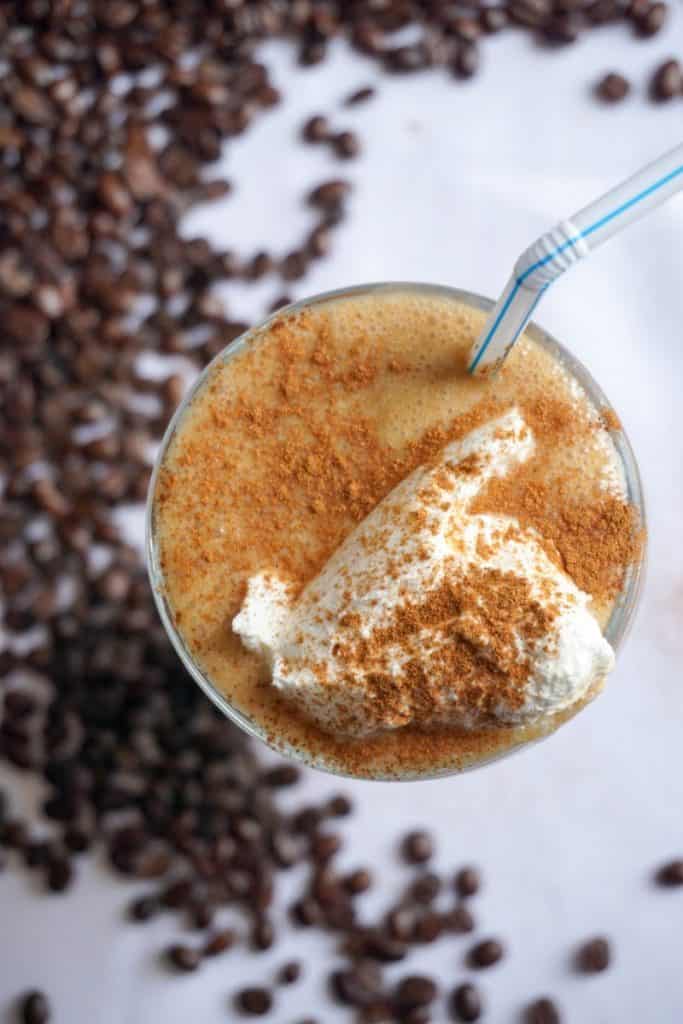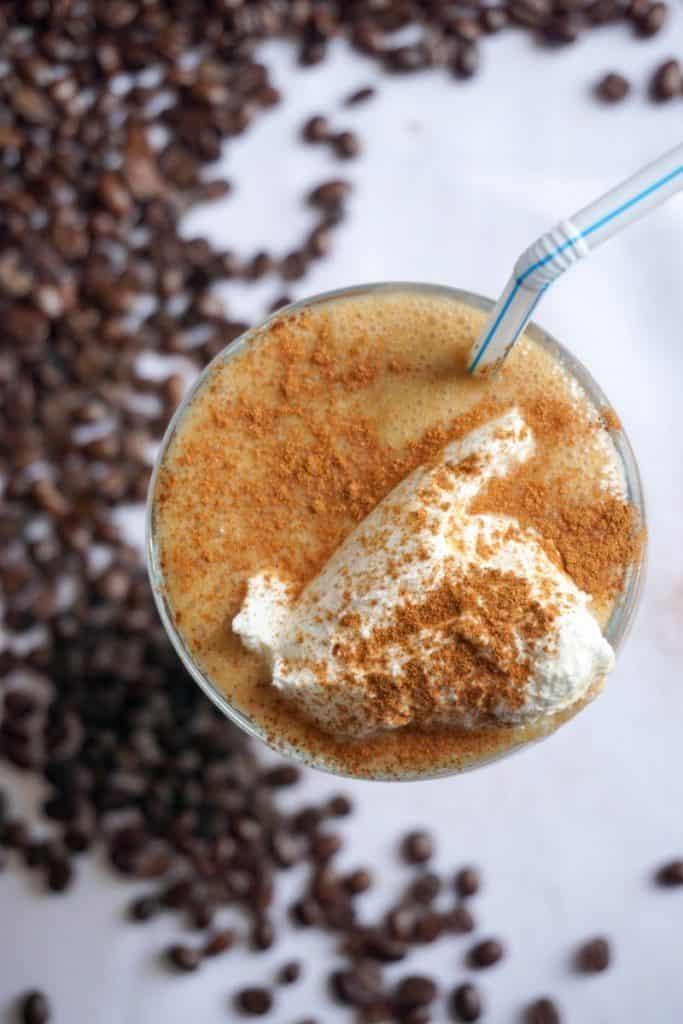 Keto Iced Coffee
This isn't your average iced coffee. To make it creamy like a Frappuccino we had to use a special ingredient. This special ingredient creates a thicker, frothier consistency. This optional, although highly recommended ingredient is xanthan gum!
If you haven't used it before you're missing out. It's used as a thickening agent and works great for soups and gravies. Since we avoid things like carrageenan, a seaweed emulsifier that can cause a lot of bloating and inflammation we instead try to replicate its creaminess with xanthan gum.
How to Order Keto Iced Coffee at Starbucks
Both Starbucks iced coffee and frappuccinos are loaded with sugar making them not suitable to be enjoyed on keto.
If you want Starbucks iced coffee on keto order the drink without any liquid cane sugar to prevent a blood sugar spike.
For more keto drink options at Starbucks check out our guide for every keto Starbucks drink out there.
Bulletproof Coffee
Our Keto Coffee is different from the standard bulletproof coffee because it is one; iced, and two uses MCT oil instead of butter. We use MCT oil and heavy whipping cream to create the creamy, fatty aspect of this keto iced coffee recipe.
The great thing about MCT oil is that it doesn't solidify when cold unlike butter and coconut oil would. Meaning, you won't have any weird fat chunks in your keto coffee! 
This keto iced coffee is going to give coffee shops a run for their money. Keto Starbucks iced coffee is tasty, but can't match this level of frozen coffee drink goodness.
Using MCT oil in Keto Iced Coffee
Warning: If you've never used MCT oil before we highly recommend starting at a lower dose than what is called for in the recipe.
We would even suggest starting with 1 to 2 teaspoons and seeing how your body handles it. Too much can cause digestive issues and discomfort at the start.
To make up for the fat macros you can just increase the amount of heavy cream. Heavy cream is calorie dense and easy to add to up the overall calories for a more satiating cup without the carbs.
Additional Ingredient Options
Similar to a Frappuccino you can get at Starbucks we have options of additional things you can add to your keto iced coffee to make it extra tasty. Aside from just sugar free syrup and heavy cream you can add things like:
Sea Salt – The perfect addition to hot or cold bulletproof coffee. It brings out the creamy flavors in the drink as well as adding some much needed sodium to your keto diet. Who doesn't love a little sweet and salty combo?
Collagen Peptides – Along with adding a host of health benefits, these will also make your keto coffee extra thick and creamy. Try a scoop in your next grande iced coffee!
Sweeteners – The 2 best options for sweetening this iced keto coffee are flavored sweet drops or sugar free flavored coffee syrups. A little can go a long way towards making your keto coffee a sweet treat!
Low carb iced coffee is so easy to customize and makes your perfect refreshing iced coffee keto friendly. Play around with the sugar free syrup and heavy cream combo you want to find your favorite. When in doubt you can never go wrong with a creamy vanilla iced coffee.
Sweetening Low Carb Iced Coffee
If you are trying to keep your keto drink sugar free there are a few things you can use to sweeten the coffee without extra carbs. Some of our favorite sweeteners for low carb iced coffee are:
Stevia– Liquid stevia is amazing in both hot coffee and low carb iced coffee. Liquid stevia doesn't have to dissolve so you can love iced coffee without tons of those little grains throughout.
Allulose– Allulose is one of our all time favorite sweeteners because it's low carb, low in net carbs, and doesn't have any weird aftertaste.
Monk Fruit– Monk fruit is a keto friendly sweetener similar to stevia and can make keto iced coffee super sweet with very minimal product. It's a great ingredient to use in low carb recipes because you can buy it as a liquid sweetener and put it into everything from keto iced coffee to butter cream frosting.
Sugar Free Syrup– Sugar free syrup won't effect the sweetness too much, more than anything it changes the flavor. However, you can always combine something like a sugar free vanilla syrup with stevia for the perfect level of sweetness.
It takes just minutes to whip up this keto iced coffee and it's way better than anything at Starbucks. You can always keep creating new low carb keto coffee drinks so long as you have a base coffee or cold brew coffee and sugar free sweetener.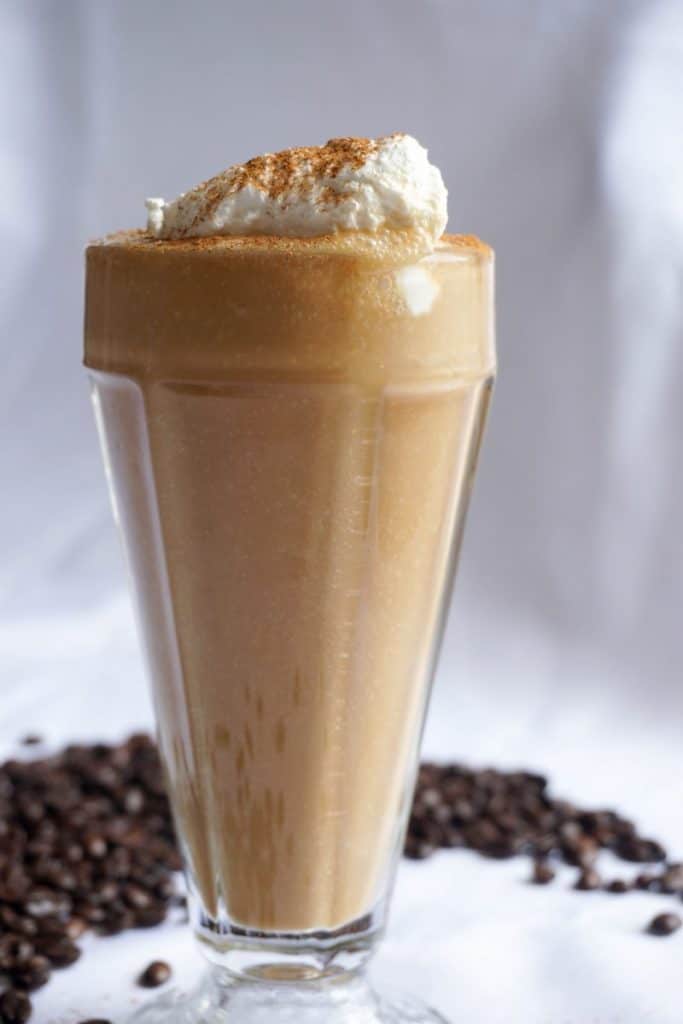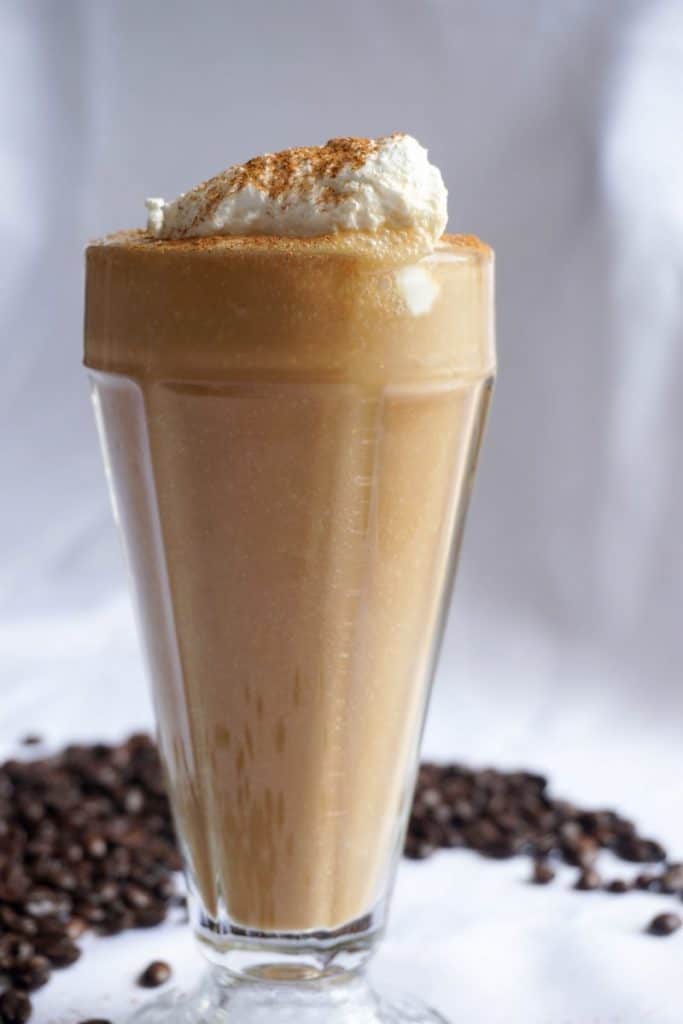 Can I Make Dairy Free Keto Iced Coffee
Some of our favorite recipes are ones that are dairy free. We often make our regular bulletproof coffees dairy free, so you can most certainly make an iced version dairy free too.
Some of our favorite dairy free milk options and substitutions are:
Almond Milk – Almond milk (unsweetened) can be a great creamy milk option.
Coconut Milk – Coconut milk can make a great replacement for regular milk because it's low carb and high in fat. You can also use coconut cream if want extra fat and creaminess.
Cashew Milk – Most nut milks are going to be keto friendly so long as they are sugar free. Just like coconut or almond milk go ahead and enjoy your low carb cashew milk.
These are just a few healthy low carb milk options that can make this keto iced coffee recipe diary free. Spice up this keto iced coffee recipe and make your perfect cup of joe!
How to Make Keto Iced Coffee
Now that it's time for your daily cup of joe let's get to barista training!
Ingredients
To make this Keto Iced Coffee Recipe you will need coffee (you can use cold brew), MCT oil, heavy whipping cream, ice, and xanthan gum.
Optionally you can add collagen peptides, stevia, salt, and sugar free coffee syrups. Whipped cream is also always a good option for topping both hot and cold coffee.
Making Keto Iced Coffee
To begin making your coffee and allow it to cool completely, we often put it into the fridge to chill. You can leave it overnight or simply wait a few hours.
For the iced coffee blend together all ingredients until frothy. This is also the time to add in any optional extras you want like collagen and sugar free syrups. If using MCT oil make sure to adjust the amount based on how much your stomach can handle.
Once smooth and blended pour into a cup and top with whipped cream and flakey sea salt.
More Coffee-ish Recipes
If you're a caffeine addict or just love the taste of coffee you should give some of our other coffee based recipes a try. Our favorite sugar free keto drink recipes are:
Bulletproof Coffee – The OG of low carb coffee, bulletproof coffee is always a must know recipe. It's so easy to make and change up the flavor with sugar free syrups like sugar free caramel or sugar free vanilla. Plus it has a super low carb count to keep it keto friendly.
Keto Creamer – Looking for something delicious and creamy to add to your morning coffee? Make a big batch of our delicious keto creamer.
Keto Coffee Cake – The absolute best sweet breakfast recipe. Pair this with a cup of coffee and a good conversation.
Keto Tiramisu – One of my personal favorite desserts is Tiramisu. This recipe is a simplified version which is easy to make even if you are not an experienced cook.
These are some of our favorite low carb recipes for strong coffee drinks without a ton of sugar alcohols or carbs. Plus they all have tons of flavor options so you can add heavy cream or more sweetness and adjust the nutrition information.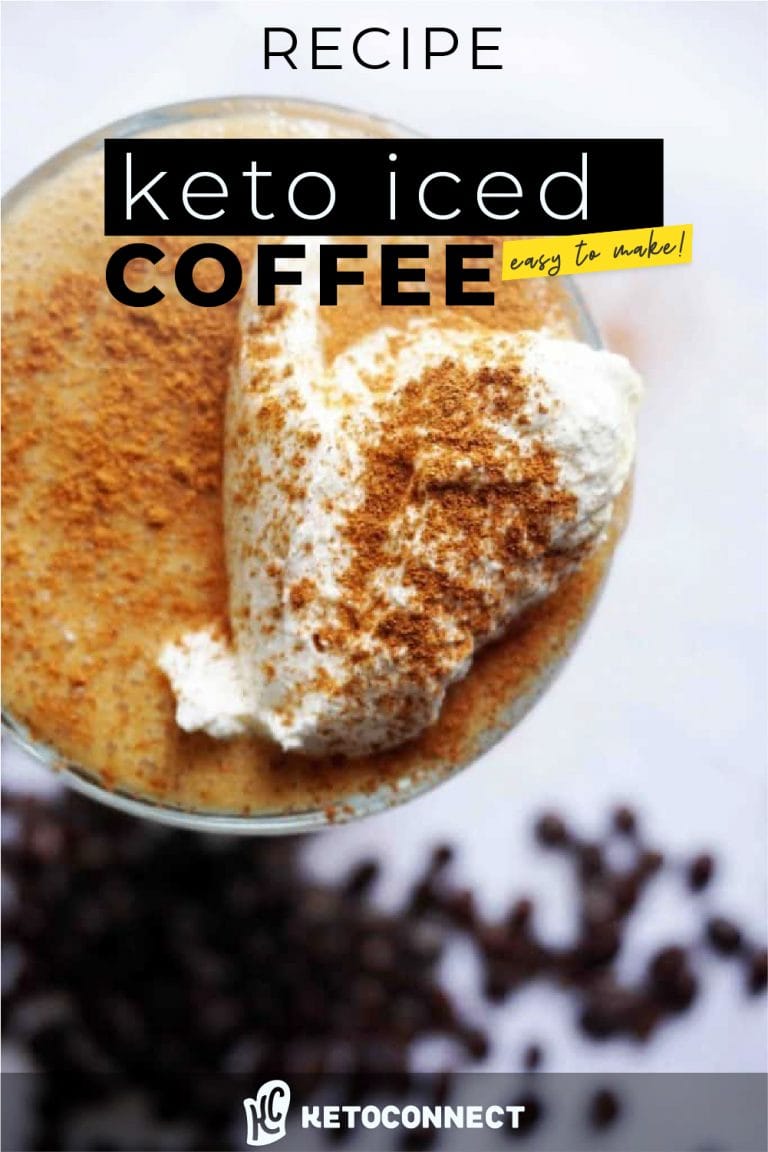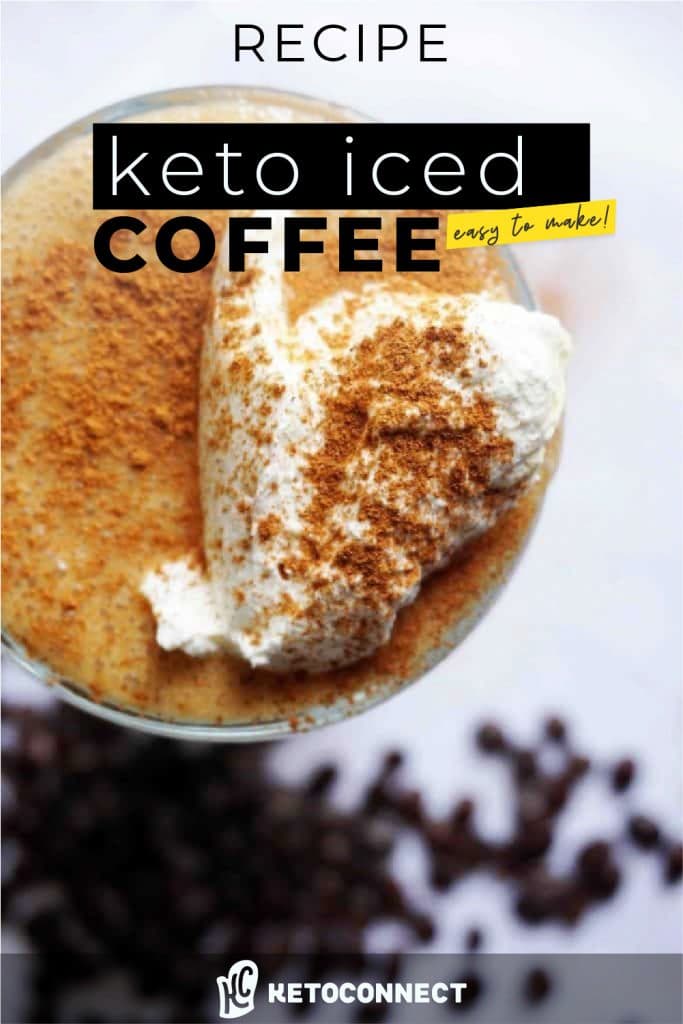 Recipe can be quickly added to MyFitnessPal – Search "KetoConnect – Keto Coffee"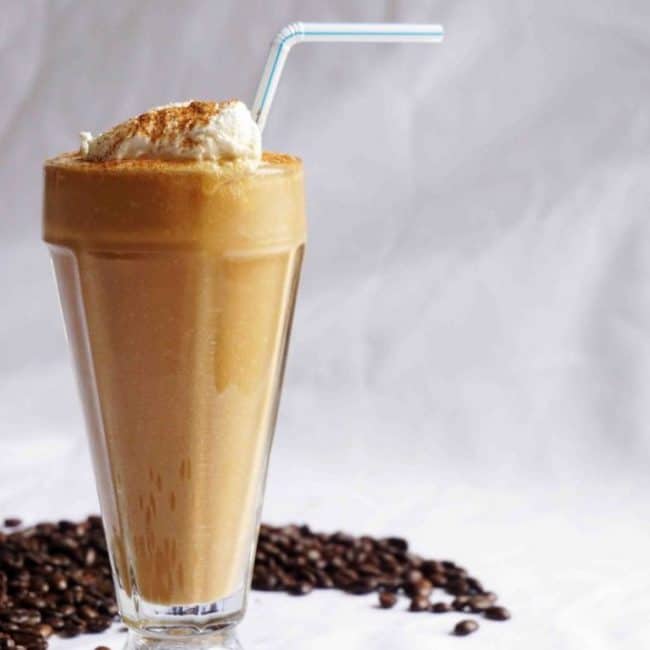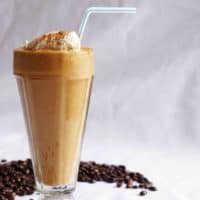 Keto Iced Coffee Recipe
This Keto Iced Coffee recipe will step up your coffee game and help you start your day off with a good amount of fat.
Total Time 5 minutes
Servings 1 serving
Calories per serving 357kcal
Prep Time: 1 minute
Cook Time: 4 minutes
Instructions:
Make coffee and place it in the fridge for as long it takes to get cold. You can also make it the night before so it's ready to go in the morning.

Add cold coffee and the rest of the ingredients to a blender and combine until frothy.

Pour into a glass and enjoy!
Notes
Use less than 1 tbsp of MCT Oil if you have not built up your tolerance to it.
Nutrition Facts
Keto Iced Coffee Recipe
Amount Per Serving
Calories 357
Calories from Fat 351
% Daily Value*
Fat 39g60%
Saturated Fat 31g155%
Polyunsaturated Fat 1g
Monounsaturated Fat 5g
Cholesterol 41mg14%
Sodium 102mg4%
Potassium 197mg6%
Carbohydrates 3g1%
Fiber 2g8%
Sugar 1g1%
Protein 1g2%
Vitamin A 441IU9%
Vitamin C 1mg1%
Calcium 33mg3%
Iron 1mg6%
* Percent Daily Values are based on a 2000 calorie diet.