Cast iron griddles are a must-have when cooking meats. Unlike pans, they heat up evenly and hang onto this heat for a long time, making it the most effective way to prepare restaurant-quality steak.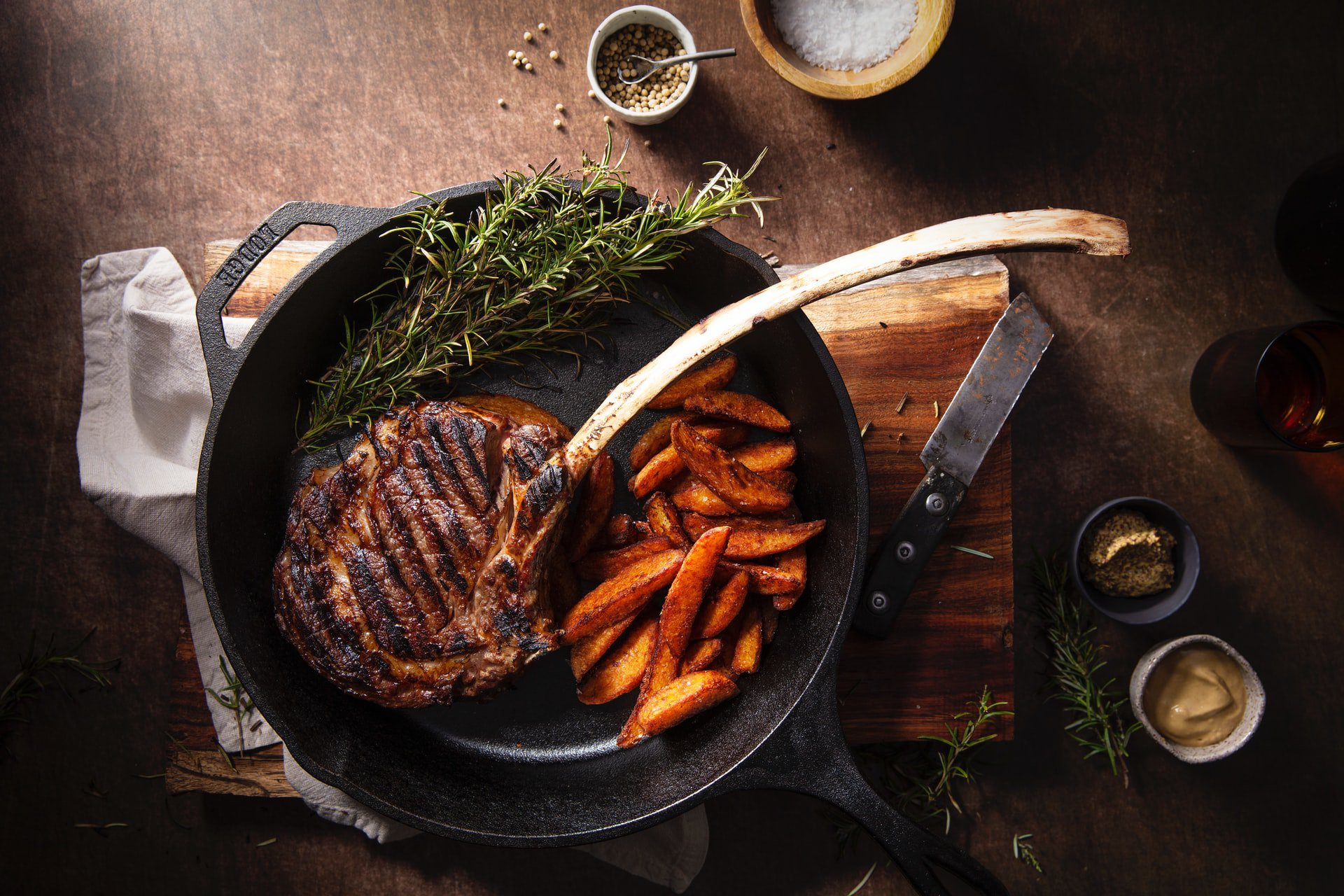 Cast iron cookware also doesn't contain toxic chemicals like Teflon, which negatively impacts your health.
So in this post, I'll review the 10 best cast iron griddles while covering the pros and cons.
Lodge Cast Iron Grill Pan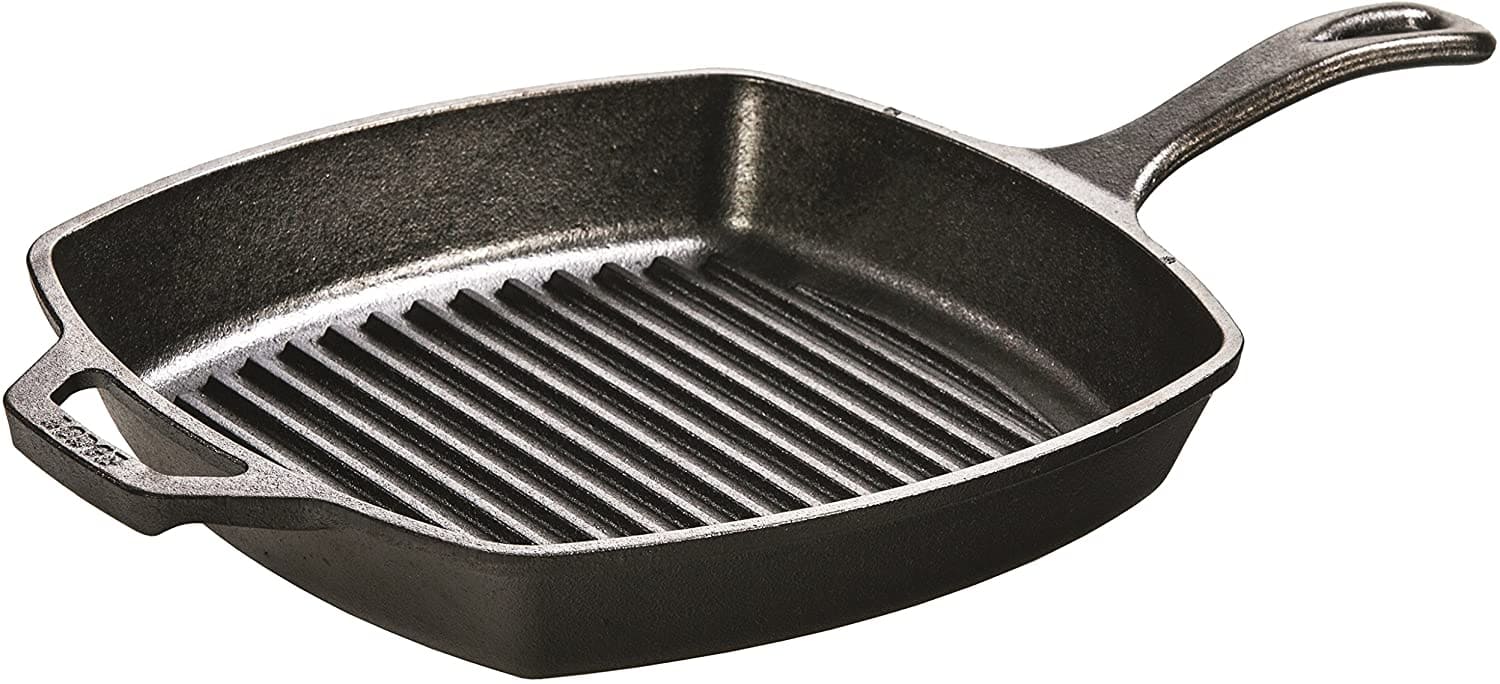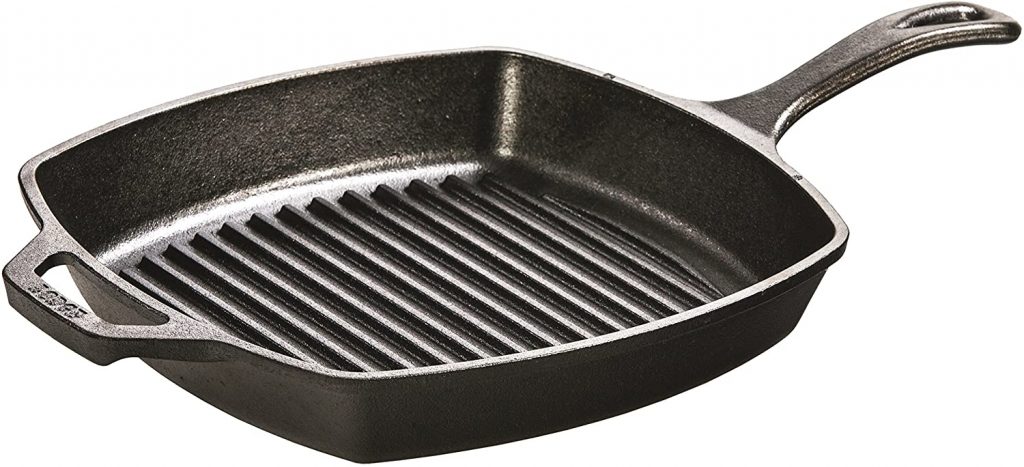 Best For: New cast iron enthusiasts looking for an affordable yet quality grill pan.
This 10.5 inch Lodge cast iron skillet is an affordable option if you want quality without breaking the bank.
Here are the specs for this Lodge grill pan:
10.5-inch diameter
Five pounds heavy
3.5-inch high ridges
Seasoned with organic oil and spices, you can use it immediately after buying. Because of its quality, the Lodge will last forever, and you won't have to buy another cast iron pan. 
I like this grill pan because the handle is fused to the pot. Since there are no screws or rivets, you won't have to worry about your handle coming loose. There's also a helper handle on the other end so you can grip it without slipping. 
The manufacturing process is simple. Lodge pours hot molten metal into a sand mold, giving the grill pan its shape. The problem with this is, the handle quickly gets hot. So when cooking meals, use a thick glove or cloth.
Pros
It's lightweight making it easy to travel with
You can pop it on a campfire
It's compatible with your oven
The handle is connected to the pot
Cons
The seasoning is uneven and lacking, so you'll need to re-season it
Lodge Pre-Seasoned Reversible Grill And Griddle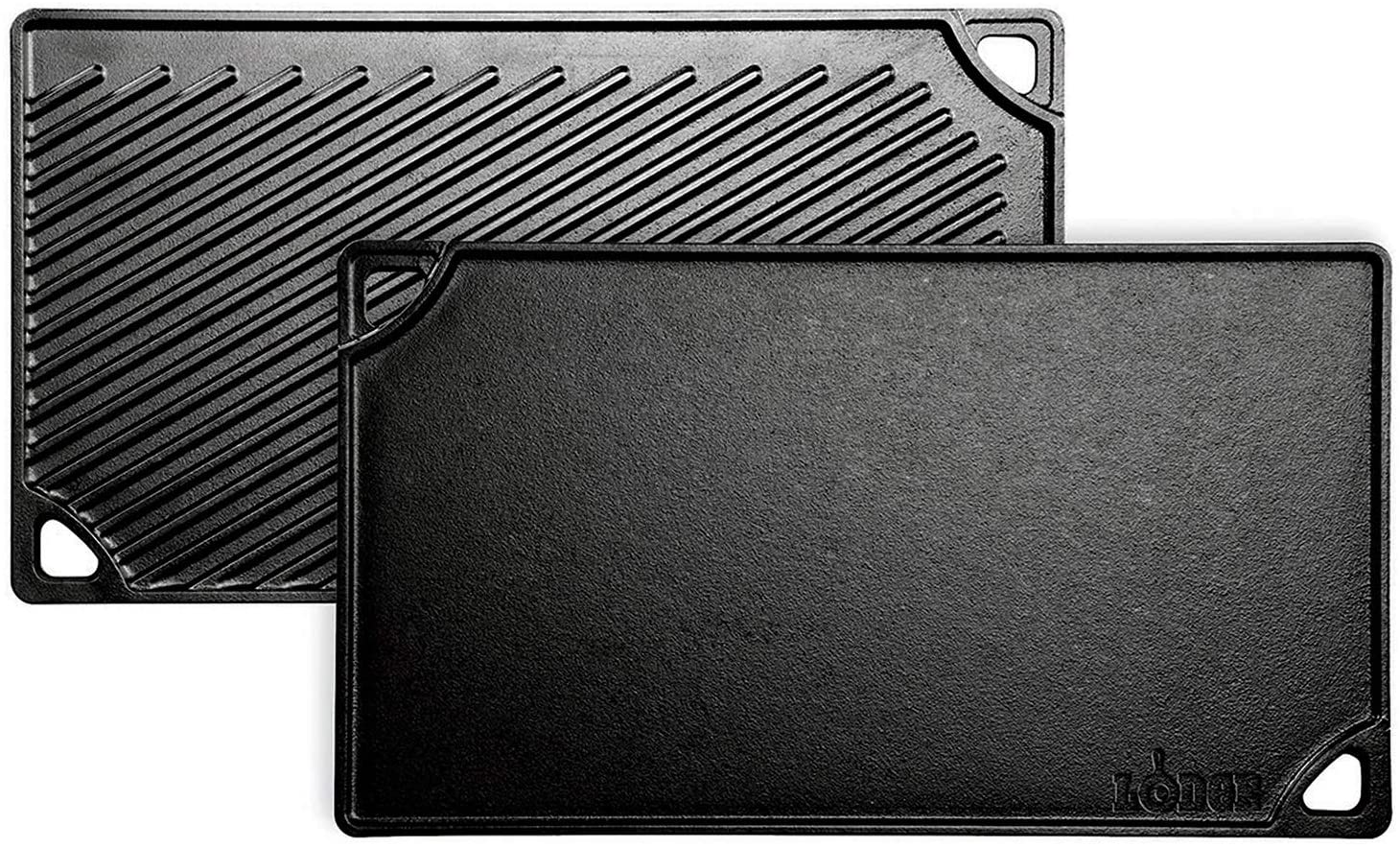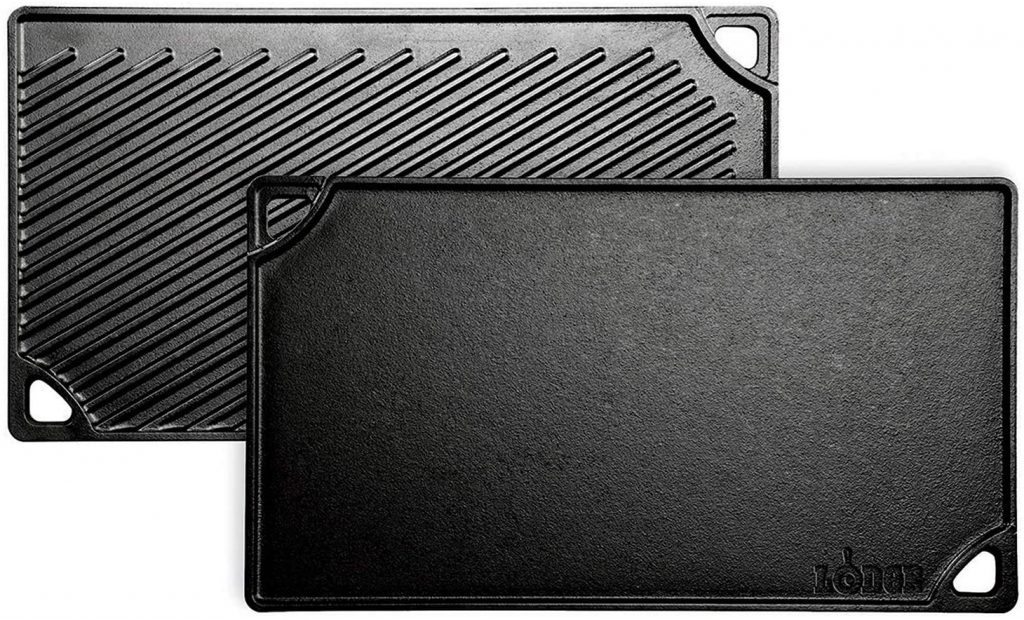 Best For: Anyone who wants a large cast iron pan that has a grill and griddle.
With a regular-sized grill, it's time-consuming to prepare meals for guests. This is where Lodge's pre-seasoned grill and griddle can help. It covers two stovetops at once, so cooking for an army doesn't take forever.
This pre-seasoned cast iron grill and griddle can do almost anything. You can use it to prepare meals on the stove, in an oven, on a campfire or even use it as a sandwich press.
Here's the specs for this reversible grill and griddle:
16 inches long
9.5 inches wide
0.63 inches high
Eight pounds heavy
This grill takes a while to heat up, but once it's warm, it retains heat well. Even after switching the stove off, your grill will remain hot. So if you're cooking a steak that came out of the freezer, you won't have to worry about the grill losing temperature. 
Many grills have hotspots that overcook your meat. But you'll notice your reversible Lodge spreads heat evenly.
Pros
You can use it on a fire
It's compact and easy to store
The heat is evenly distributed
It's both a griddle and grill
Cons
It's heavy
It doesn't have handles
Lodge Pre-Seasoned Reversible Grill And Griddle With Handles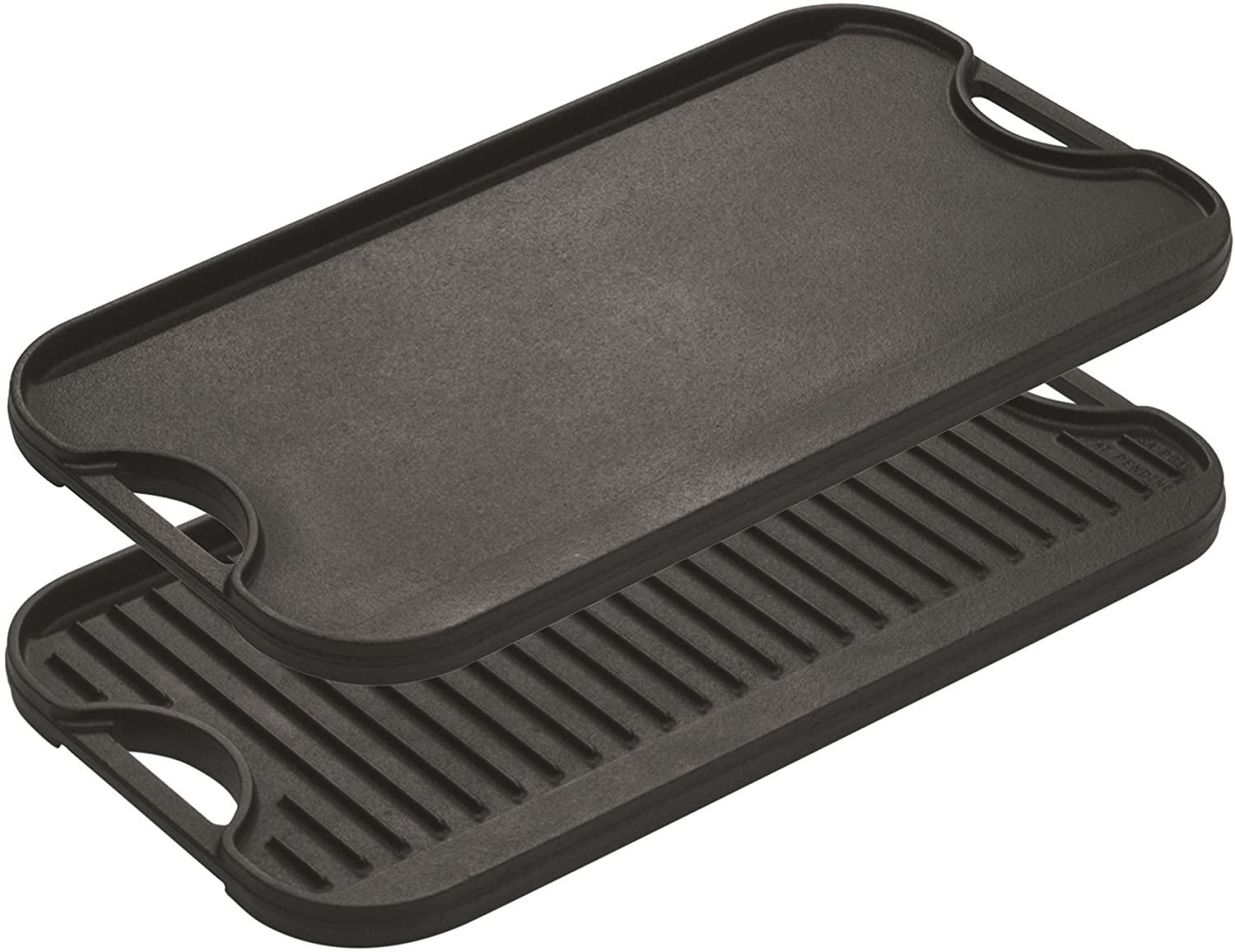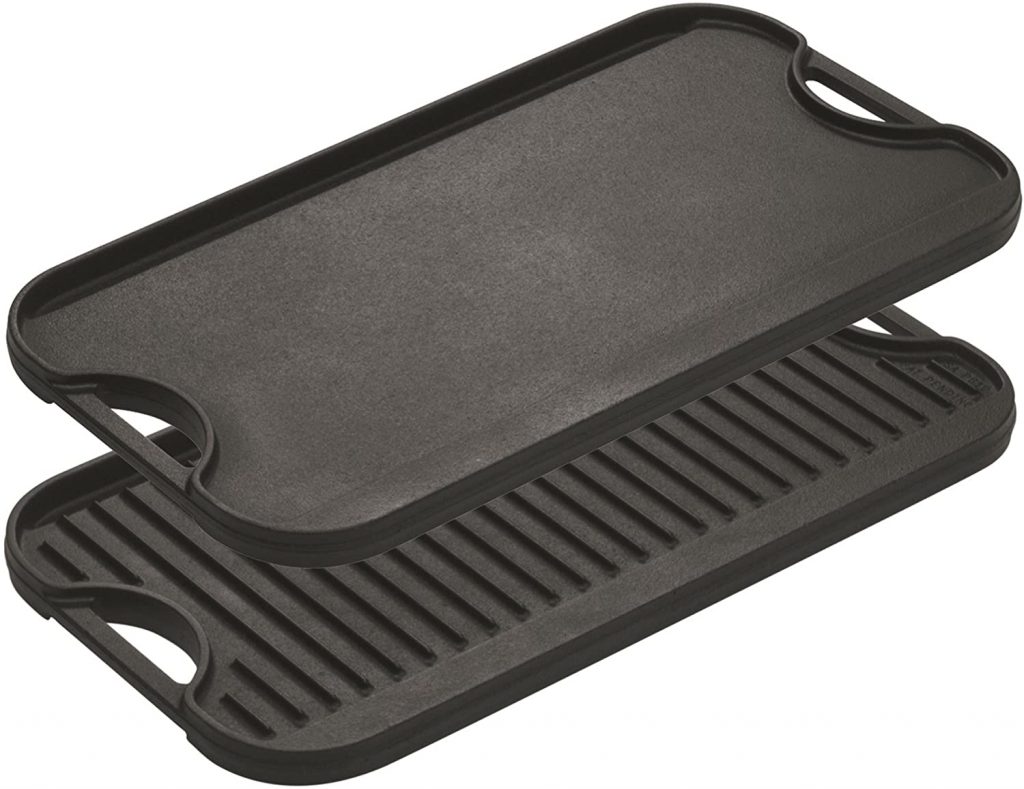 Best For: Cooks who carry heavy meals on their grill regularly.
This reversible Lodge grill and griddle is similar to the previous one, but it has two handles. This way, it's easy to grip the board, especially when carrying several meals.
Here are the specs for this pre-seasoned grill:
13 inches long
0.81 inches high
10.5 inches wide
13.5 pounds heavy 
You can use the smooth side to make foods like eggs, pancakes and sandwiches while cooking steaks, fish and sausage on the grill.
It comes pre-seasoned. This means oil is baked onto the surface using high heat, creating a non-stick surface without Teflon. But unlike traditional pans, the longer you use it, the more non-stick it gets since oils from your food are baked into the surface.
After buying this Lodge griddle, wash it with water, dry it, and rub on a coconut or olive oil coating. 
But avoid putting your stove on high heat when using this griddle. Since cast iron holds heat well, you can quickly burn your food.
Pros
The large cast iron surface allows you to prepare many meals quickly
It has handles so you can carry food without slipping
The cooking surface gets more non-stick as you use it
It's oven-safe, making it a good option for baking
Cons
It's heavy 
The pan takes over five minutes to warm up
AmazonBasics Pre-Seasoned Cast Iron Reversible Grill/Griddle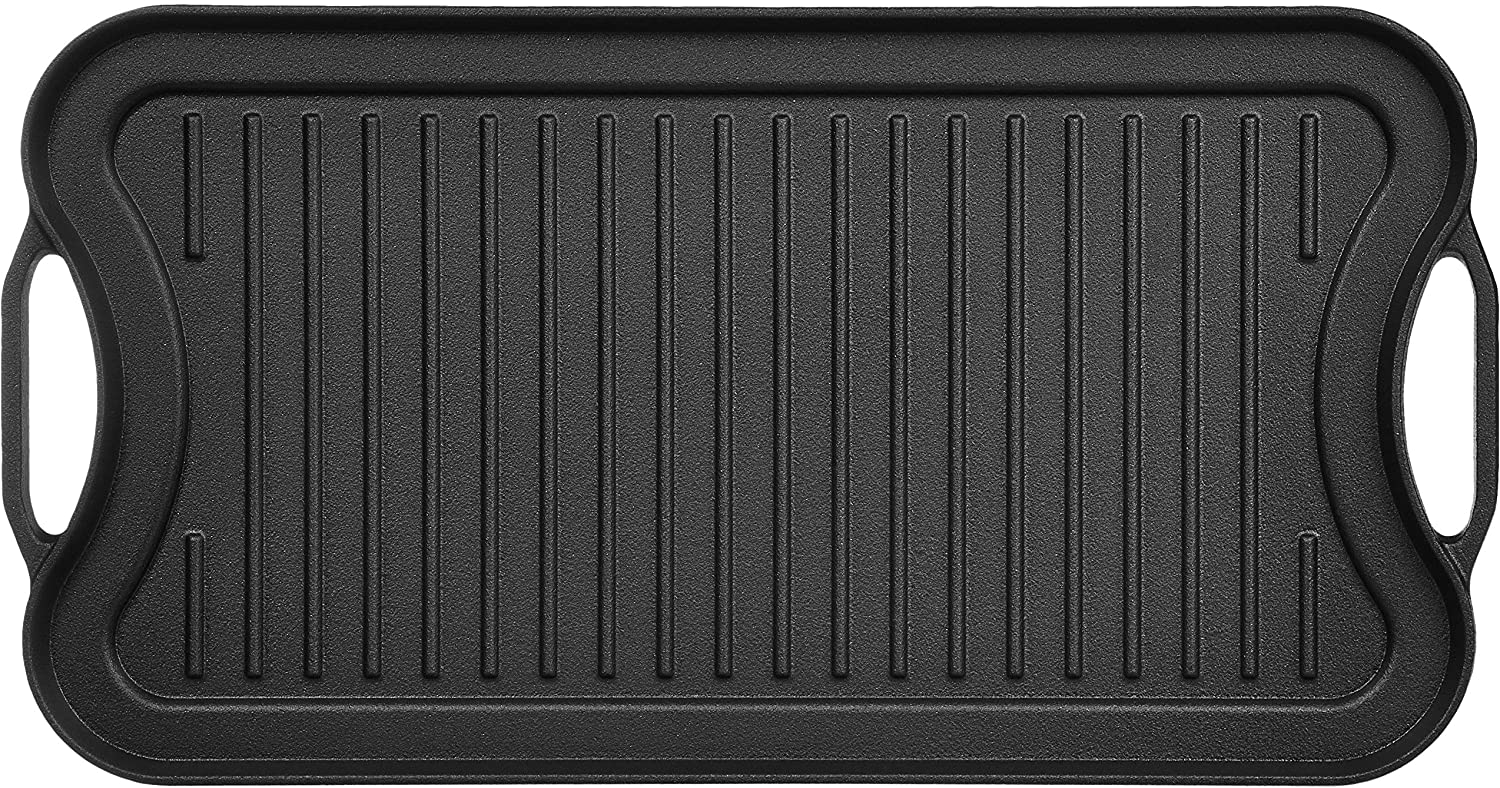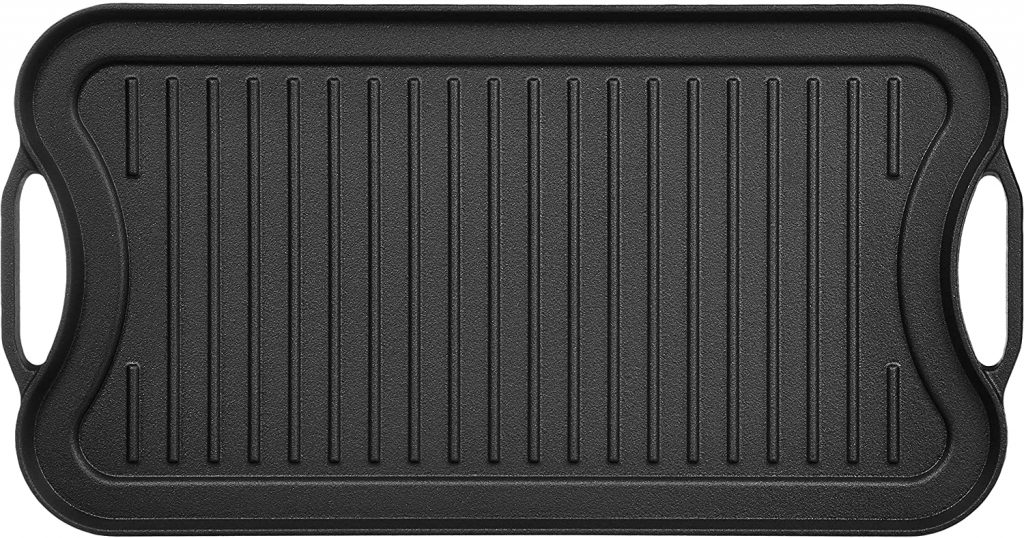 Best For: Amature home cooks looking to get into cast iron cookware on a budget.
The AmazonBasics grill and griddle is a more affordable version of the Lodge. This makes it the perfect first time buy because you won't spend much money. You can find this reversible grill and griddle on Amazon for around $15.
Even though the price is low, it's heavy-duty, so it'll last for years. The only maintenance you'll need is to re-season the pan every few months. 
These are the product dimensions for this grill and griddle:
20 inches long
10.39 inches wide
0.98 inches high
10.43 pounds heavy
It's bigger and slightly lighter than the reversible Lodge, so you can prepare more meals at once.
This AmazonBasics griddle uses oil baked into the surface at high heat to ensure food isn't sticking to the pan. Because it's seasoned already, you can use it immediately, and like the Lodge, the non-stick gets better the more you cook.
Pros
It's affordable
The surface area is greater than the Lodge
It's oven-safe up to 500 degrees Fahrenheit
It's lighter than most grill and griddles
Cons
It rusts quite easily if you don't clean it
The griddle pan is hard to clean
Victoria Seasoned Cast Iron Griddle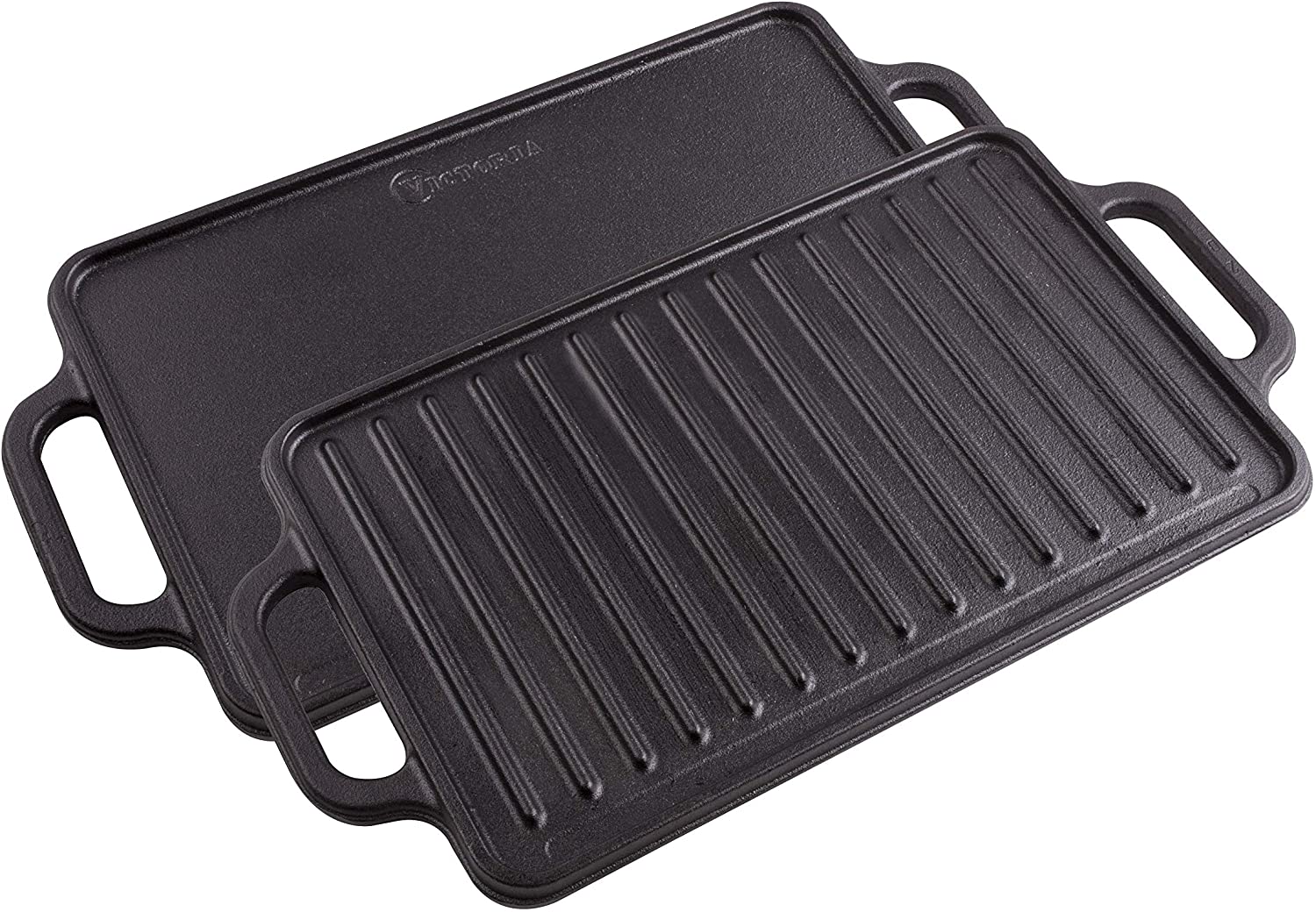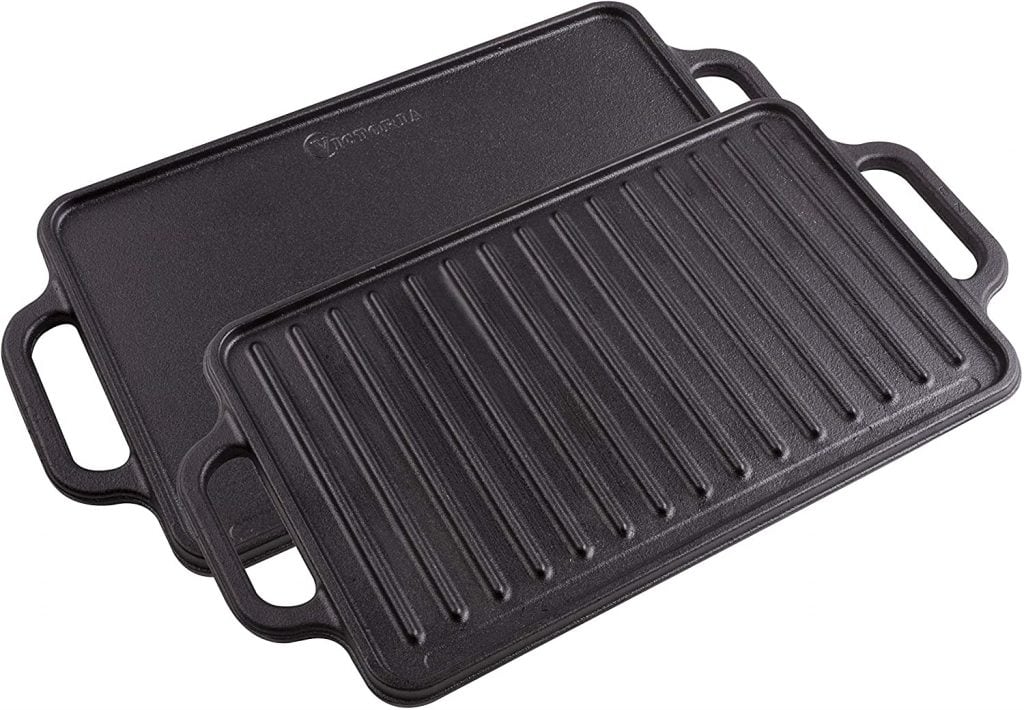 Best For: Cooks who want the option between different sized griddles.
With large handles on each side allowing for easy meal transportation, this Victoria cast iron seasoned with flaxseed oil is the best for high heat cooking.
Victoria Cookware has been producing top-shelf cast iron kitchenware since 1939. Victoria Cookware emphasizes healthy cookware. Its goal is to manufacture cast iron that doesn't affect our health. With this level of experience, you know you're getting the best.
You'll find different sizes also. These include:
Small is 13 x 8.3 inches
Medium is 18.5 x 10 inches
Large 20 x 14 inches
So if you live alone and only prepare one meal at a time, opt for the small option. You won't need the extra space, and the compactness allows you to travel with it. 
If you're cooking for yourself and your partner, the medium size might be more convenient since you'll be able to cook multiple meals at once.
And if you have a large family, consider the large Victoria cast iron griddle. It's 20 x 14 inches, so cooking for an army is easy. 
Pros
It uses organic flaxseed oil and spices that won't harm your health
The grill comes in three different sizes
It doesn't rust easily
The handles are large, so it's easy to grip heavy meals
Cons
Food tends to stick to the griddle, so always use some extra oil
Cast Iron Flat Top Griddle Set And Accessories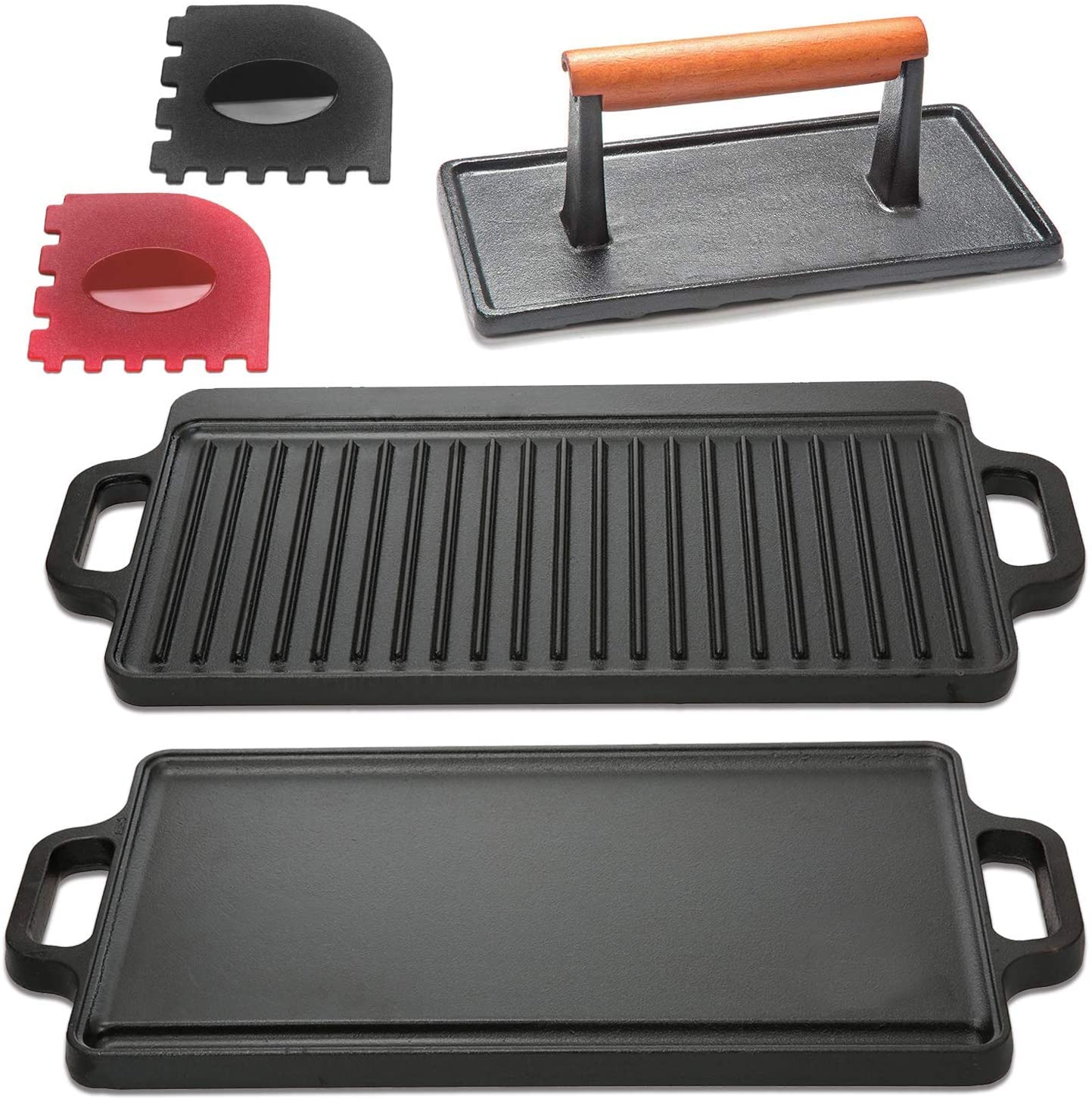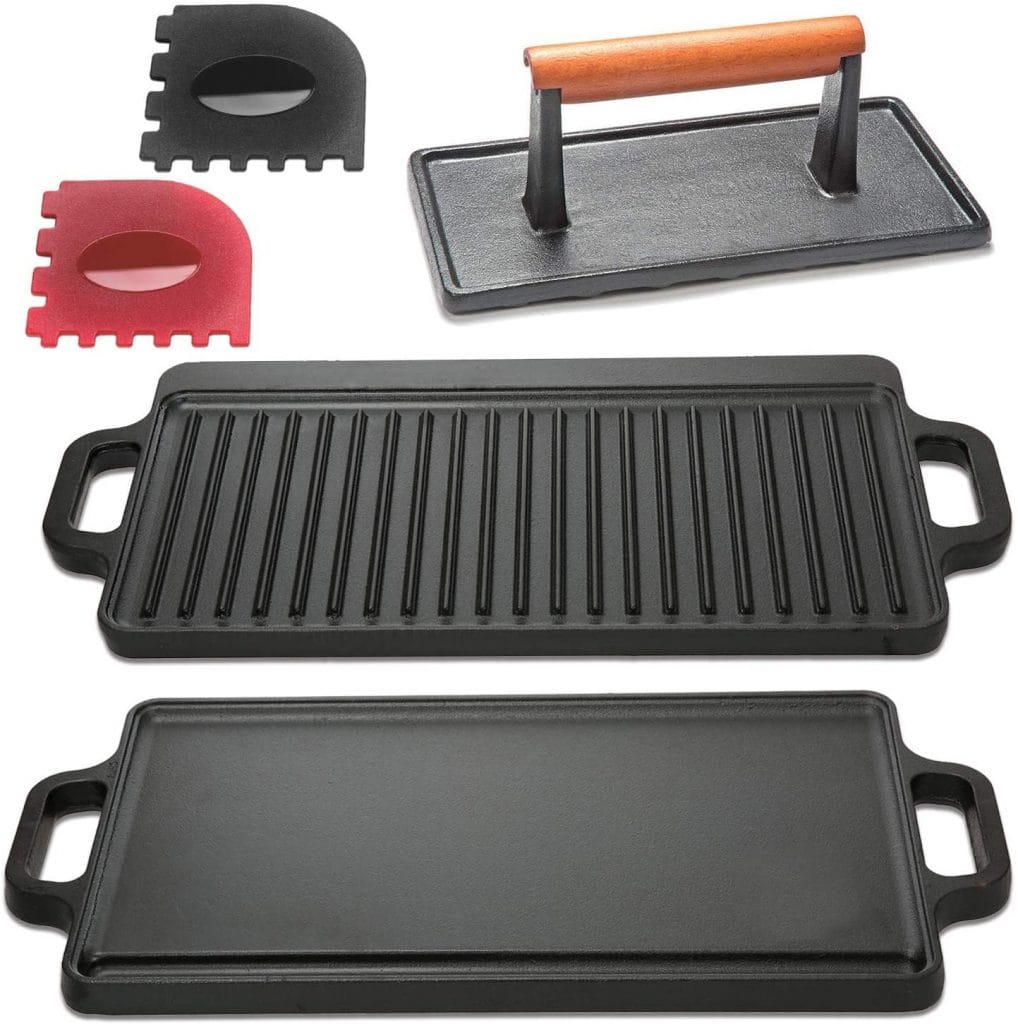 Best For: Cooks who'd like accessories like grill scrapers and a cast iron press.
This HeroFiber cast iron grill and griddle comes with:
A cast-iron grill and griddle
Grill pan scrapers
A cast iron grill press
If you're cooking meat and want to get rid of some fat, simply use the grill press and press away. Once everything is cooled down, the grill pan scrapers make cleaning super easy.
Here are the product specs for this grill and griddle:
20 inches long
Nine inches wide
10 pounds heavy
3.54 inches high
When having friends and family over for dinner, you can save time. Because it's so large and easy to clean, you can grill multiple meals at once, and cleaning takes a few minutes. 
But this pan works even if you're heading outdoors. Simply put it in your travel bag and use it for cooking food on a campfire or grill. And since you don't want to put a dirty grill back into your bag, use the scrapers to clean the surface.
Pros
The pan comes with a grill press and some scrapers
It's compatible with everything, including gas stoves, campfires and ovens
It's 20 inches long, so you can cook multiple meals at once
The grill is easy to clean
Cons
It doesn't hold heat as well as the reversible Lodge
Z Grills Cast Iron Griddle 2-in-1 Reversible Pan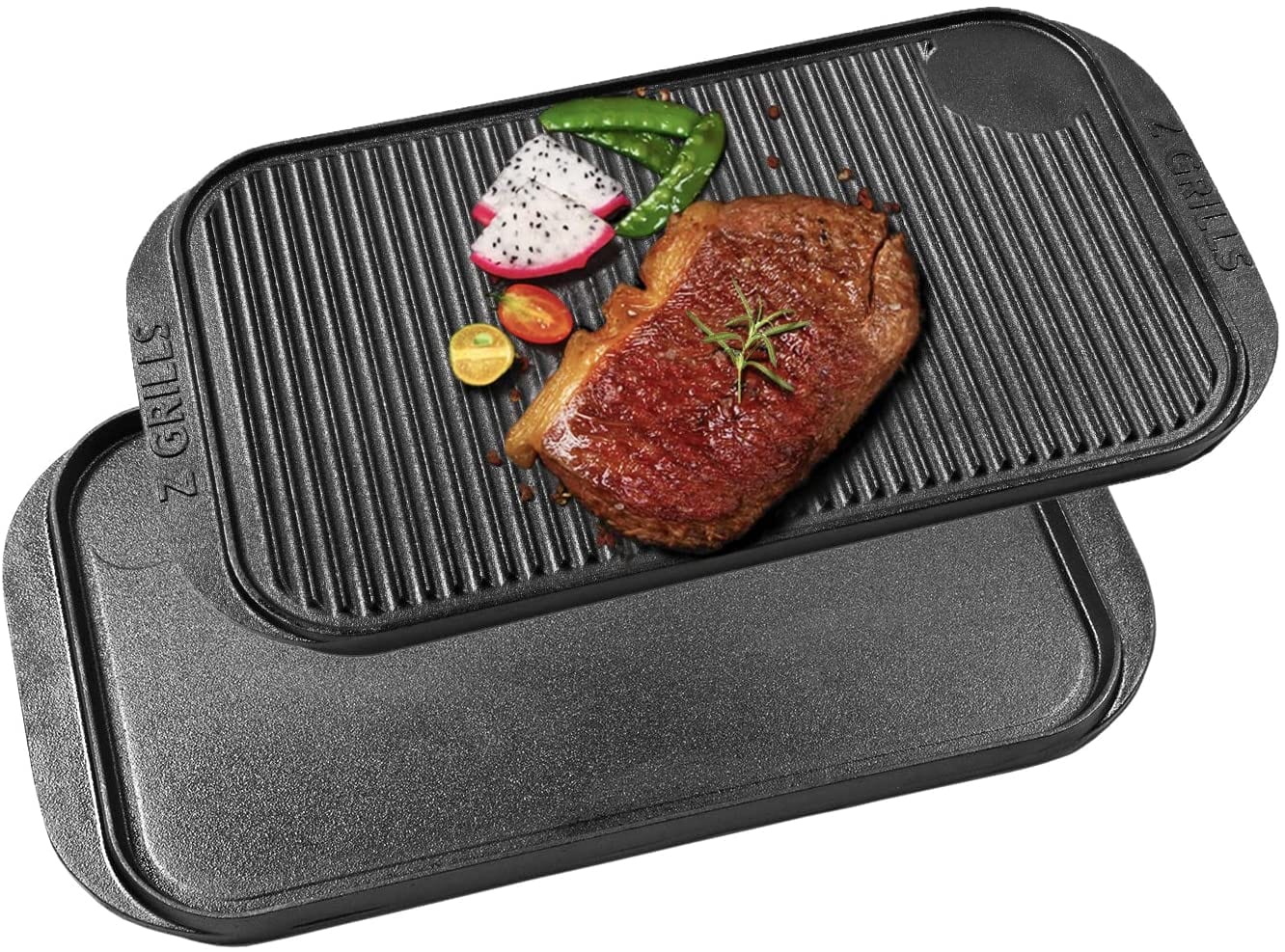 Best For: Intermediate cooks looking to improve the quality of their cast iron griddle.
The Z Grills reversible pan is a heavy-duty plate perfect for anyone looking to take their cast iron game to the next level. Z Grill uses a non-stick coating that doesn't contain chemicals like PFOA and Teflon. There's also a little oil drizzled on top that allows you to use it immediately.
This cast iron griddle's weight and dimensions are:
19.3 inches long
10.24 inches wide
10.9 pounds heavy
0.79 inches high
When producing this cast iron griddle, Z Grills opted for high sides so you can cook more food at once without spilling. This is especially helpful if you're making flapjacks and pancakes. 
The grilling side also has these raised edges, so you can grill more steak and fish at once. It also stops oil or butter from running out and making a mess.
Pros
The high sides prevent oil and food from spilling
It's compatible with all styles of cooking except microwaving
The design ensures your food cooks quickly and retains heat well
You don't consume any dangerous ingredients
Cons
The non-stick wears out over time, so you'll need to use a non-stick spray every few months
Cast Iron Reversible Grill And Griddle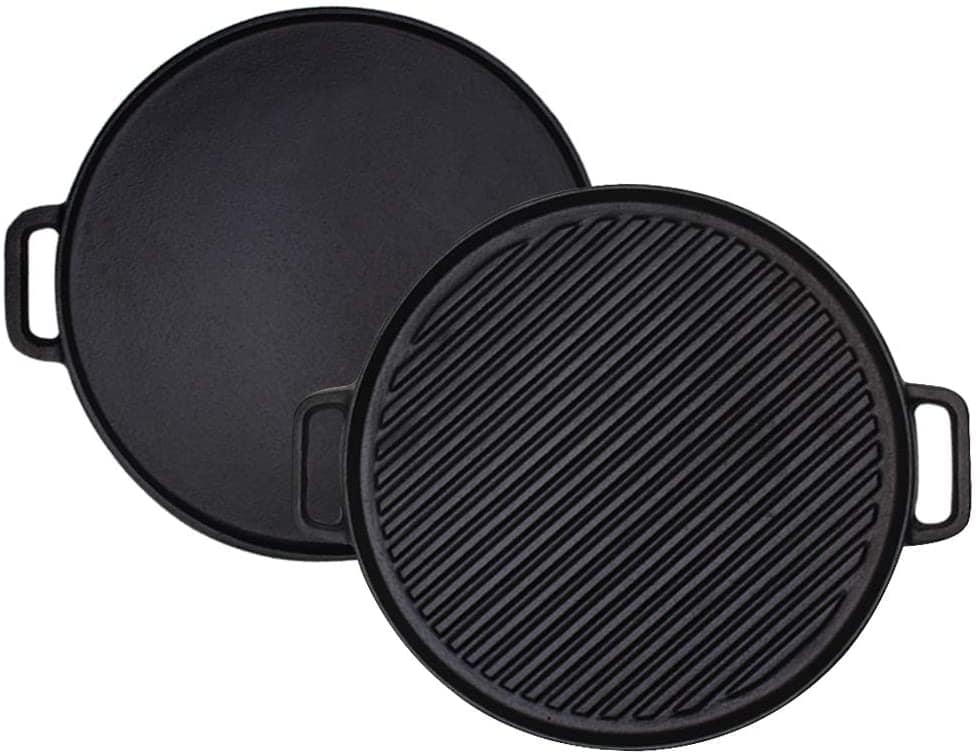 Best For: Cooks who want a compact round griddle that distributes heat evenly.
This Brighttalk round, reversible grill is compact and compatible with indoor and outdoor use. It heats up within a few minutes, and the design ensures even heat distribution. There are also two large handles on each side, allowing you to carry multiple meals.
These are the measurements for this grill and griddle:
14.5 inches in diameter, including handles
12 inches in diameter, excluding handles
One inch high
When Brighttalk created this kitchenware, they added pre-seasoning, so it's ready to use and adds extra flavor to your food while ensuring it doesn't stick. 
However, they suggest re-seasoning it before every use since the seasoning wears off. You can do this by washing your pan with soap and water, rinsing and drying it, rubbing some oil on and baking it in the oven for one hour at 400 degrees Fahrenheit.
Pros
The large handles make carrying food easy
You can use it an on outdoor fire since it's heavy-duty and won't rust easily
It's compact, so you can store it with your cutting board
The design allows for even heat distribution
Cons
You'll need to re-season it before every use
NutriChef Cast Iron Reversible Cast Iron Griddle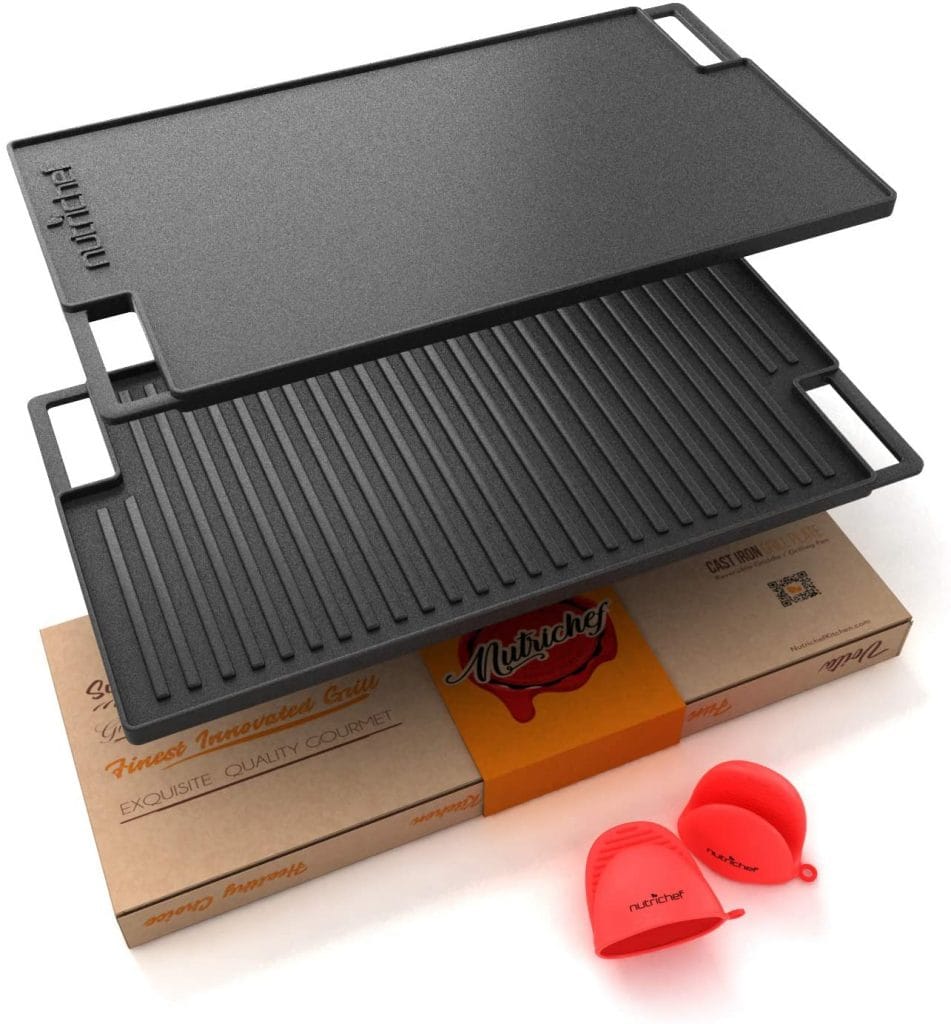 Best For: Anyone who wants to wash their grill plate in the dishwasher.
This NutriChef reversible grill comes with two oven mitts, perfect for anyone who likes preparing steaks, fish and chicken in the oven. These oven mitts protect your hand against the hot cast iron.
Here are the dimensions and weight for this NutriChef grill:
18 inches long
10 inches wide
0.6 inches high
10 pounds heavy
The ridged line surface is high, keeping excess oil away when cooking vegetables, meats and fish. This helps achieve that crispy texture while preventing oily food.
Pros
It only weighs 10 pounds so you can travel with it
The high ridged line prevents oily food
It's compatible with all heating methods
You can put it in the dishwasher
Cons
Carrying food can be awkward since the handles are located in the corners of the tray
Overmont Pre-seasoned Cast Iron Reversible Griddle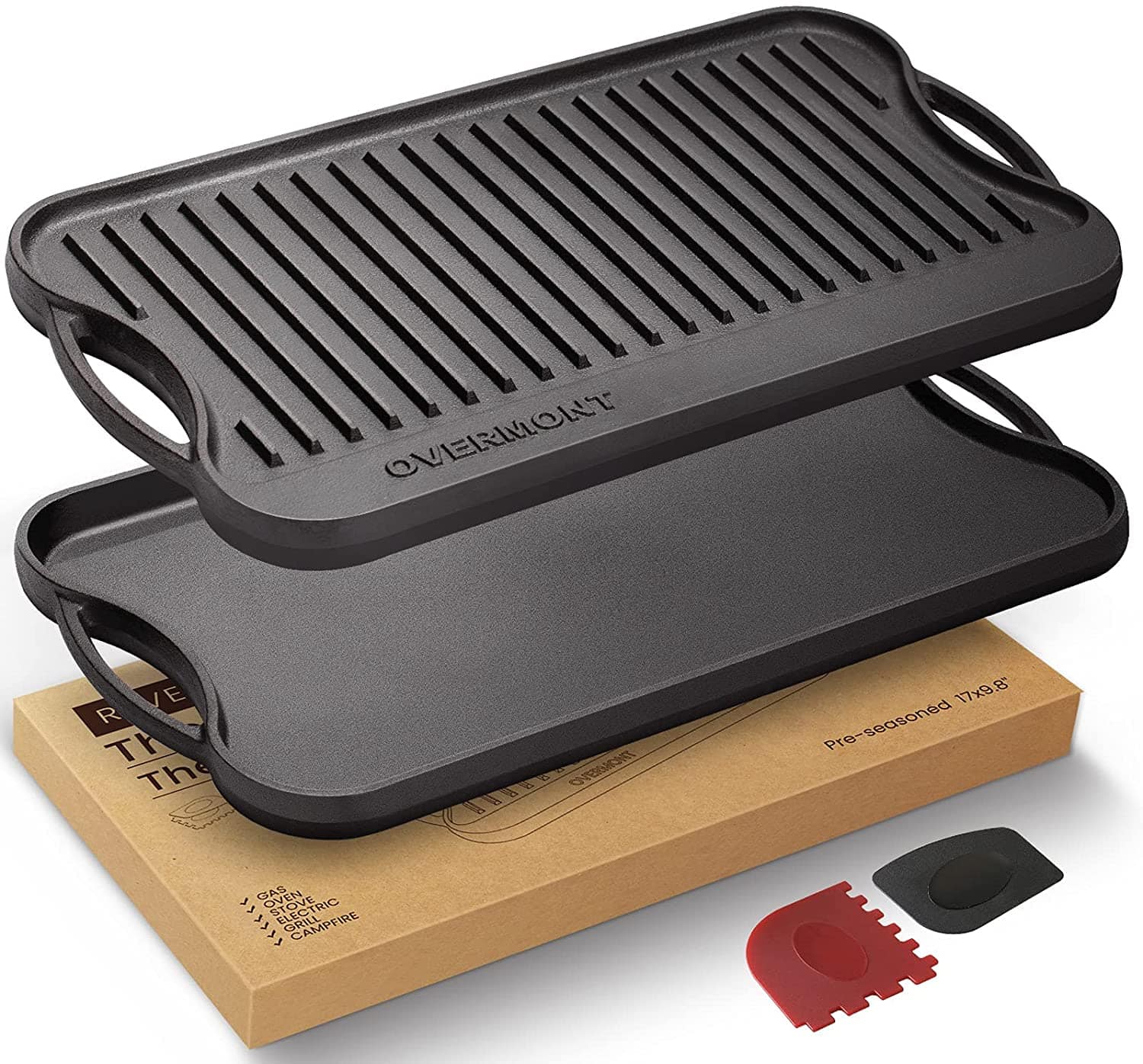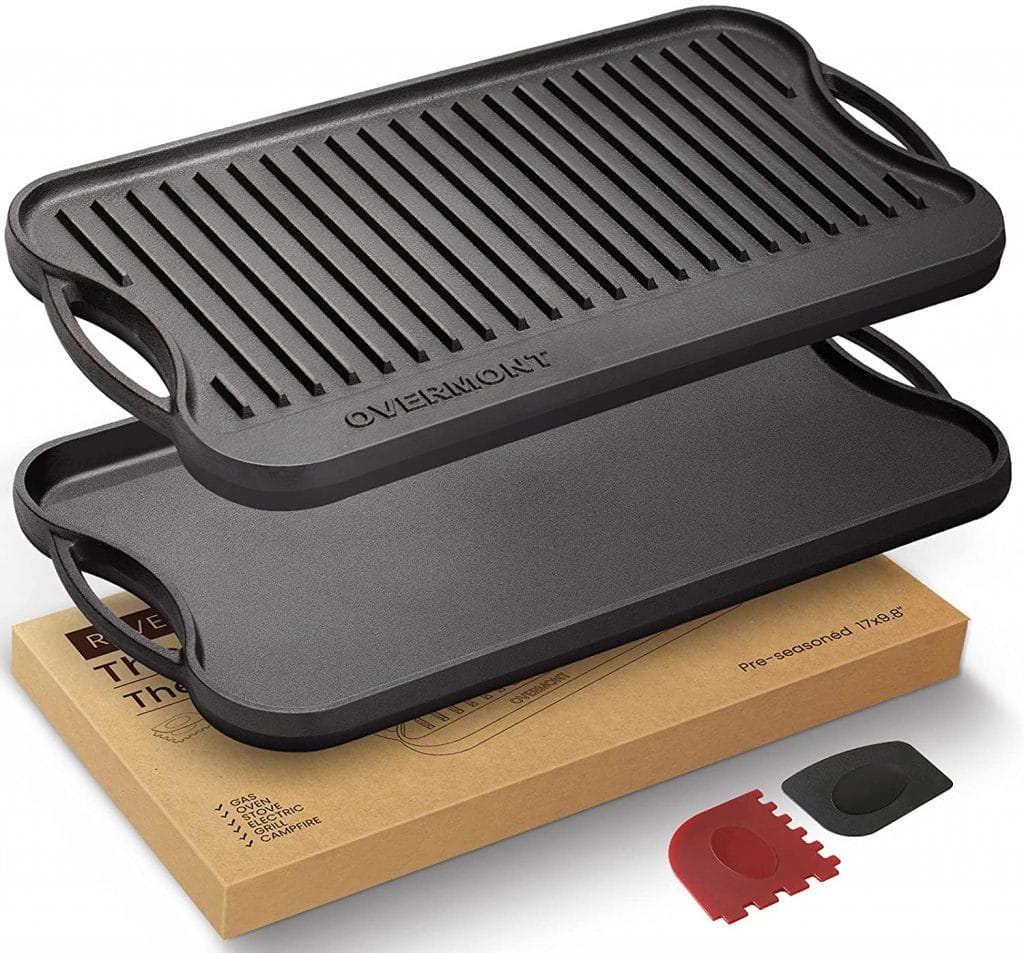 Best For: Cooks looking for a reversible griddle that doesn't scratch cooking surfaces while being easy to clean.
This cast iron Overmont is compatible with all cooking styles and doesn't have sharp edges at the bottom that may scratch cooking surfaces. 
Here are the specs for this Overmont:
17 inches long
9.8 inches wide
8.8 pounds heavy
You'll also find two scrapers that help clean stuck food. The straight edges fit in all the gaps and corners, making cleaning time-efficient. 
But what sets this grill apart from most cast iron griddles is that it heats up quickly. So if you have busy mornings and need to make breakfast pancakes for the entire family, you'll save precious minutes.
Pros
You get two pan scrapers with this grill and griddle
The handles are large, so you can grip it with oven mitts
It can easily fit into your travel bag and only weighs 8.8 pounds
It's heavy-duty
Cons
The cast iron cooking surface tends to chip after a few months of use
What To Look For When Shopping For A Cast Iron Griddle
Compatibility: When buying a griddle, look for one that meets your needs. If you like baking, you'll need a stove compatible pan. Or, if you love the outdoors, opt for a portable pan that works on campfires.
Grip handles: A good cast iron griddle allows you to move and carry several meals without fuss. So you want one that offers large handles to grip it even when wearing oven mitts.
Even heating: Look for grills that offer even heating since hotspots can result in overcooked food. An easy way to find out how evenly a grill heats up is to read customer reviews online.
Pre-seasoning: Although pre-seasoned grills aren't necessary, they'll save time and money because you won't have to season them with oil before every use. 
Enameled cast iron pans: Enameled grills and griddles are super easy to clean and don't need seasoning because it's non-stick. These grills also won't rust when they get wet, but are more expensive. 
Now let's look at how to get the most out of your cast iron grill plate.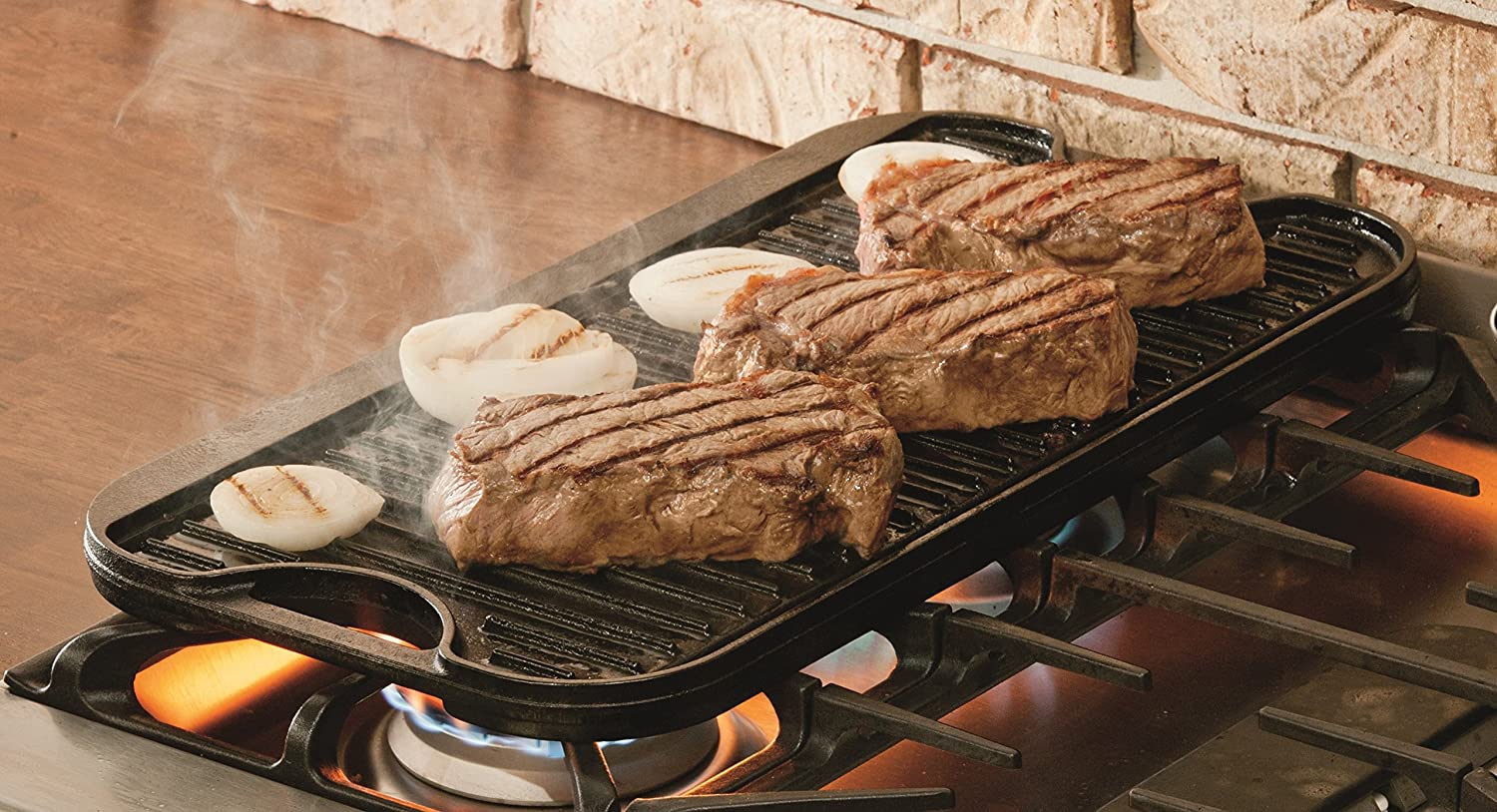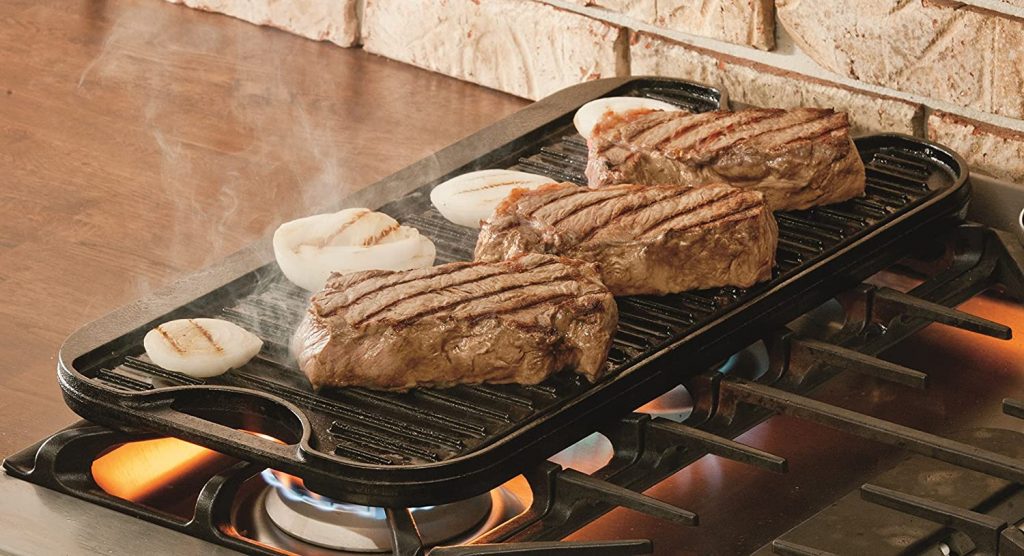 How To Make Restaurant Quality Food With Cast Iron Skillets
Here's how to make the best possible meals using cast iron griddles:
Clean your griddle: The first step is to clean your pan using a cloth and soap and water. Next, dry it with another cloth and sprinkle some coconut oil on the surface. Using a paper towel, rub this oil into your pan and cook in the oven at 400 degrees Fahrenheit for an hour. You can also add some salt and spices.
Preheat your griddle: The key is to not heat it up too quickly since cast iron retains heat well, burning your meat if the heat is too high. Instead, put your oven on medium heat for 10 minutes before adding your food.
Add your food: When you see smoke coming from your grill, it's time to add your food and let it sit for the allocated time.
Clean your griddle: After cooking, it's important to properly clean and dry your griddle to avoid rusting. Depending on your pan, you'll also need to re-season it to avoid food from sticking.
Final Thoughts On The Best Cast Iron Griddle
Cast iron allows you to make the best possible meat without burning it. The large cooking surface retains heat and spreads this heat out evenly.
You can take these griddles with you when traveling to prepare meals without consuming toxic ingredients like Teflon or PFOA. 
When shopping for a cast iron griddle, consider compatibility, grip handles, even heating, pre-seasoning and enameled surfaces.