Is satisfying your sweet tooth on keto possible? Yes, it is! These keto peanut butter balls are healthy, pack a good amount of protein and you bet they won't kick you out of ketosis! Definitely a keto friendly treat for all the peanut butter lovers out there – including me, without a doubt.
Ever heard of the term "keto fat bomb"? Well, these keto peanut butter protein balls are exactly that! You get lots of fat and protein in a small low carb bite with some chocolate peanut butter flavor. No need to sacrifice your daily net carb allowance either – these are low in carbs and are totally compliant with the ketogenic diet.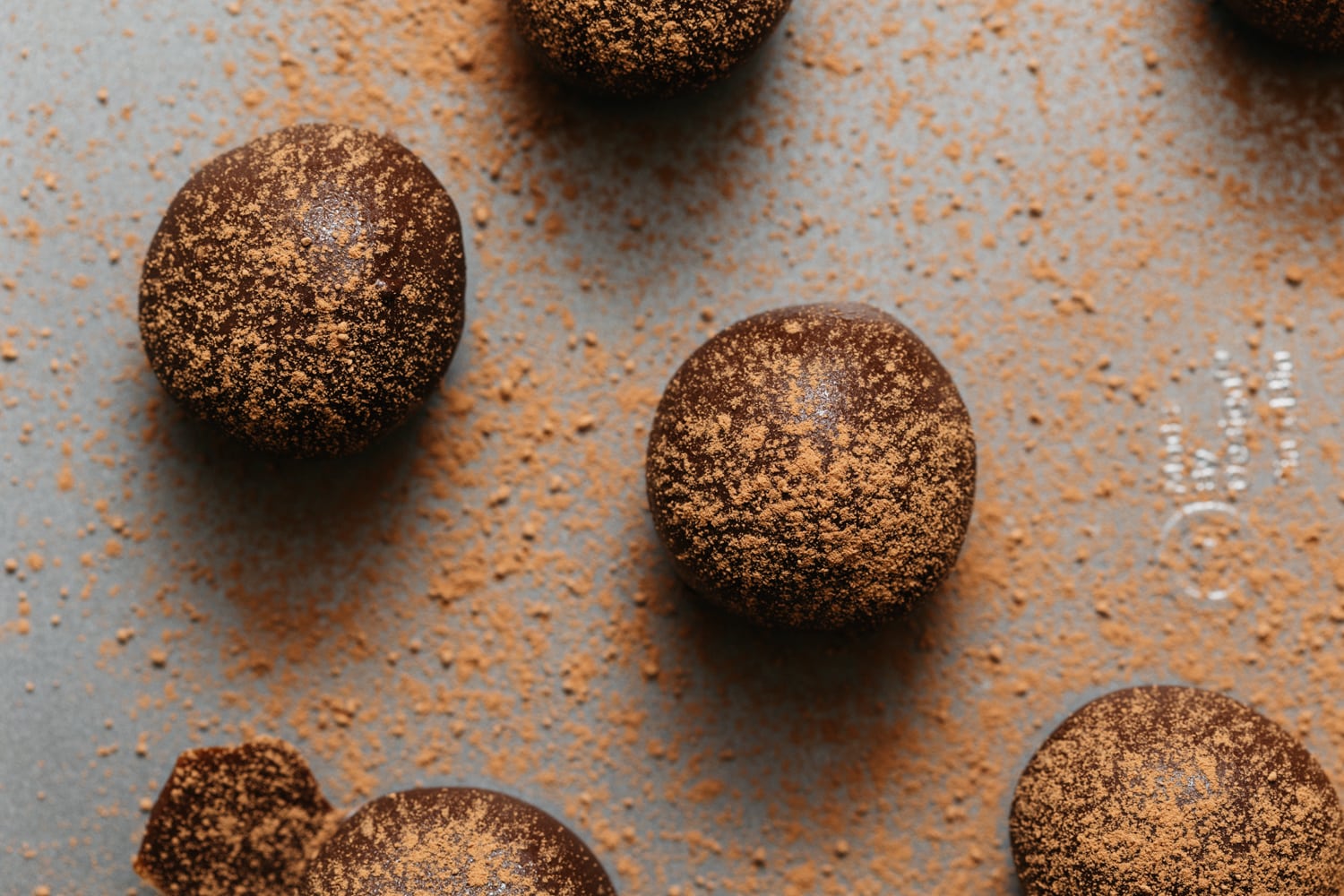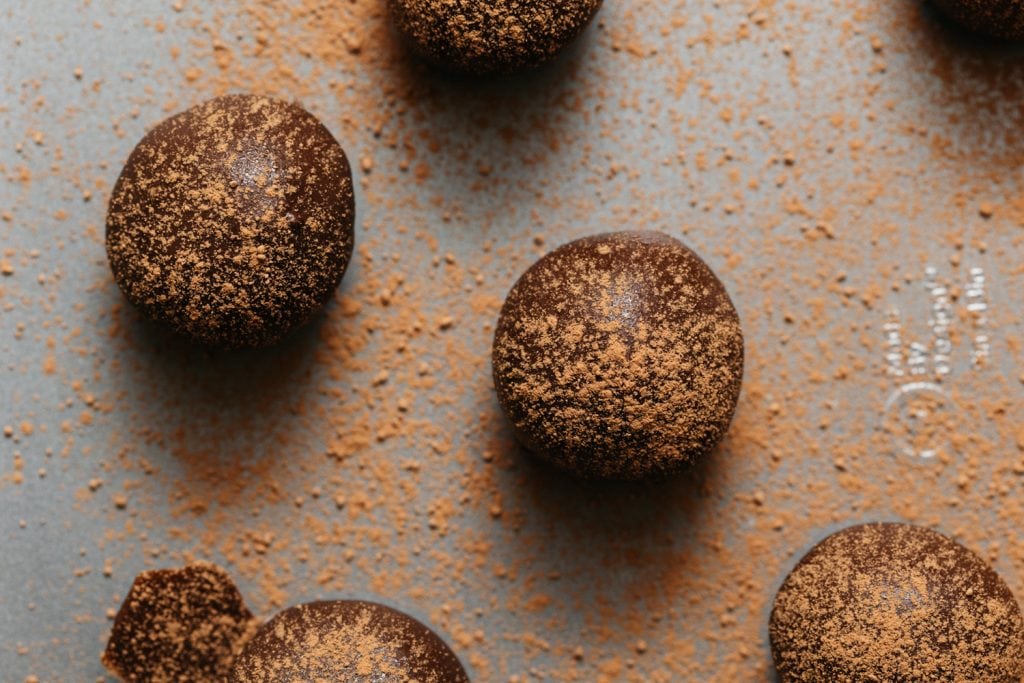 No Bake Keto Peanut Butter Balls
This is probably the best thing when it comes to easy keto recipes – no baking! A lot of keto snack recipes call for using the oven and that can go South very quickly. If you're not familiar with using different low carb flours or just not a baking person, you can end up with a disaster and that has happened to me plenty of times.
No worries about that with our keto energy balls recipe – there's no baking involved. I don't know about you but I jump into making things I don't need to bake really quick because they're easy to make and there's no hassle involved. Plus, who likes to clean baking trays? Not me!
Ingredients
All you will need is 5 simple ingredients to make these keto peanut butter balls. I recommend having all of them in your pantry at all times – you can use them for plenty of other keto and low carb recipes.
If you want to spice things up, you can add peanut butter powder, a keto friendly powdered sweetener and even your flavoring of choice, such as vanilla extract. However, to make this recipe as low carb and as easy as possible, we decided to leave them out.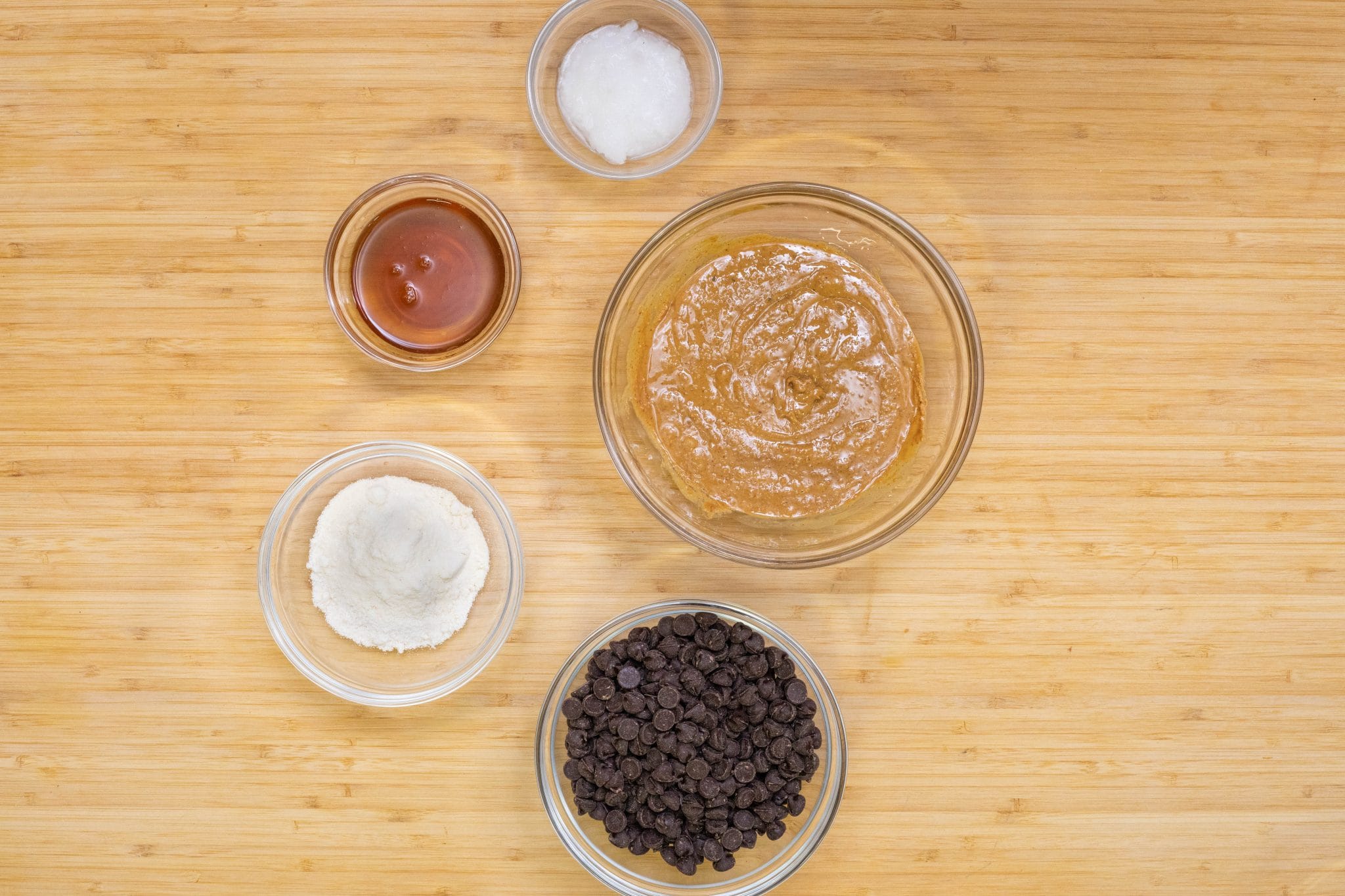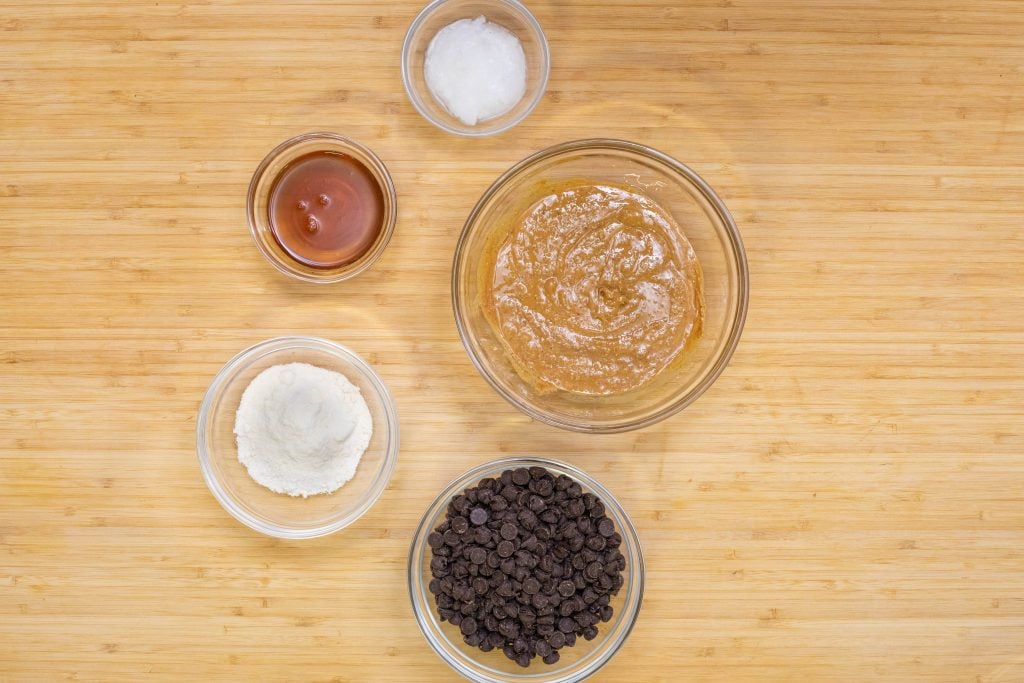 Coconut flour: one of the two most popular low carb flours, in this peanut butter balls recipe we use it as a binder to hold the peanut butter mixture together. We're using the coconut kind here instead of almond flour because it's much more absorbent and we only need a little bit.
Maple syrup (sugar free): if you can't find it at your local grocery store, you can surely find it on Amazon. Look for the one that has no sugars added and is low in net carbs. In this recipe we used it to add a bit of the roasted and chicory flavor to our keto peanut butter balls.
Peanut butter (natural and sugar free): did you know that peanut butter is rich in protein and magnesium? It's also keto and low carb! It's definitely a base for our no bake peanut butter balls, but make sure you search for the most natural and sugar free option you can find.
Chocolate chips (sugar free): these will give these keto peanut butter balls a delicious chocolate coating and hold them together. Search for chocolate that is sugar free, preferably a keto and low carb friendly one. If it isn't advertised as such and you don't want to order it from Amazon, pick the dark chocolate kind with the highest amount of cocoa.
Coconut oil: in this recipe we're using coconut oil to dilute the chocolate coating a bit and make it easier to dip the peanut butter protein balls in. If you don't have it in your pantry, I suggest you go out and buy it because it's one of the healthiest ketogenic must-haves. Make sure to check out guide on the best MCT oil for keto.
How to Make Keto Peanut Butter Balls?
While this is one of our easiest keto recipes, I just wanted to give you some useful tips while you're making these. You can also scroll down for a full step by step guide with all the details you need.
Useful tips
Use a spoon or scoop to keep peanut butter balls consistent in size
Make sure you freeze the balls before you dip them into chocolate
Use a fork instead of a toothpick to dip – otherwise you'll end up with a bit of a mess
Microwave chocolate and coconut oil or use a double boiler to melt it
If the peanut butter balls are losing shape, add more coconut flour
Step 1: Combine ingredients
In a large bowl, mix together sugar free peanut butter, sugar free maple syrup and coconut flour. You can use powdered sweetener and vanilla extract here for extra flavor and sweetness, but we decided to skip it. The mixture should resemble the consistency of cookie dough.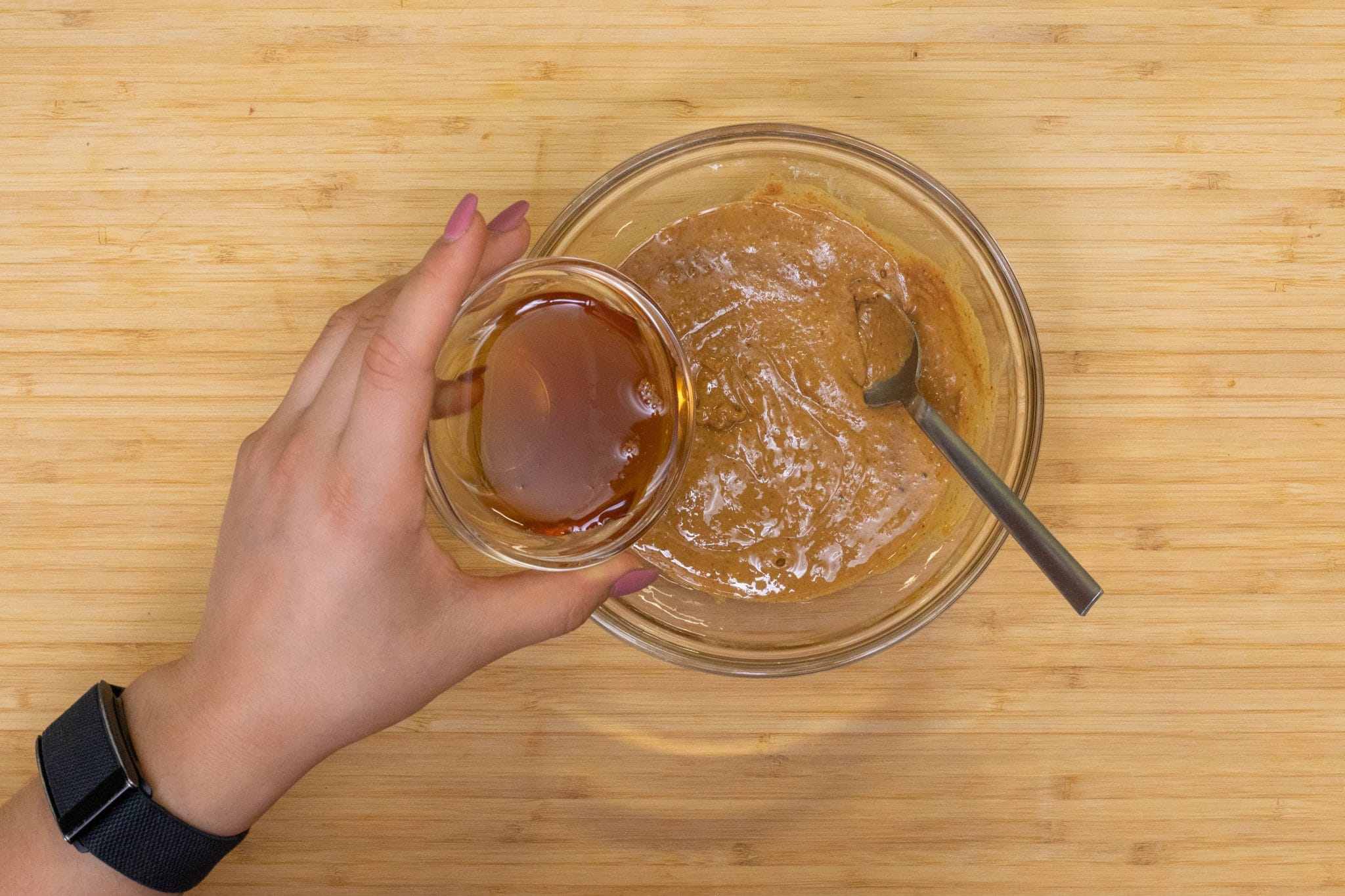 If the dough is too wet or is losing its shape instead of resembling a ball, add more coconut flour.
Step 2: Form balls
Use your hands to roll the dough into balls. To make sure they're the same size, use a spoon or a small ice cream scoop. Then, form peanut butter balls until no dough is left and place them on a baking sheet with previously lined parchment paper.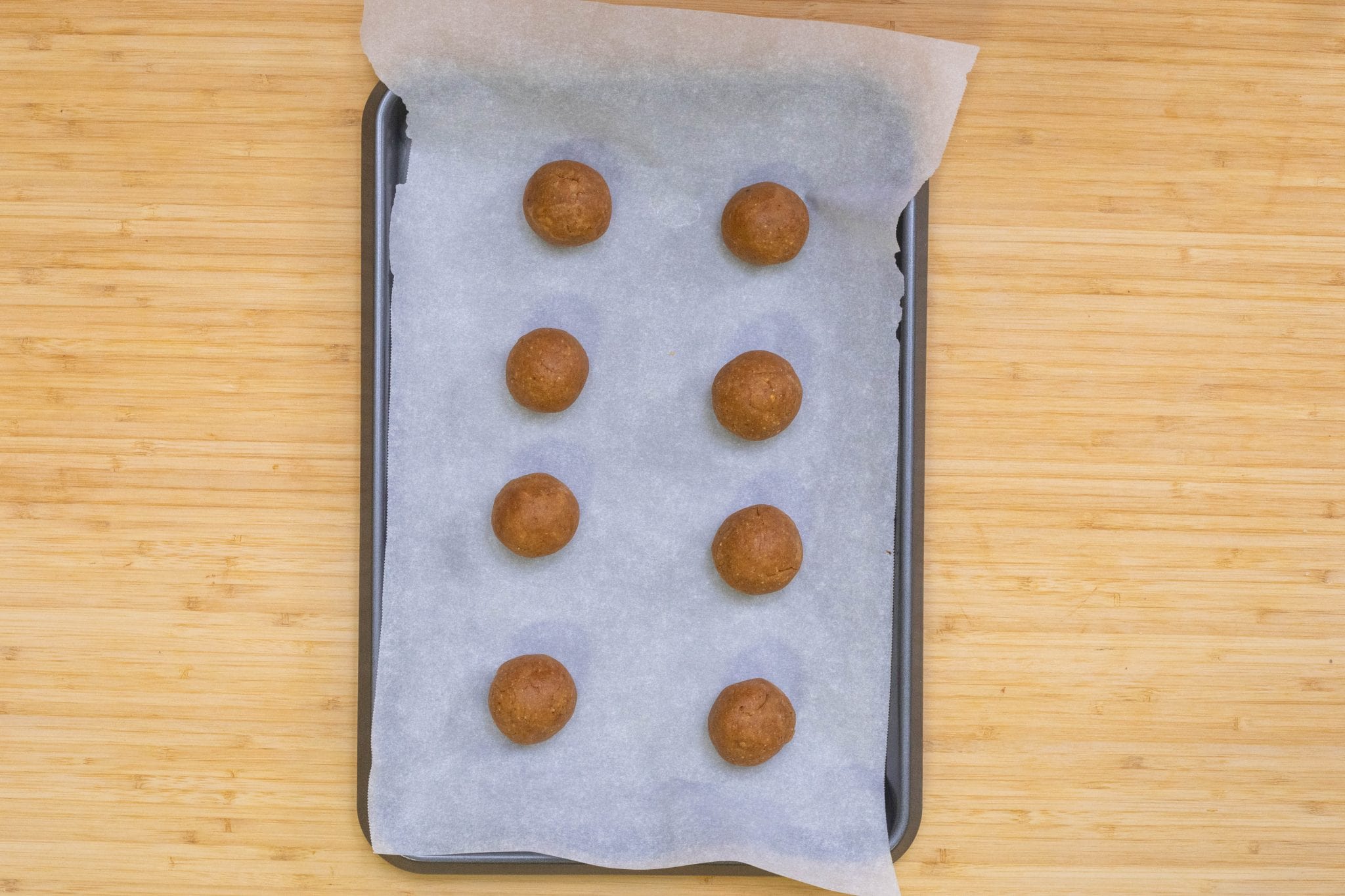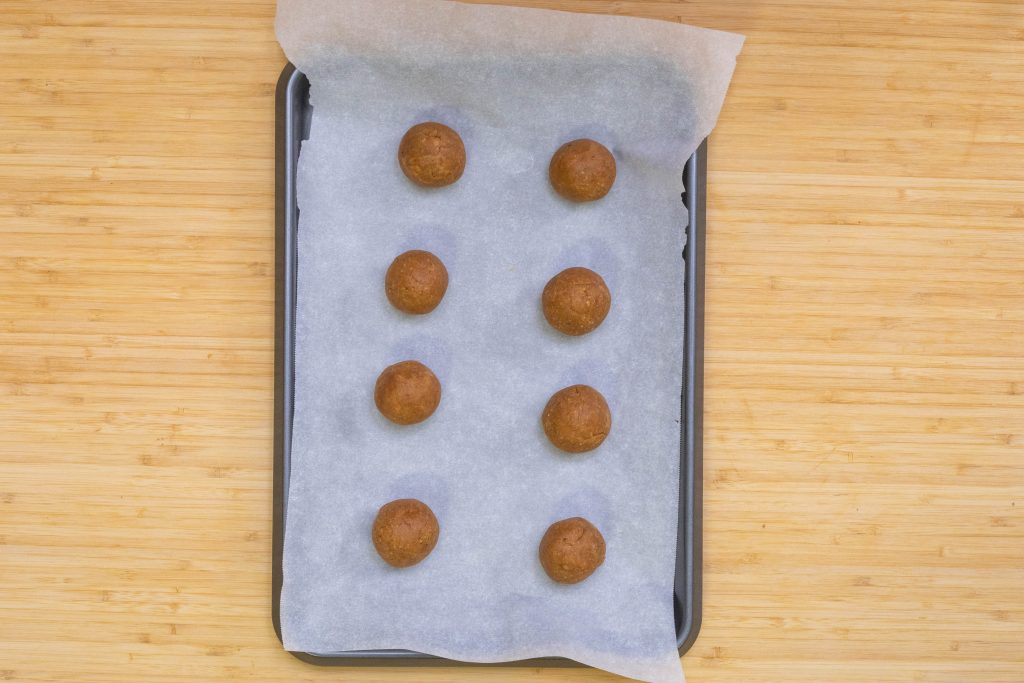 Step 3: Pop them in the freezer
Place all peanut butter protein balls in the freezer and chill for 30 minutes. Don't skip this step! Chilling the balls will make it easier for you to dip them into warm, melted chocolate and at the same time keeping their shape consistent.
Step 4: Melt chocolate
Melt chocolate chips in a microwave safe bowl together with coconut oil. It's best you microwave it in 30-second intervals and stir in between to prevent burning. If you don't have a microwave, you can use a double boiler or melt chocolate very carefully in a pot over low heat.
Step 5: Coat peanut butter balls
Remove keto peanut butter balls from the freezer. Grab a fork and drop the balls into the chocolate, turning them around so they're coated well on each side. To avoid a mess, don't use a toothpick and definitely don't use your hands – if the melted chocolate is too hot, it may burn you.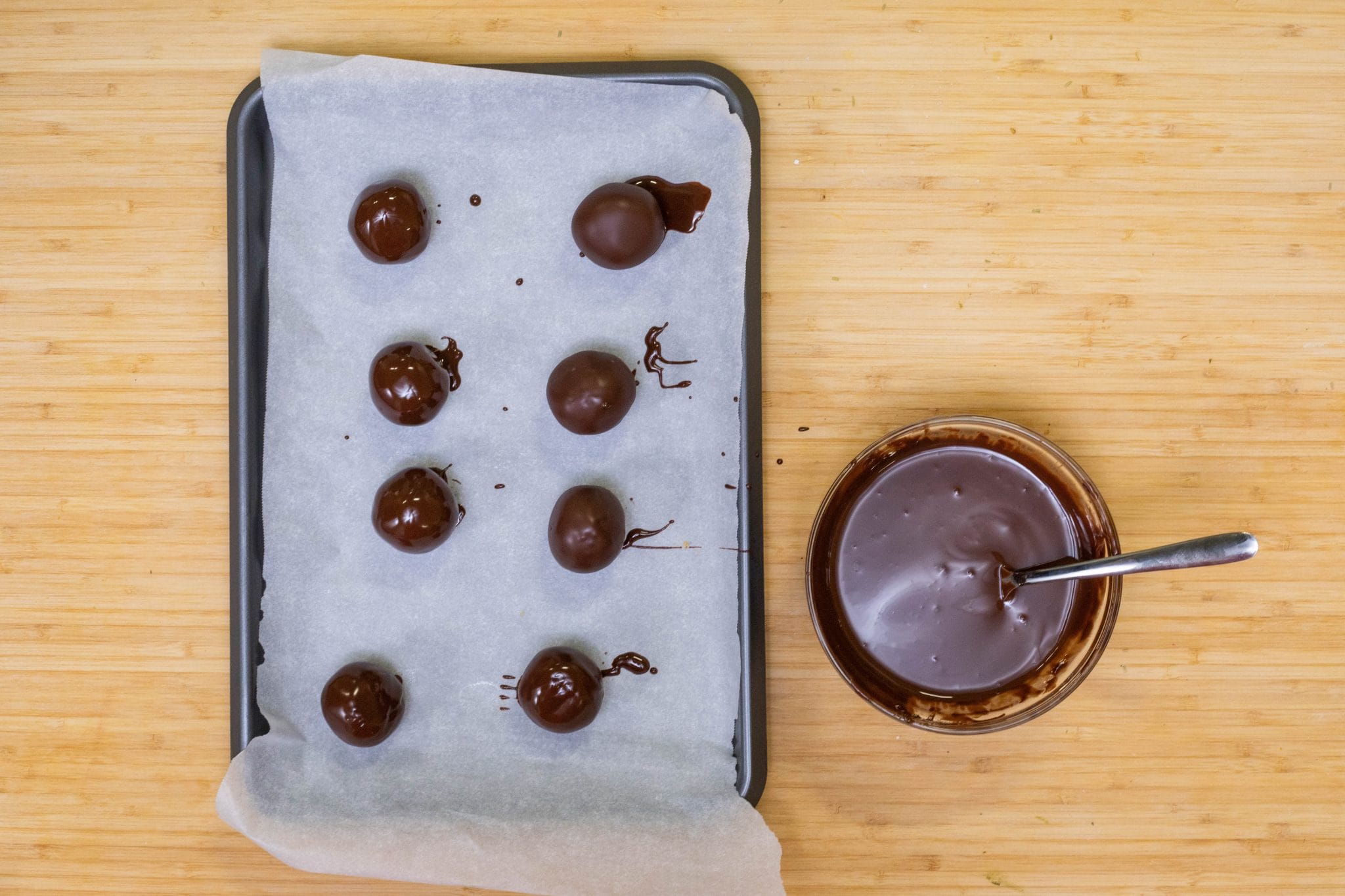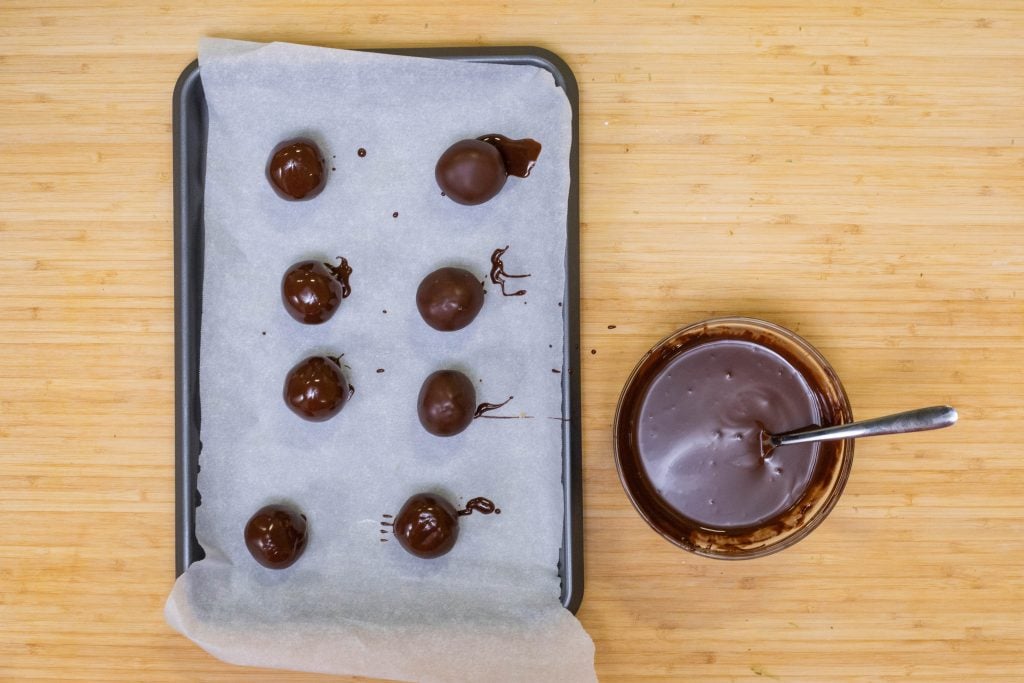 If your chocolate gets a bit stiff, heat it up a little once again.
Step 6: Finish up coating
Using a fork, pick up the peanut butter balls very gently and knock off any extra chocolate on the side of the bowl.
Step 7: Freeze again
Place coated keto peanut butter balls on a parchment paper lined baking sheet and freeze until set. It might take about an hour or two, but it's best if you leave it in the freezer overnight. Then, simply pop them into your fridge for 15 minutes if you want them to be chewy inside. Enjoy!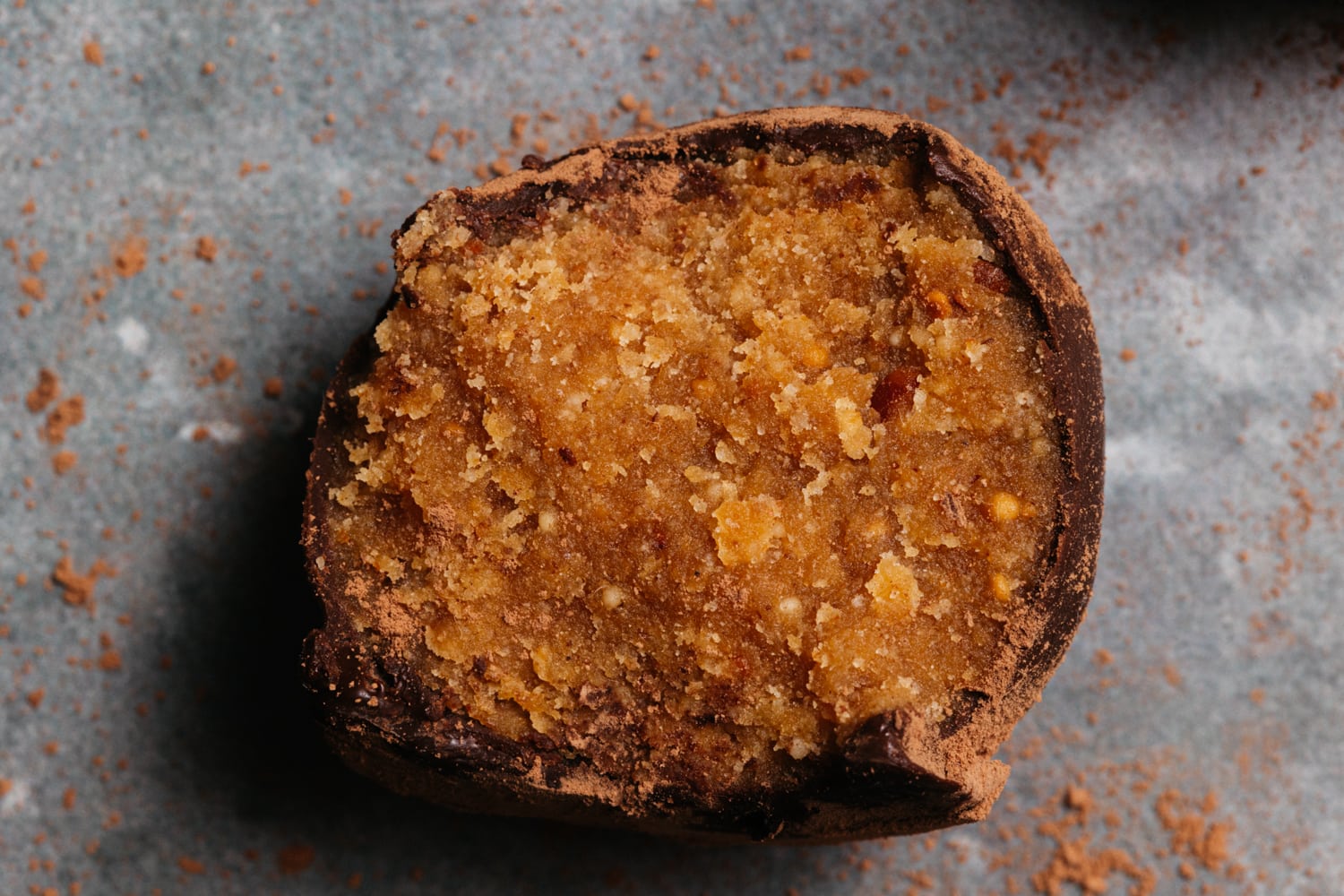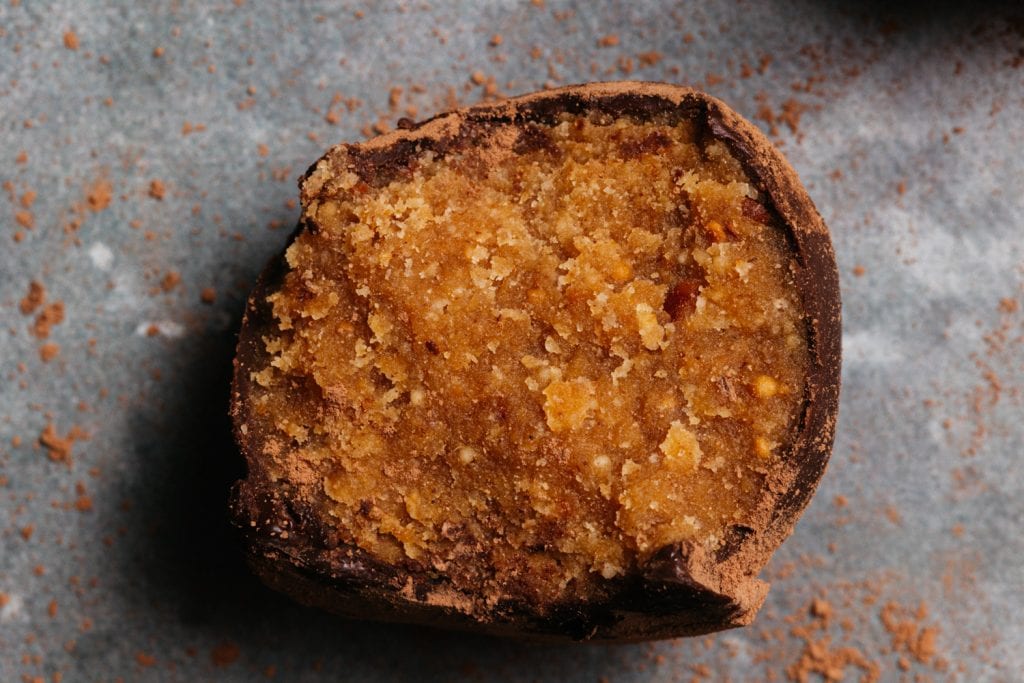 FAQ
Thinking of substituting some keto friendly ingredients? Wondering if you can freeze peanut butter balls for later? Read these tips to find out if it's possible! If these questions don't answer your concerns, leave a comment below and we'll be more than happy to answer.
Is peanut butter keto?
It sure is! Peanut butter is mostly fat and protein with very little carbohydrates. There's a little catch though – most peanut butters you can find at your local grocery store contain added sugar (without even mentioning it on the label, of course).
Look for organic, natural peanut butter with no added sweeteners. All peanut butter will have some kind of sugar in it, but those are natural sugars. It's the added ones we need to watch out for.
Good peanut butter should have no more than 2-3g of net carbs per 1 tablespoon.
Where can I find sugar free chocolate chips?
It's important you don't use regular chocolate chips for this keto peanut butter balls recipe. Depending on the brand, regular choco chips contain about 9 to 12g of carbohydrates per tablespoon. That's almost half of the carbs you can eat within a day!
Instead, use keto and low carb friendly, no sugar chocolate chips. If you can't find them at your local grocery store, try bigger ones or get them on Amazon. In comparison to regular chocolate chips, sugar free ones have around 3g of net carbs per tablespoon. That's a huge difference.
Can I use a different nut butter?
If you're keto but paleo as well, you can swap peanut butter for almond butter or cashew butter. You may need to adjust the coconut flour a bit by adding a little more or using a little less.
If you want to make nut-free keto diet balls you can swap peanut butter for tahini or sunflower seed butter. We haven't tried this combination and you may need to play around with the rest of the ingredients a bit, but it surely won't be a difficult task.
Can I use almond flour instead?
In this particular recipe we used coconut flour and we haven't experimented with using almond flour instead. Coconut flour is quite absorbent, meaning it sucks up a lot of the moisture around it.
If you use almond flour instead in the same quantity as coconut flour, your keto peanut butter balls will probably lose their shape or not hold together at all.
Since we're not doing any baking here, you can experiment with substituting almond flour for coconut flour, but be mindful that you'll probably need to double or even triple the amount.
How to store peanut butter balls?
For everyday eating, we recommend you keep them in the fridge. Room temperature may cause your peanut butter balls to lose shape and become too mushy. We also found that the best way to eat them is to take them out of the fridge and then wait 10-15 minutes until they become a bit softer inside.
To store them long term, keep them in your freezer. They can stay there for up to two months.
The key to their longevity is knowing how to store them properly. First, freeze them on a baking sheet. Then, place in ziploc bags in smaller batches. To thaw, place a bag in the fridge overnight and they will be ready by breakfast!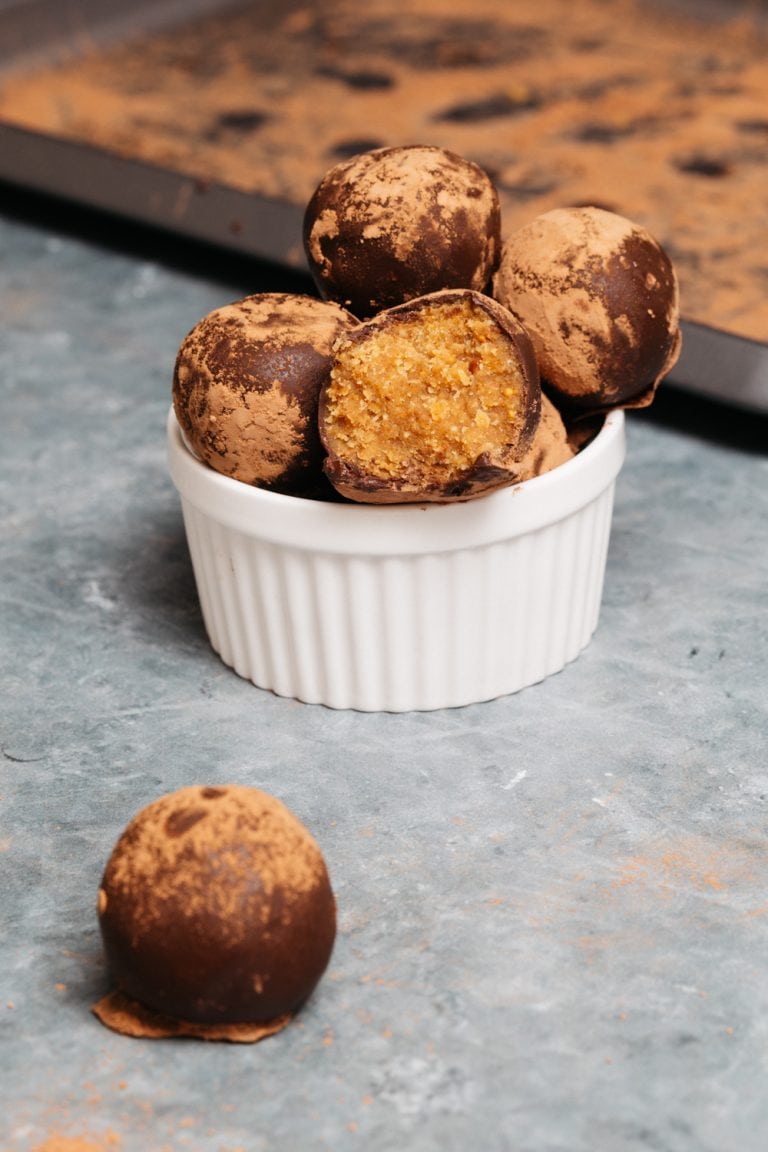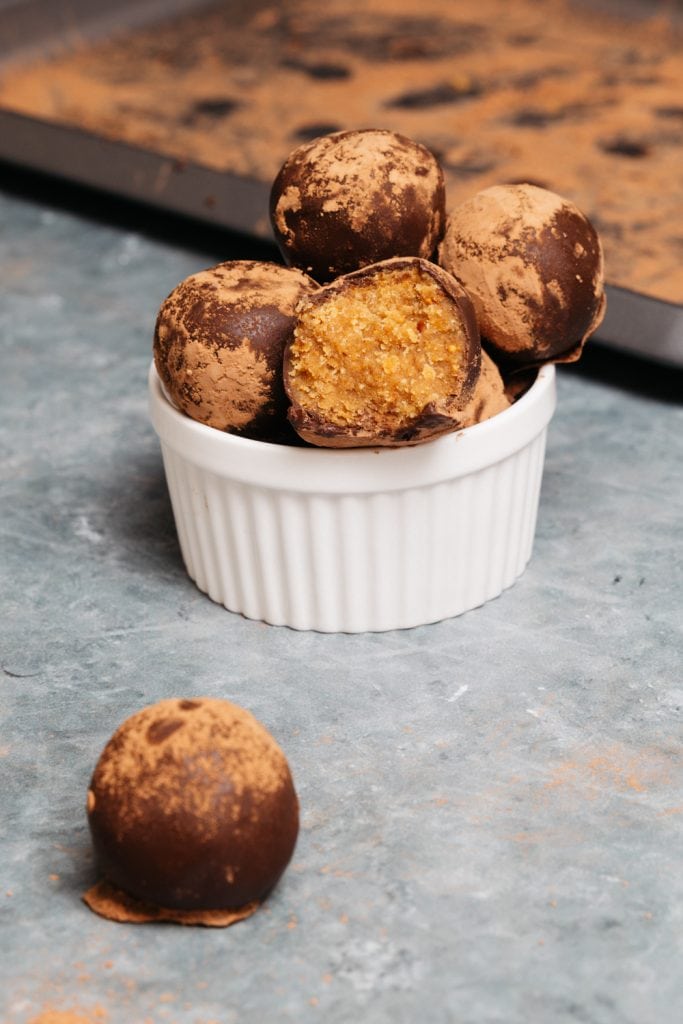 More Keto Fat Bomb Recipes:
Looking for more keto and low carb recipes? Here is a brief list of fat bombs you can make to satisfy your sweet tooth without compromising your daily ketogenic macros:
Keto Cookie Dough Fat Bombs – you can whip these up in under 10 minutes! If you miss sneaking up and eating cookie dough straight out of the fridge, these will surely hit the spot.
Keto Coconut Fat Bombs – you'll only need 3 ingredients to make these and enjoy on the go whenever you want a sweet keto bite! These are great if you want to up your daily fats with nearly 10g of fat per one serving.
Keto Cheesecake Fat Bombs – creamy, delicious and full of healthy fats. These will only take you 10 minutes to prepare and are made with ingredients you probably already have in your fridge. One fat bomb has 13g of fat and only 1g of net carbs.
Keto Shelf Stable Fat Bombs – yep, it's possible! You don't need to keep these in the freezer or the fridge. They're perfect as they are, waiting for you whenever you're ready. Less than 1g of net carbs and 20g of healthy fats in one single fat bomb!
Keto Mini Brownie Bites – if you're craving something chocolatey but you don't really have a lot of net carbs leftover for the day, these will do the job. No baking, you can make them in bulk and grab them when you're on the go.
Keto Almond Joy Fat Bombs – before I went keto, Almond Joy was my favorite guilty pleasure so without a doubt this is one of my favorite keto fat bomb recipes. Grab some sugar free chocolate and a few other ingredients to make these and you'll be in coconut almond heaven soon, I promise.
Just in case you're a huge fan of fat bombs and want more ideas, check out our article on the 17 Best Keto Fat Bomb Recipes!
Are You a Fan of Healthy Keto Snacks?
Let us know in the comments which healthy keto snacks are your favorite! Also, definitely drop us a line if you tried our recipe. We'd love to hear your thoughts and feedback!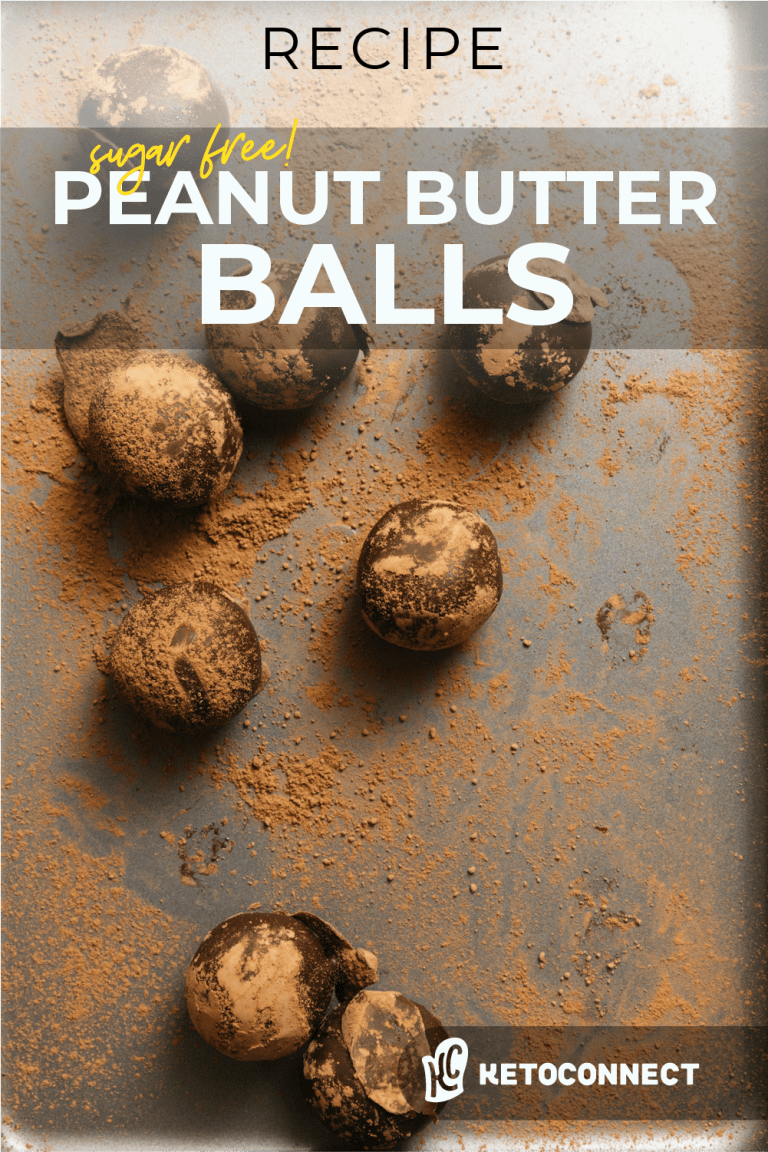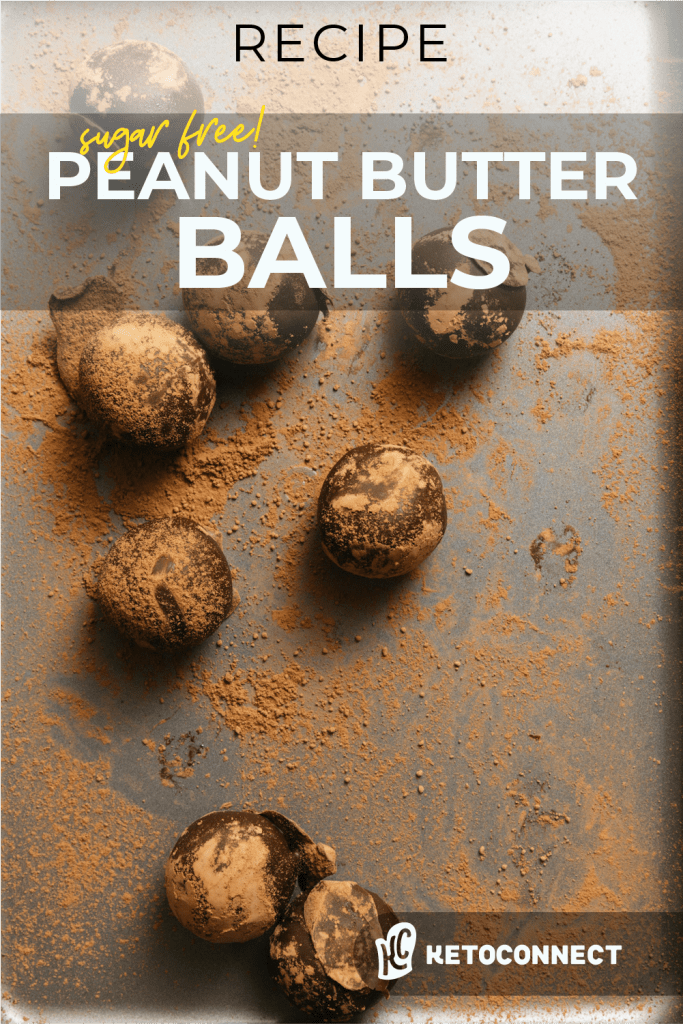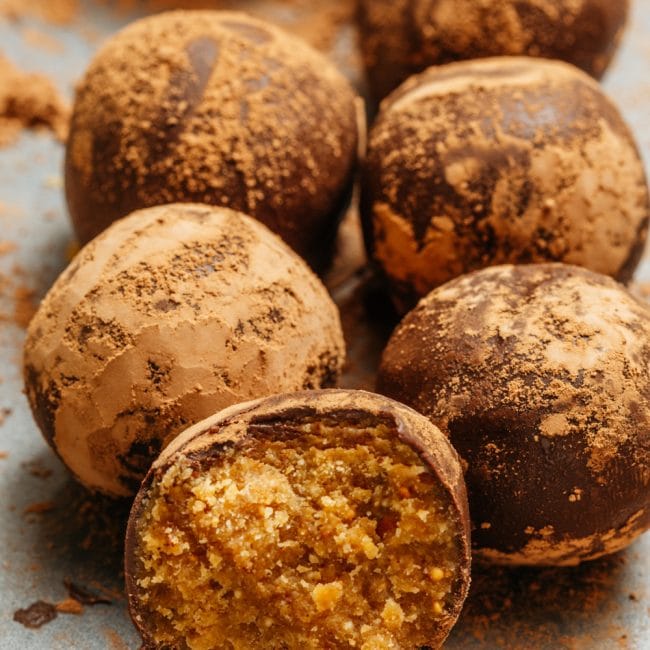 Keto Peanut Butter Balls Recipe
These keto peanut butter balls are healthy, pack a good amount of protein and you bet they won't kick you out of ketosis!
Total Time 40 minutes
Servings 9 balls
Calories per serving 223kcal
Prep Time: 10 minutes
Cook Time: 30 minutes
Instructions:
In a large bowl combine the peanut butter, maple syrup, and coconut flour. It should form into a cookie dough like mixture.

Roll the dough into balls, using a tablespoon to keep size consistent. Place balls on a parchment paper lined baking sheet.

Place the balls into the freezer to chill for 30 minutes.

Melt the chocolate chips in a microwave safe bowl with the coconut oil. Microwave for 30 second intervals, stirring in-between to prevent burning.

Remove the peanut butter balls from the freezer. Using a fork drop the peanut butter ball into the chocolate and move it around to coat.

Gently lift the chocolate coated ball up on the fork and tap the fork lightly against the bowl to knock of any extra chocolate.

Place all dipped balls on the parchment paper lined baking sheet and freeze until set.
Notes
If you are using very runny peanut butter that isn't properly setting, you can add another tablespoon of coconut flour to create structure.
Nutrition Facts
Keto Peanut Butter Balls Recipe
Amount Per Serving
Calories 223
Calories from Fat 144
% Daily Value*
Fat 16g25%
Saturated Fat 6g30%
Polyunsaturated Fat 3g
Monounsaturated Fat 5g
Cholesterol 3mg1%
Sodium 108mg5%
Potassium 155mg4%
Carbohydrates 16g5%
Fiber 2g8%
Sugar 12g13%
Protein 6g12%
Calcium 17mg2%
Iron 1mg6%
* Percent Daily Values are based on a 2000 calorie diet.