Adapting to the ketogenic lifestyle can definitely be a challenge for newbies so why not review ketogenic products? From cutting down your daily carb intake, increasing healthy fats, trying to lose weight, you're probably torn in all directions. No bread, no bagels, no donuts, no sweets, no root vegetables… the list goes on and on.
And pasta. You can't have pasta on keto.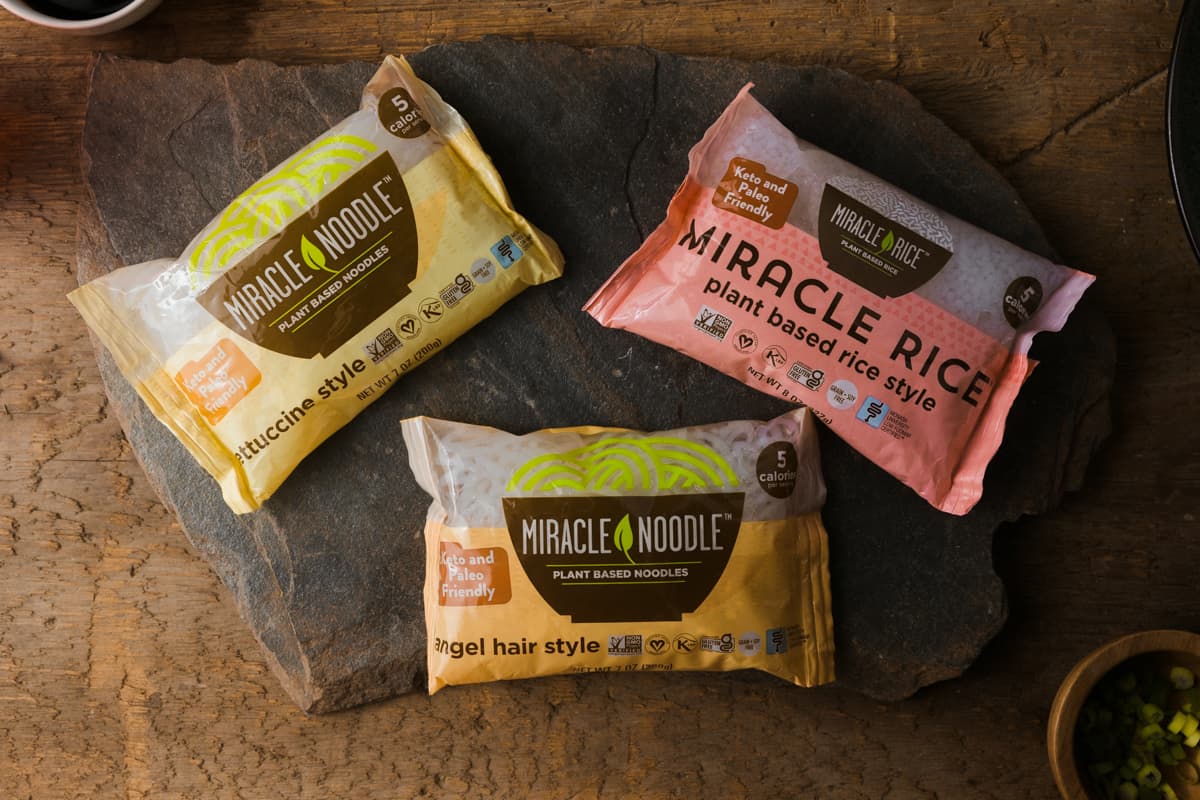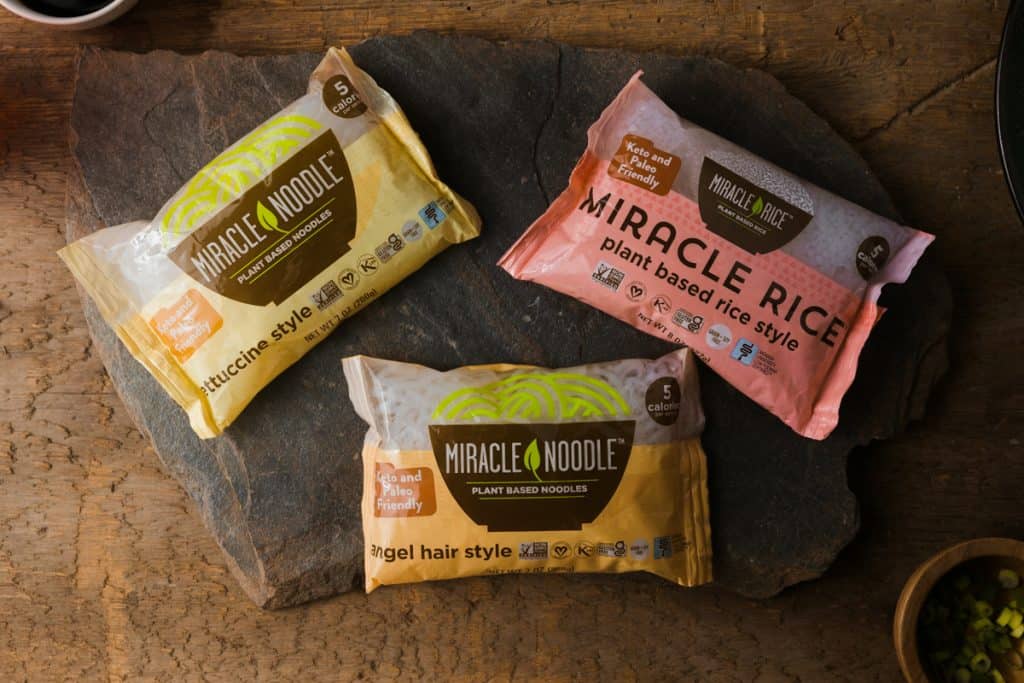 So what can you do if your taste buds are craving pasta?
You can cook delicious low carb pasta recipes right in the comfort of your own home. Summer is coming up and our household June and July is filled with family and friends. Some of them are low carb, always ready to eat whatever we make!
Plenty of stores are now selling spiralized zucchini which tastes great tossed with pesto or a low carb sauce. You can even try making homemade noodles using mozzarella cheese or whip up some cauliflower gnocchi. So many food options for all types of ketogenic diets!
They're great choices, but sometimes time consuming and the texture can be a little off. They don't always hit the spot either. Thankfully, there are more pasta substitute options available. We hope you find this review helpful while looking for a new, low calorie and low carb substitute for regular pasta.
FREE PRINTABLE: Keto Food List
Join 150,000 others to get a FREE keto food list and new recipes every week!
How do Miracle Noodles taste?
It's actually quite difficult to explain. I'd say it's a cross between rice noodles, but with a slightly different texture. Don't be thrown off by the smell the moment you open the package. There's a special preparation ritual that helps you get rid of that smell so that they're ready to eat.
After going through a few steps we've outlined for you below in this review, their texture changes from slightly slimy to tasting like pasta. If you don't prepare them well (please don't eat them straight out of the package) the chances you will like these are closer to zero than you'll ever know. We'll review how to cook them and get rid of the fishy smell later on.
Miracle Noodles are hands down one of our favorite ingredients to use for a quick and satiating meal. Primarily, we use the Miracle Noodle brand and that's who we will review today. They have lots of different options, even shirataki rice! As long as you take cooking directions seriously, you're all set and ready to go with a meal that almost tastes like regular pasta.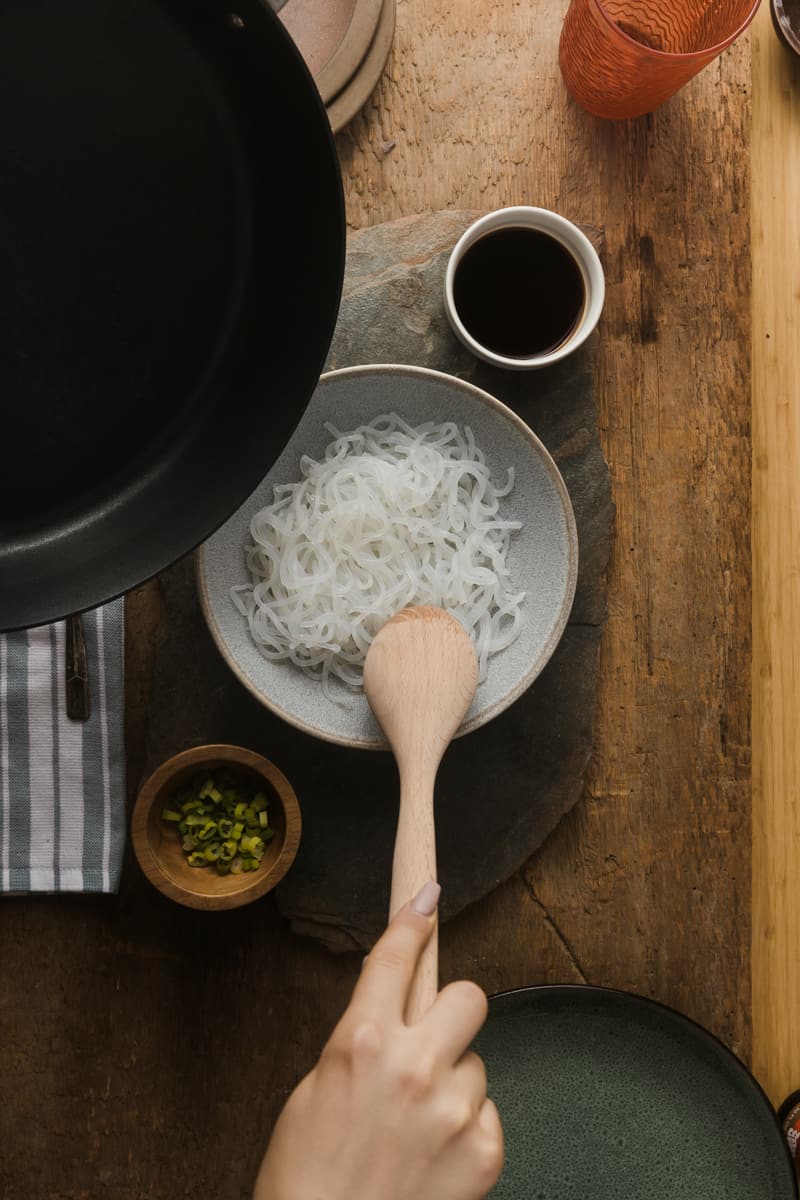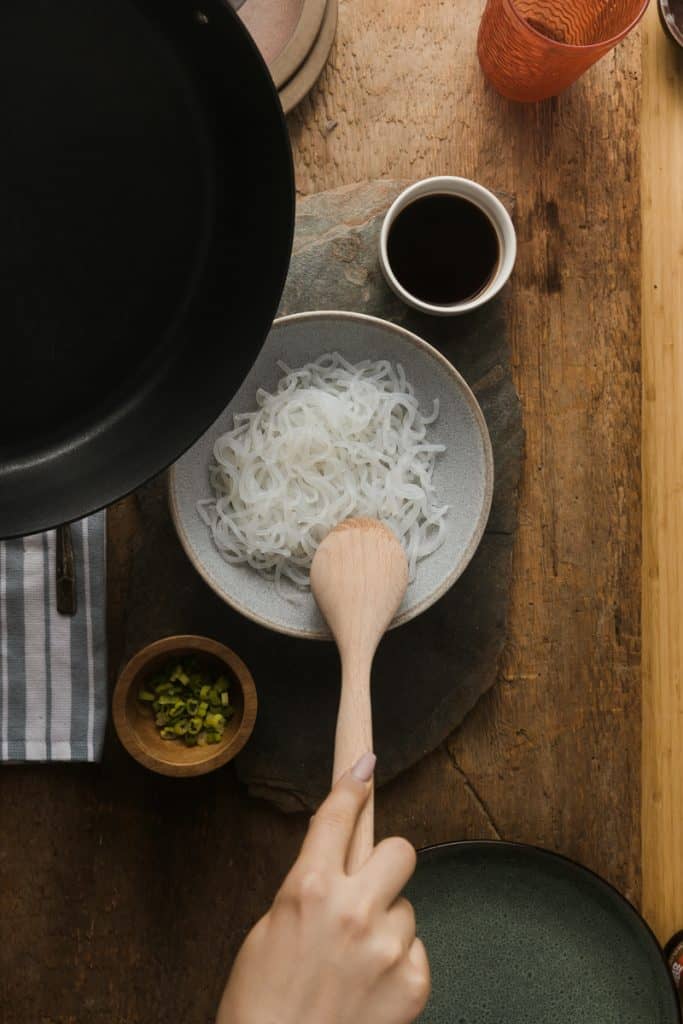 Are Miracle Noodles really keto?
Miracle Noodles are made from konjac flour, also known as glucomannan. It's a purely soluble, fermentable dietary fiber. It's found in the roots of konjac plants, which are native to Asia.
Miracle Noodles have zero calories!
They go by many names – miracle noodles, shirataki noodles or konjac noodles. Konjac flour has no calories, no sugar, no fat, no starch and even no protein. This is why they're an excellent gluten free addition to the ketogenic diet.
To be honest with you, it doesn't even matter what kind of diet you are on or what kind of dietary restrictions you have. Even if you are lactose intolerant or have nut allergies, you don't have to worry about any of these with konjac noodles. We're giving them a golden "friendly for all" star!
Are Miracle Noodles healthy?
Shirataki noodles are 97% water and 3% fiber. Since they virtually contain no calories (5 kcal per serving) and no significant macronutrients, you may wonder if they have any health benefits at all. It's really surprising, but they actually do! Not only do they aid in blood sugar maintenance, they also contain satiating soluble fiber and prebiotics to help with digestion.
In this review, we'll let you know all the details. Plus, konjac noodles are suitable for all kind of diets. Let's not forget to mention this is a virtually zero calorie food! Great option for those who want to get their summer body right in time for June, July and August!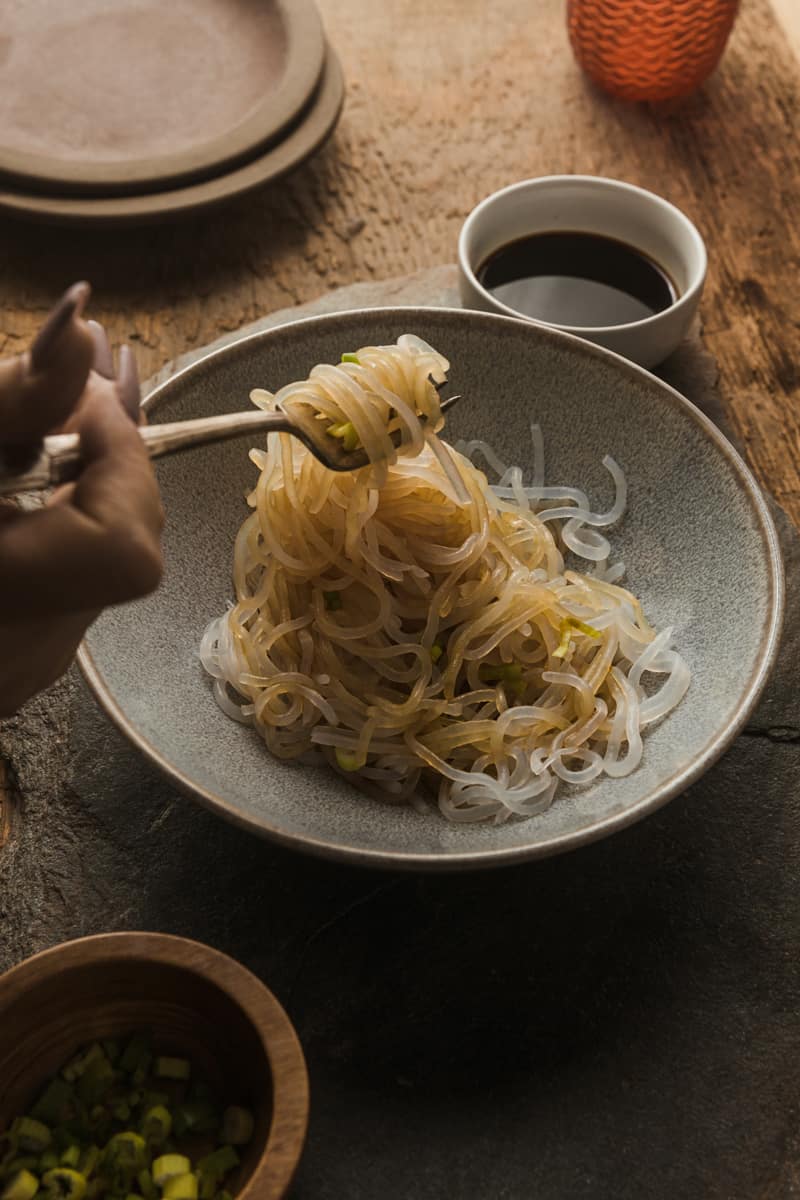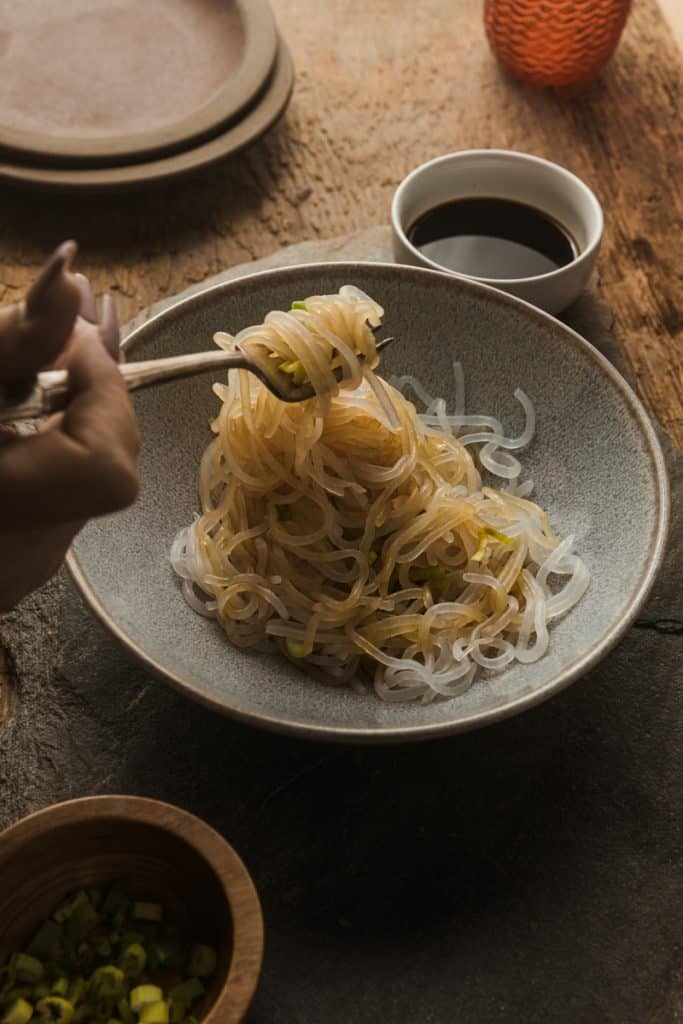 Konjac noodles are helpful in:
1. Losing weight
Several research studies show that glucomannan, the soluble fiber miracle noodles are made from, supports weight loss. It helps you feel full faster and in turn, reduces the need to eat more .There's a study that shows patients lost on average 5.5lbs more when supplementing glucomannan over an eight week period! Isn't that awesome?
2. Maintaining healthy blood sugar levels
A thick, viscous soluble fiber like glucomannan helps delay stomach emptying, which balances out blood sugar levels and prevents insulin spikes after eating. A number of studies show it helped lower blood sugar levels in those with insulin resistance and diabetes! 
3. Lowering cholesterol
Glucomannan helps your body excrete an increased amount of cholesterol. It may help lower high triglycerides and decrease that "bad" LDL cholesterol by preventing it from going back to your bloodstream. In other words, the faster it goes out, the less cholesterol you'll have. 
4. Soothing constipation 
If you're frequently constipated, eating miracle noodles can help you with that. It's scientifically proven that glucomannan is an effective tool in relieving hard to pass bowel movements. While this is a good thing, for some this can also turn into a bad thing.
Side note: For some people, konjac noodles can cause digestive problems. They're usually mild in nature and include bloating, several trips to the bathroom and gas. Personally, we never really had any of these issues and glucomannan works for us really well, but thought it was worth mentioning to all of you. Especially if you're known to have digestive sensitivities!
How to cook Miracle Noodles?
Miracle Noodles are easy to prep and taste delicious with any kind of seasonings. However, there are several steps you need to take to make them taste good. Our review wouldn't be complete without these steps, so don't skip these or you'll end up with a weird texture and an odd smell. Actually, don't even take a sniff of them right out of the packaging once you open it – it may throw you off a bit. They have a distinct fishy smell, but the steps below will be helpful in getting rid of it.
STEP 1: DRAIN WELL
Take konjac noodles out of the packaging and drain them well using a strainer. Depending on the type of miracle noodles you buy, you can use a simple pasta strainer or a fine mesh sieve.
STEP 2: RINSE, RINSE, RINSE
Thoroughly with hot, preferably boiling water. Do it at least three times, but we recommend five is the ultimate sweet spot to remove the fishy smell and achieve perfect texture. When we first heard of them years ago some reviews said to rinse them with cold water, but we prefer the boiling water method a bit more.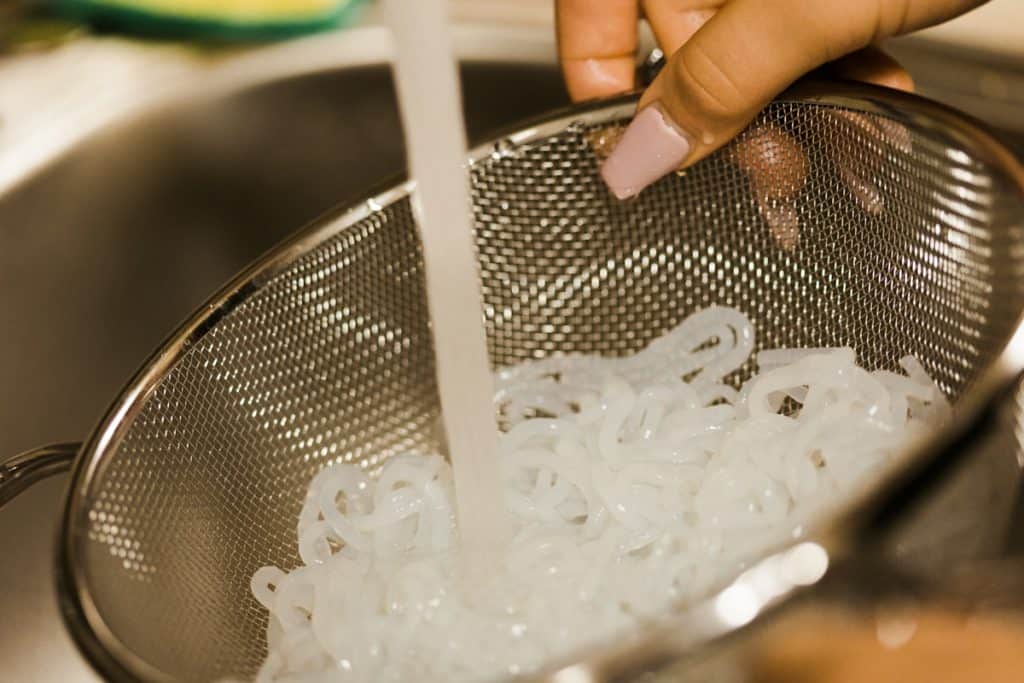 STEP 3: PAT DRY
After rinsing, pat dry until most of the moisture goes away.
STEP 4. SAUTÉ
Using a dry, non-stick pan, sauté for 3-5 minutes. This step will dry konjac noodles out as much as possible – removing all the water is exactly what you want. Note: don't add any oil to the pan!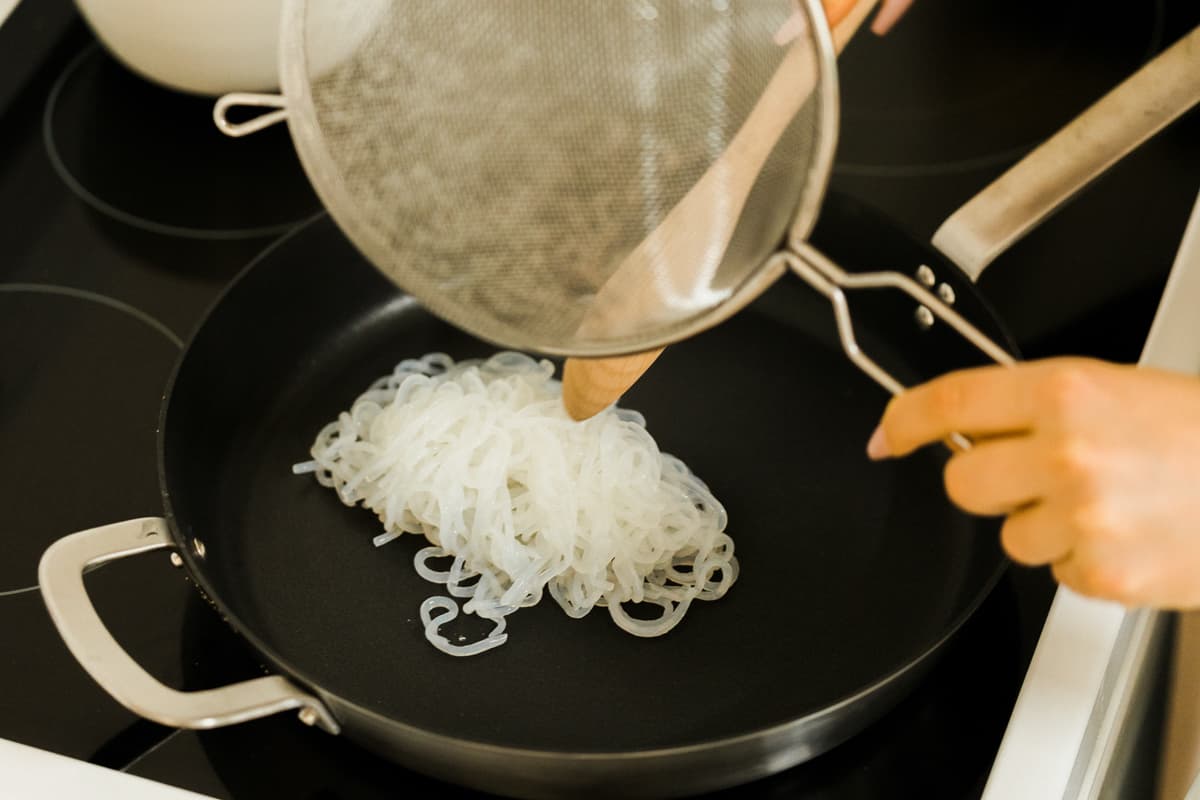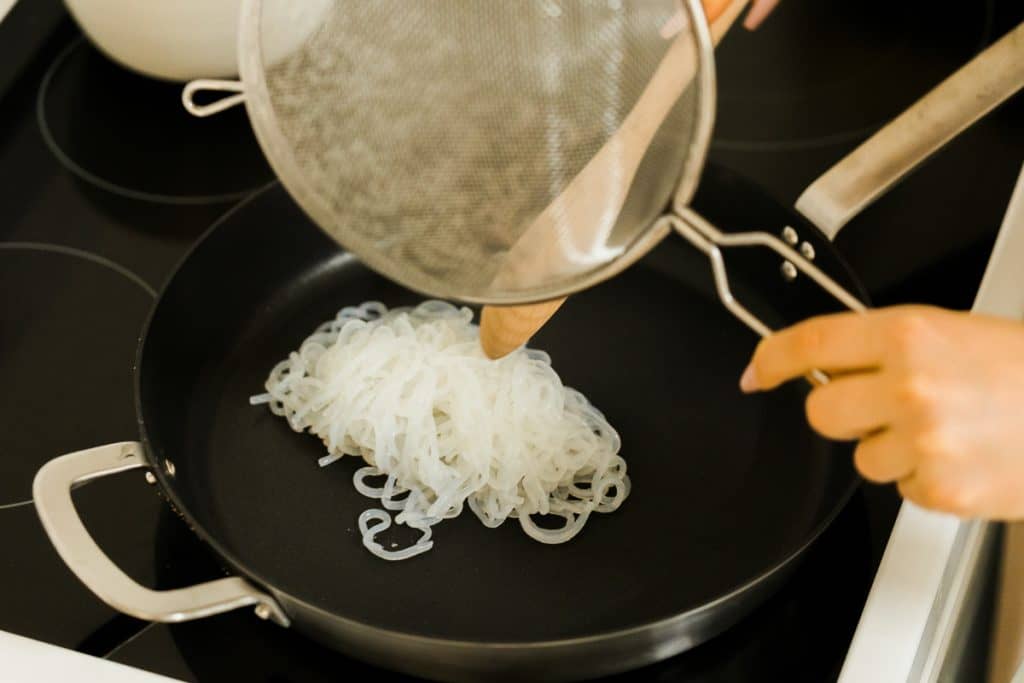 STEP 5. ADD SOME FLAVOR
Add any sauces or seasonings you want and mix in the rest of the ingredients for another few minutes, so that the noodles can absorb all the taste from the sauce.
Are Miracle Noodles sold in stores?
Yes! You can find them in Whole Foods, Stop & Shop, Publix and more. Use their Store Locator to find stores near your location. If you don't feel like leaving your house and prefer to order online, the company offers FREE shipping on all orders. Yep, we love free shipping just as much as you do.
Miracle Noodles cater to the customer by offering lots of different low carb diet options. I clearly remember the times when years ago there were hardly any store bought ketogenic products. Forget about variety and customer reviews. You can actually read a lot of product reviews on the brand's website (Amazon has plenty of reviews as well).
Angel Hair Style Noodle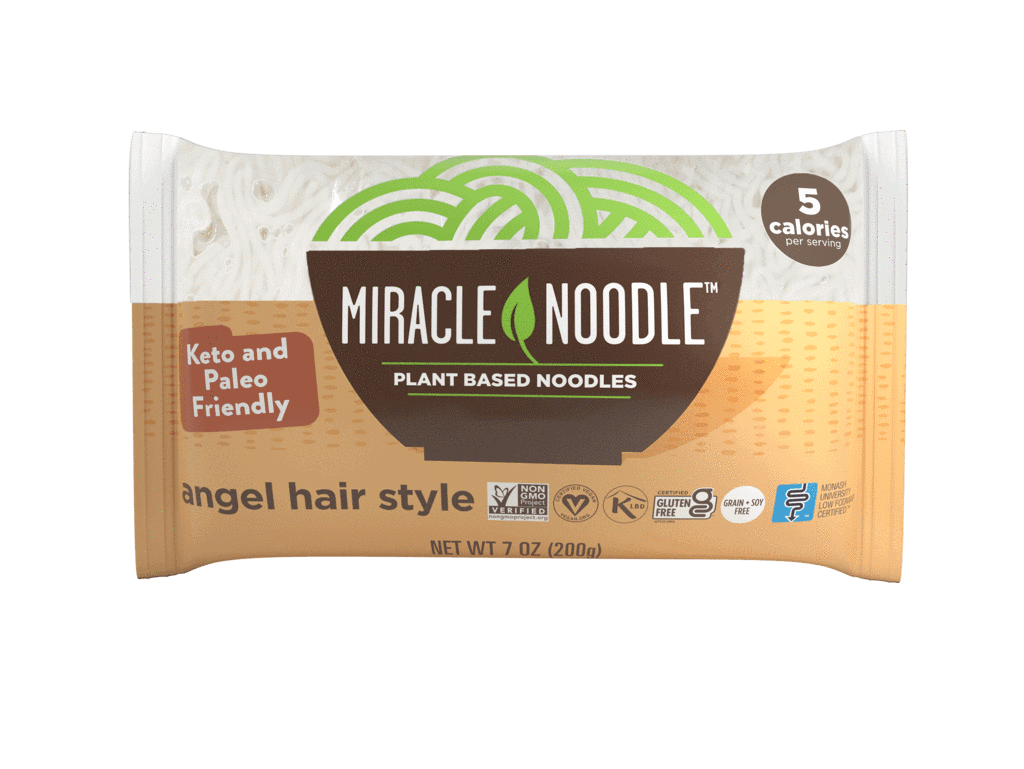 Nutritional info (per serving):
Serving size: 3oz 
Calories: 5 kcal
Fat: 0g
Carbs: 3g
Net carbs: 1g
Cost: From $2.47 – $3.70 per package, depending on the quantity you buy.
When to use: Add to any soup, mix with your favorite flavor of whatever sauce you like eating. You can use angel hair noodles to substitute pasta in all kinds of Italian recipe ideas. They have zero calories, so even if you go bananas on a high fat cheesy sauce, you'll still be able to watch your weight.
Fettuccine Style Noodle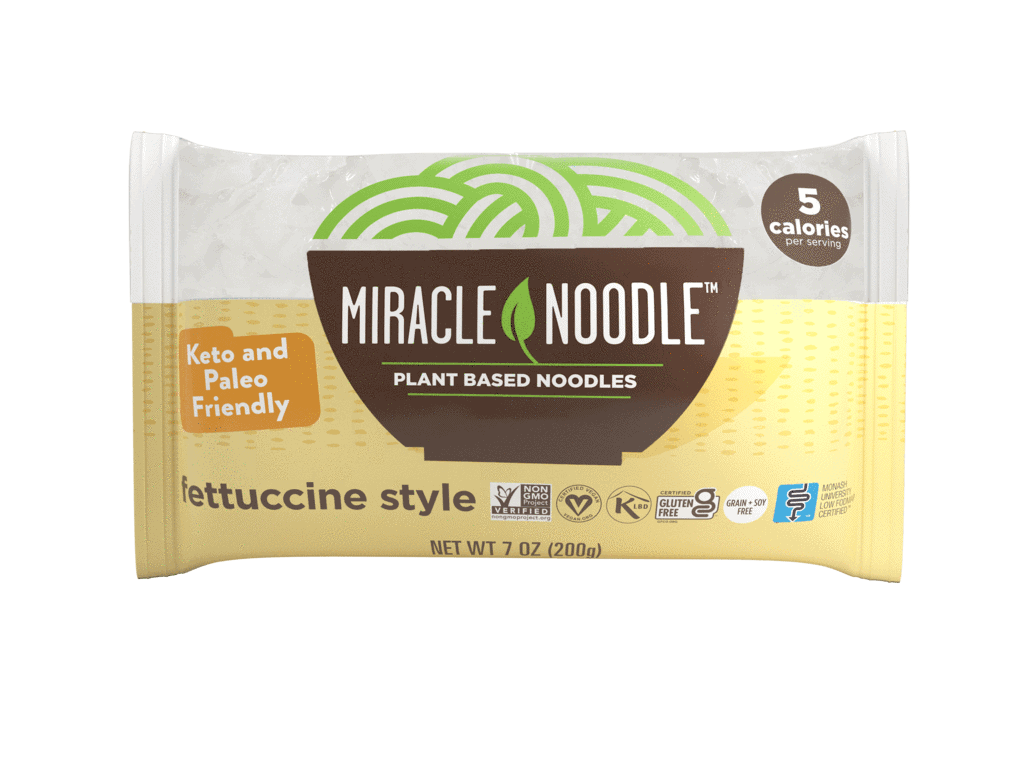 Nutritional info (per serving):
Serving size: 3oz 
Calories: 5 kcal
Fat: 0g
Carbs: 3g
Net carbs: 1g
Cost: From $2.47 – $3.70 per package, depending on the quantity you buy.
When to use: These fettuccini noodles work great as a substitute for rice noodles. You can use them in a low carb pad thai recipe, a soup, or any other Asian inspired food you're in the mood for. If you prefer it to taste more like pasta, add a simple sauce and mix with pesto or Parmesan cheese.
Spaghetti Style Noodles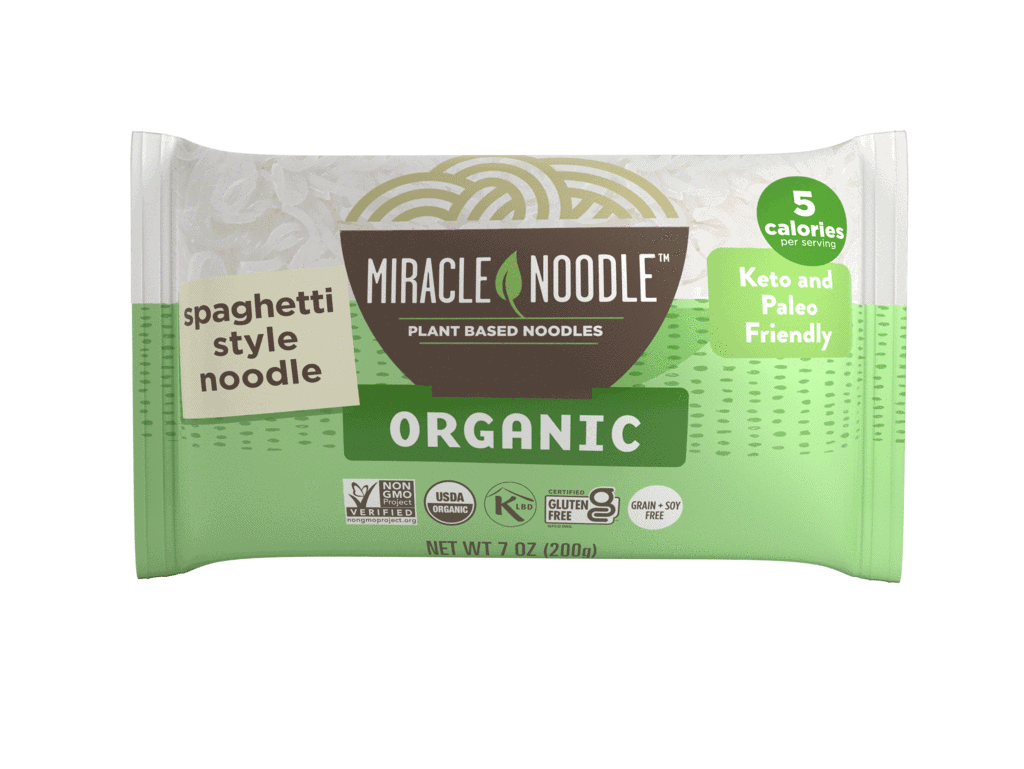 Nutritional info (per serving):
Serving size: 3oz 
Calories: 5 kcal
Fat: 0g
Carbs: 3g
Net carbs: 1g
Cost: From $2.47 – $3.70 per container, depending on the quantity you buy.
When to use: As the brand name suggests, these are helpful in making the good 'ol spaghetti with low carb marinara sauce. We actually eat them in lieu of noodles and rice plenty of times, and they never disappoint.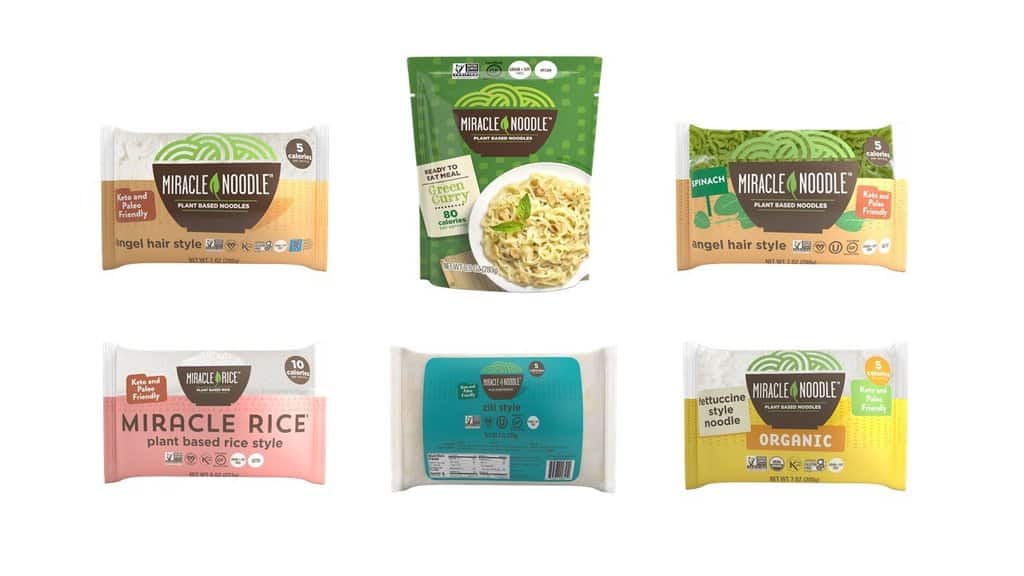 The Miracle Noodle brand also offers lots of other low carb options, from ready to eat shirataki noodles and even shirataki Miracle Rice! You can easily swap cauliflower rice for it and enjoy keto sushi, burritos or low carb rice bowls.
Online, they're sold in packages of 10, 20 or 30 – the more you buy, the more you save. If you decide to purchase them more often, you can also get a subscription and save 15% on your order.
Low carb Miracle Noodle recipe ideas
You can use Miracle Noodles in an unlimited number of ways. Seriously, possibilities are limitless and this is one of those keto substitute ingredients where it's difficult to get it wrong. Think of a recipe that uses regular pasta and swap it for a miracle noodle. If you asked us years ago to write helpful tips on how to eat these, we probably wouldn't have reviewed them because they were so new to the ketogenic world.
Since summer is coming up, we're actually having some non ketogenic guests visiting us in June and July. I'm pretty sure they haven't had Miracle Noodles yet, so I'm really curious to see what's their opinion on these.
Check out these recipes:
Low Carb Pasta Alfredo With Sausage – you can make this awesome recipe in less than half hour! It's really cheesy, and while Matt made it with Italian sausage, you can swap it for any protein you like such as chicken or shrimp. In this pasta recipe, we used the fettuccini kind of noodle.
Keto Pad Thai – it's an easy stir fry for everyone who loves Asian inspired recipes. You can make it with chicken, shrimp, or keep it totally vegetarian and eat it with tofu.
Fried Rice – swap cauliflower for a rice noodle! There are plenty of recipes that use cauliflower instead of rice, but if you want to change up the taste and texture a bit, use the Miracle Noodle no calorie rice option.
Whether you're on a quest for a great pasta and rice substitute or simply want variety in your recipes, we hope you found this review helpful. Konjac noodles and konjac rice are one of our favorite ways to swap out rice and carb loaded pasta. If you want to make a soup, swap out a rice noodle or enjoy a simple Asian inspired or Italian dish and make it taste like the real thing, trying Miracle Noodles won't disappoint you one bit!
More Keto Product Reviews
If you liked this full review, you are in luck because we have in depth reviews of the most popular keto products on the market today.
Best Keto Cereal Review
Ultimate Keto Meal Delivery Options
Greatest Keto Subscription Box
50 Best Keto Fast Food Options
Best Keto Protein Powder