You would never guess that the secret ingredient of this keto apple crisp is Jicima! It's sweet, tender, and generously topped with a cinnamon spiced crumble.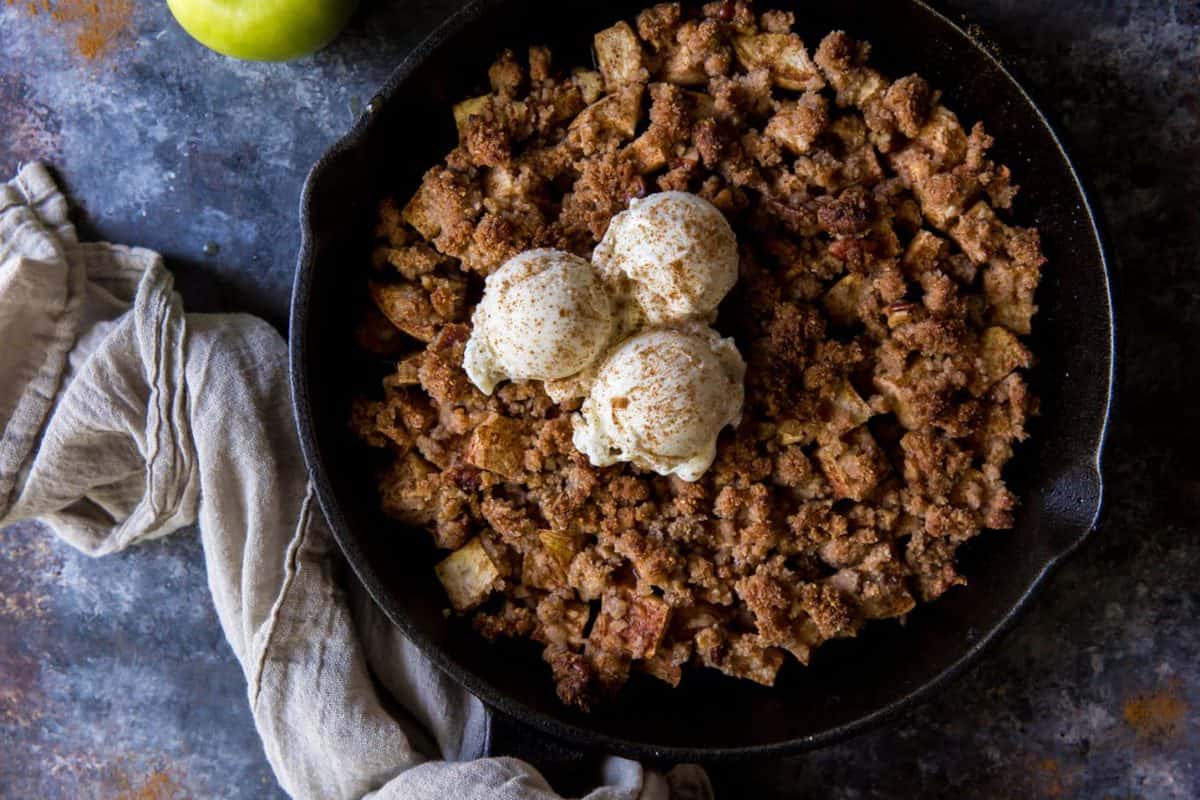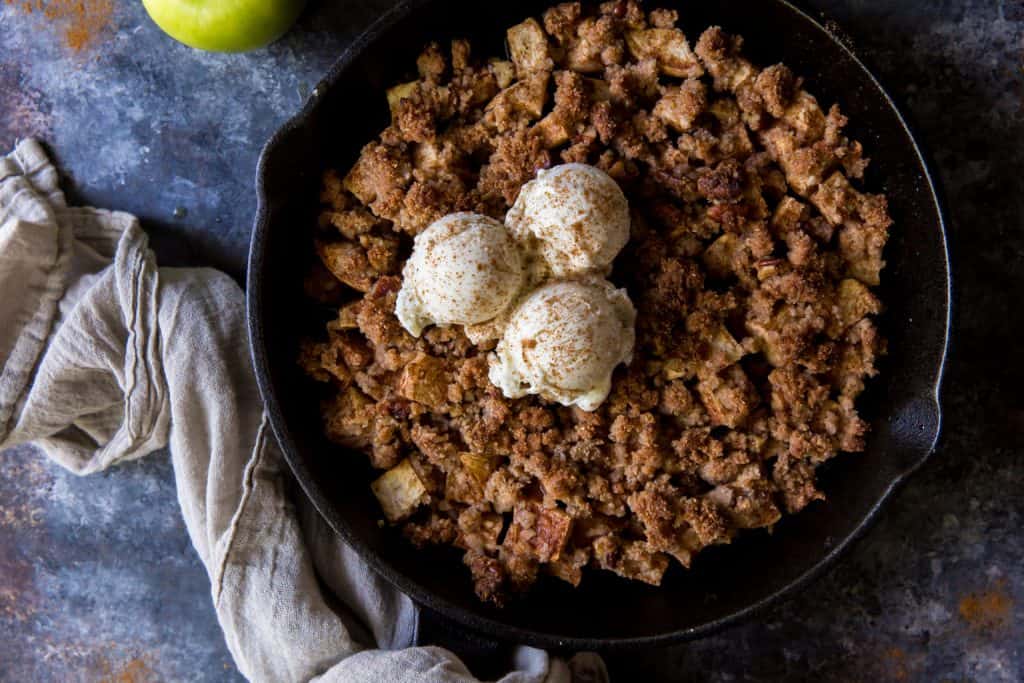 Are Apples Keto?
Sadly the crunchy and refreshing fruit we all grew up loving is not keto. Per 100 gram serving of apples there are 14 carbs and 12 net carbs. Rather than use a chayote squash or zucchini we decided to bring out the big guns, jicima. This vegetable has the same texture as apples, but without the sweetness. It makes it easy to create a delicious and authentic keto apple crisp.
Say goodbye to apple pie and your best apple dessert. Instead, enjoy this delicious keto apple dessert crumble that takes less than 30 minutes to prep and tastes like the real deal. With this delicious of a dessert it's safe to say bye bye Miss American Apple Pie.
FREE PRINTABLE: Keto Food List
Join 150,000 others to get a FREE keto food list and new recipes every week!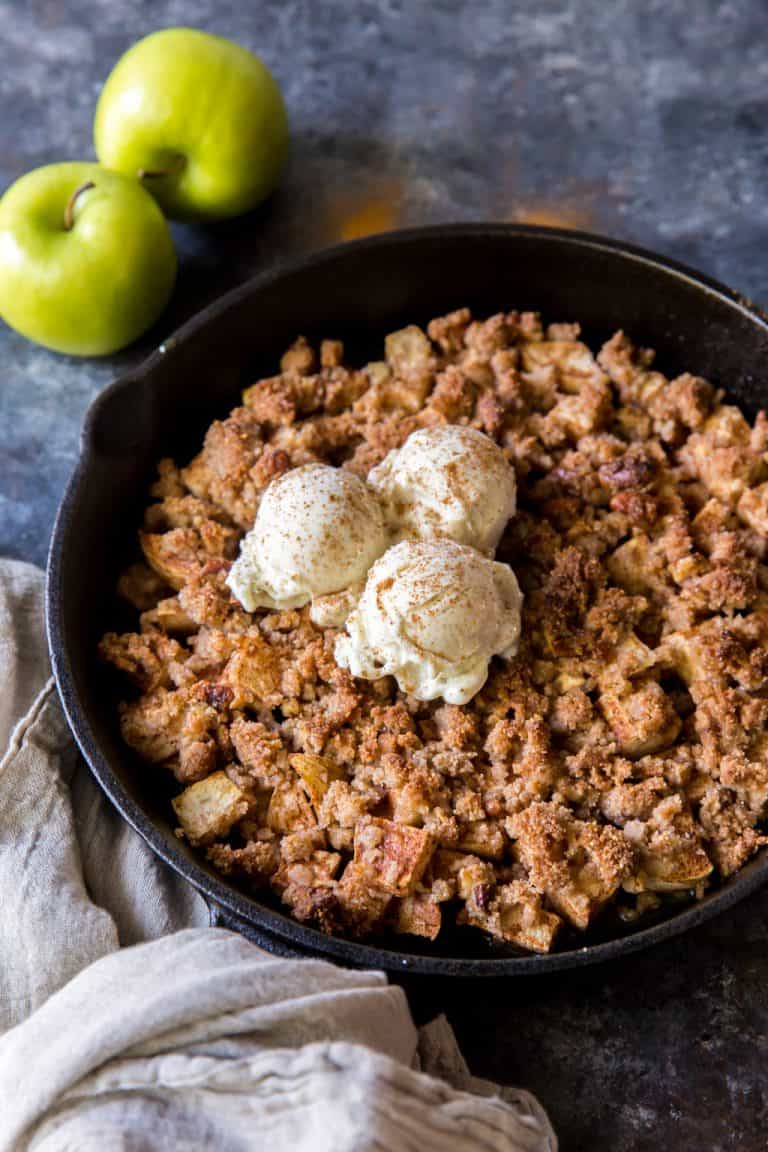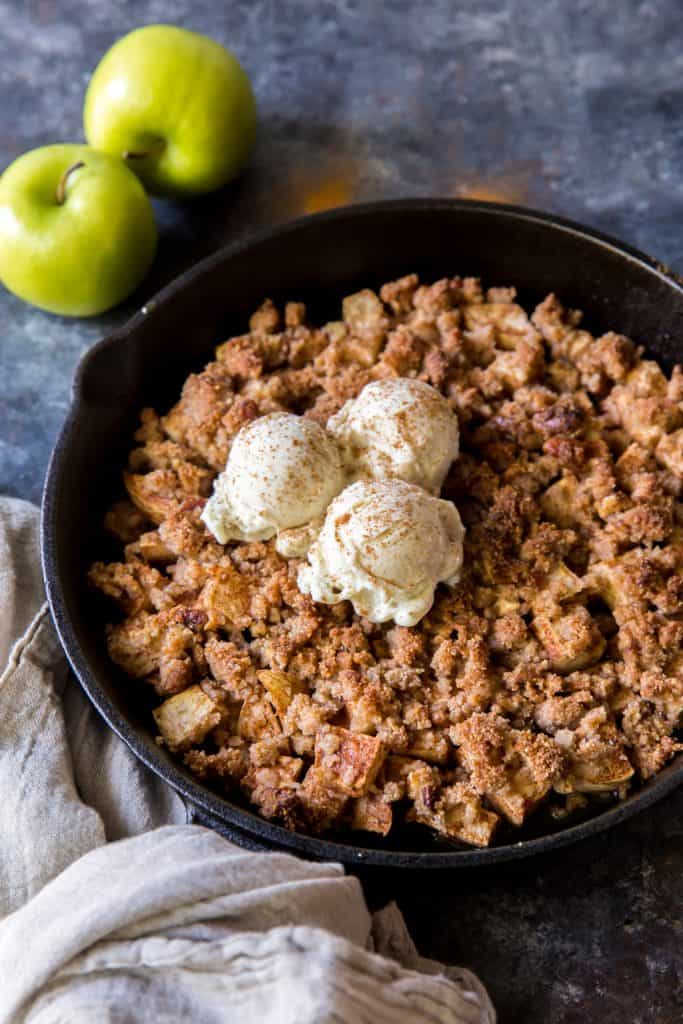 Is Jicima Keto?
Jicima is the perfect low carb apple filling replacement. Per 100 grams of jicima there are only 9 carbs and 5 grams of fiber (4 net carbs)(1). An added benefit to having all that fiber is just how much your gut will thank you. The good gut bacteria feeds on fiber which helps to improve overall digestion(2).
Does Jicima Taste Like Apples?
Jicima is crisp and crunchy like apples, meaning when cooked the cubes will be soft and tender. The flavor is also very neutral almost like an unsweetened apple. It will give the same look and texture as chopped apples, but flavor wise has the versatility to be sweet or savory.
How to Cut & Peel Jicima
Jicima can be a bit tricky to cut if you have never prepared it before. While it may be tempting, do not use a vegetable peeler. That will be more dangerous because jicima often has extra wax from the grocery store that makes the peel even thicker. Instead, cut the top and bottom of the jicima to make a flat surface. Then carefully use a sharp knife on a cutting board to thinly slice the peel off.
To cut the apple portion, carefully slice the jicima into matchstick shapes and then cube them. Each cube should be about a half to full inch.
How to Sweeten Keto Apple Crisp
As stated above jicima is a crunchy and refreshing vegetable making it the perfect apple replacement. However, unlike an apple jicima is not sweet. That is why we use a blend of stevia and erythritol to make the perfect sweet keto apple crisp. Personally we prefer a blend of the two sweeteners, because we find it creates the best balance of natural sweetness in keto treats. You can always use a different sweetener that you have on hand if you prefer. Some other keto sweetener options include:
Allulose– Allulose is a newer keto friendly sweetener that is often found in many store bought keto cereals. It has 0 net carbs and is completely sugar free. The best part is that rather than being a sugar alcohol, it's a natural sweetener.
Monk Fruit– Monk fruit is another sweetener extract similar to stevia. Monk fruit is all natural and often more expensive than stevia, hence why it is often found in a powder bulked by erythritol. If you want plain monk fruit make sure to buy the 0 calorie liquid sweetener, and then sub it for the liquid stevia in this recipe.
Coconut Sugar– Coconut sugar is NOT keto. However, if you want to make this low carb apple crisp paleo; coconut sugar will be the way to go.
Whichever sweetener you decide to use for this recipe is fine, just make sure to check that you have the proper ratios! Some extracts are a lot more concentrated than the granular varieties, and will require measurement changes.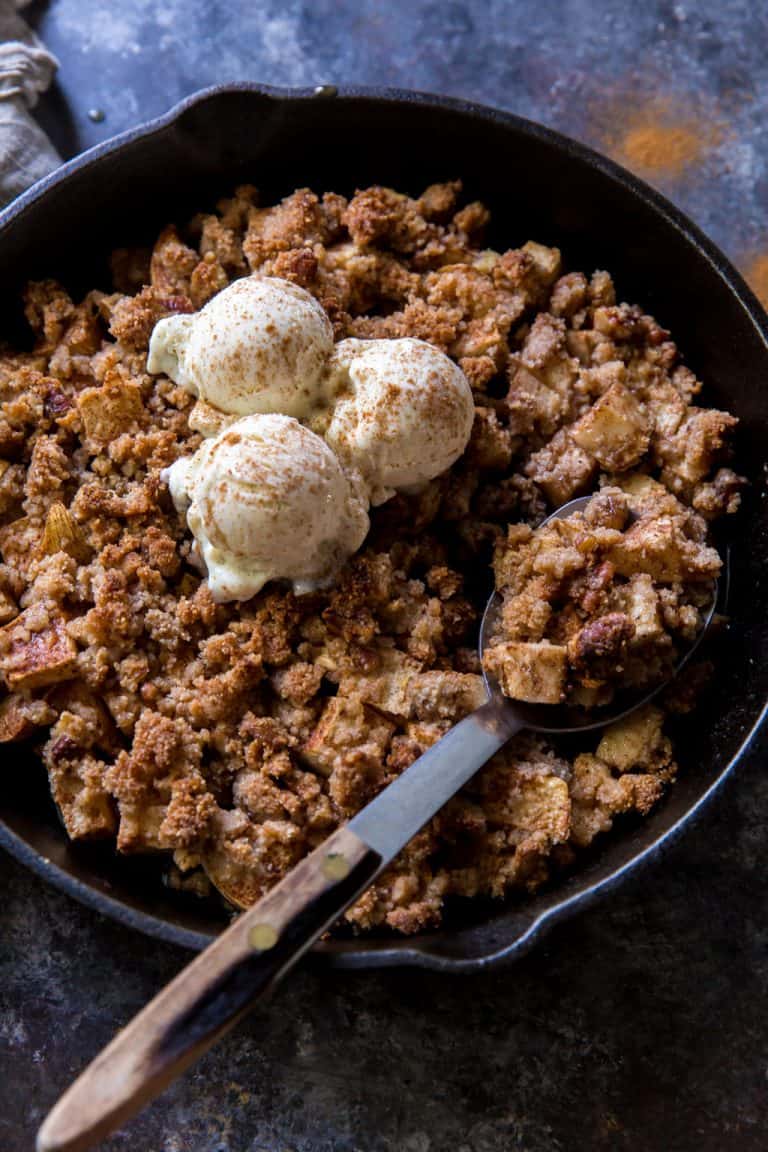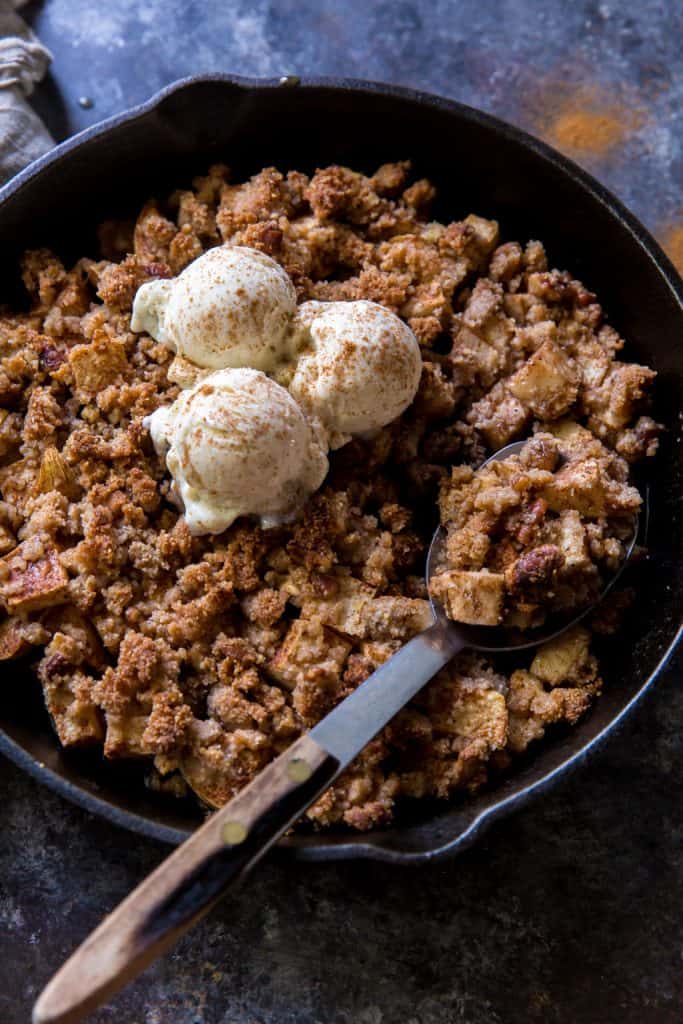 What Is Xanthan Gum?
Xanthan gum is a keto friendly gluten free thickener. Unlike cornstarch, xanthan gum works well in very small amounts. For the entire recipe you only need 1/2 teaspoon for the apple filling. This will help to gel up the jicima water in your baking dish and make a more jammy keto apple crisp. Xanthan gum has just 1 gram of net carbs per 1/2 teaspoon making it the perfect cornstarch substitution.
Can I Make Low Carb Apple Crisp Ahead of Time?
Planning to make this recipe for a crowd and want to know if you can make it ahead of time? You certainly can! There are a few ways you can go about making this recipe ahead of time.
Make and Store in the Fridge– Rather than pre- baking it, simply put all the ingredients together and store in the fridge until you're ready to bake. We often do this when we want to prep the dish in the morning and then bake it while we're having dinner. It finishes baking while we eat so we can go right to this warm keto apple crisp recipe after dinner.
Bake and Reheat– If you'd rather make the recipe a day in advance you can also pre- bake it. Allow it to cool and then store in the fridge. When ready to eat: Preheat your oven to 350 and bake until the center is warm and the apple crumble topping is crisp.
The biggest takeaway from this is that you do not want to microwave an apple crisp recipe. Reheating low carb apple crisp in the microwave will make a soggy; not so crunchy apple crisp topping.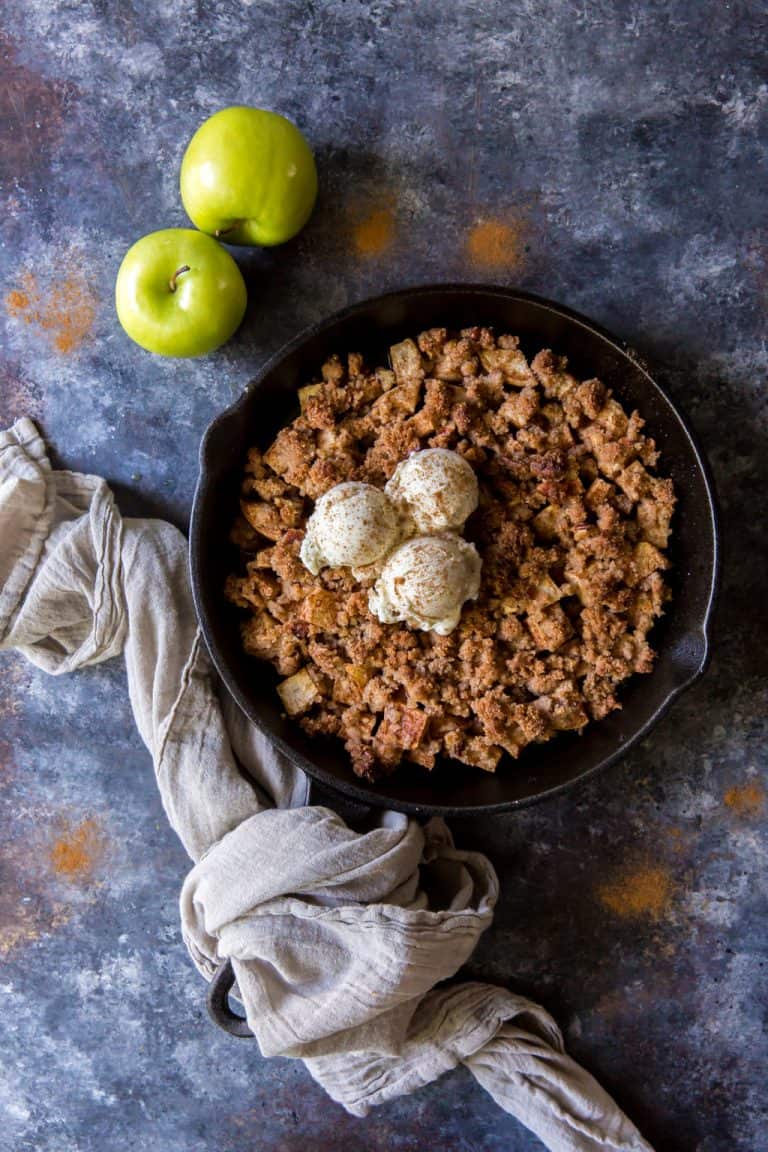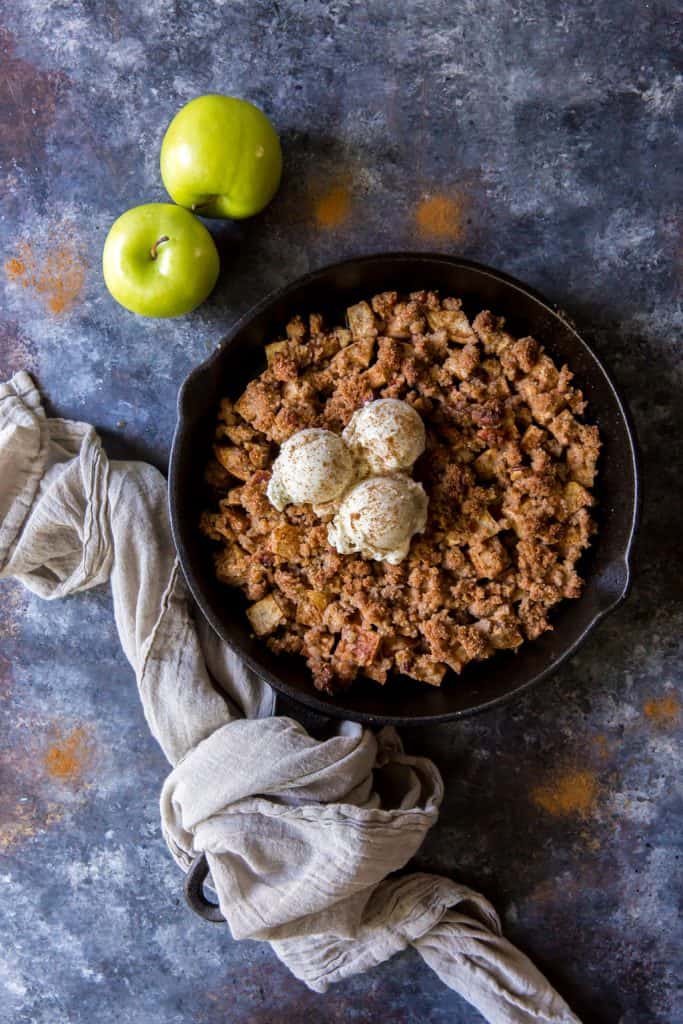 How to Make Keto Apple Crisp
This keto apple crisp is simple and easy to make. The hardest part is just waiting for it to cook! Get your keto vanilla ice cream and spoons out, because this baking dish is sure to be empty in minutes.
Ingredients
The ingredients for this apple crisp recipe are broken into two categories: The apple Crumble and the apple Filling.
The Crumble
For the apple crisp portion you will need a base of almond flour in place of typical white flour. You will also want nuts for crunch, we chose raw chopped pecans. For sweetness we used granular erythritol (we've used swerve brand before too) and liquid stevia, but you can also use other sweeteners like the ones suggested above. Finally you will need cinnamon, salt, and cold butter that has been cubed for easy mixing. It should be cold rather than melted butter because it will allow the almond flour to chunk up and form those hearty apple crisp clusters.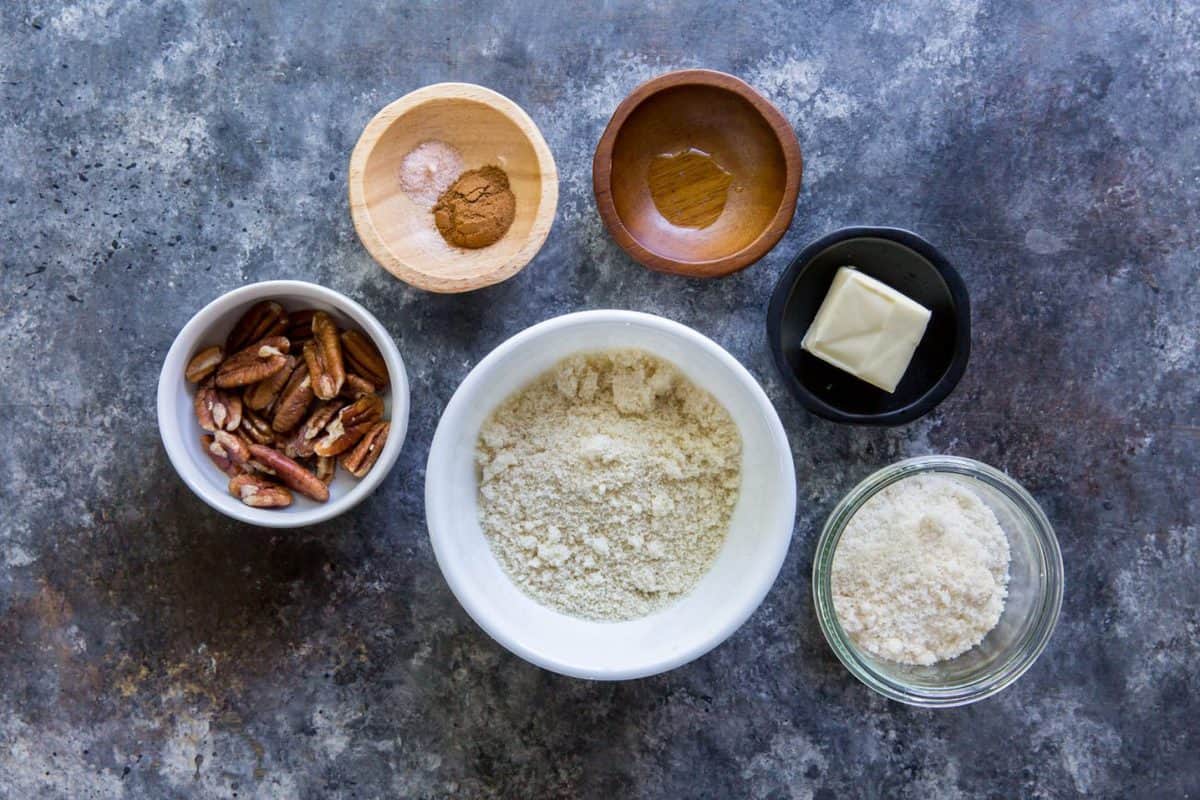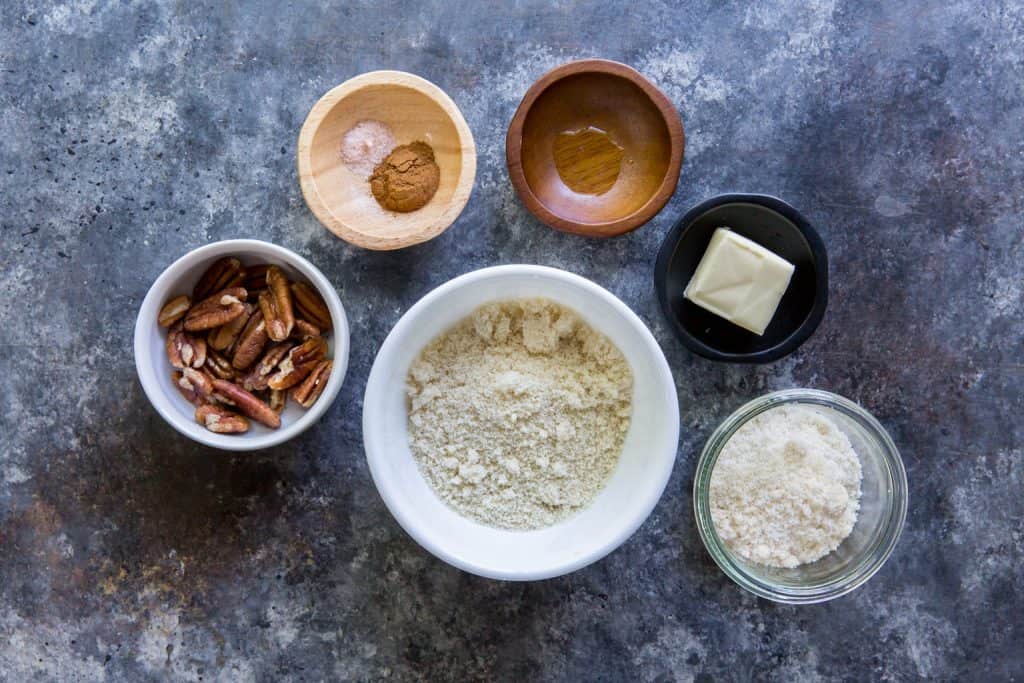 The "Apple" Base
For the "apple" base you will need chopped jicima (see notes for preparation above), water, and xanthan gum. To flavor the base we'll add erythritol, stevia, lemon juice, cinnamon, and nutmeg. Don't skip on the lemon juice because it adds a nice refreshing contrast to the sweet cinnamon -y base.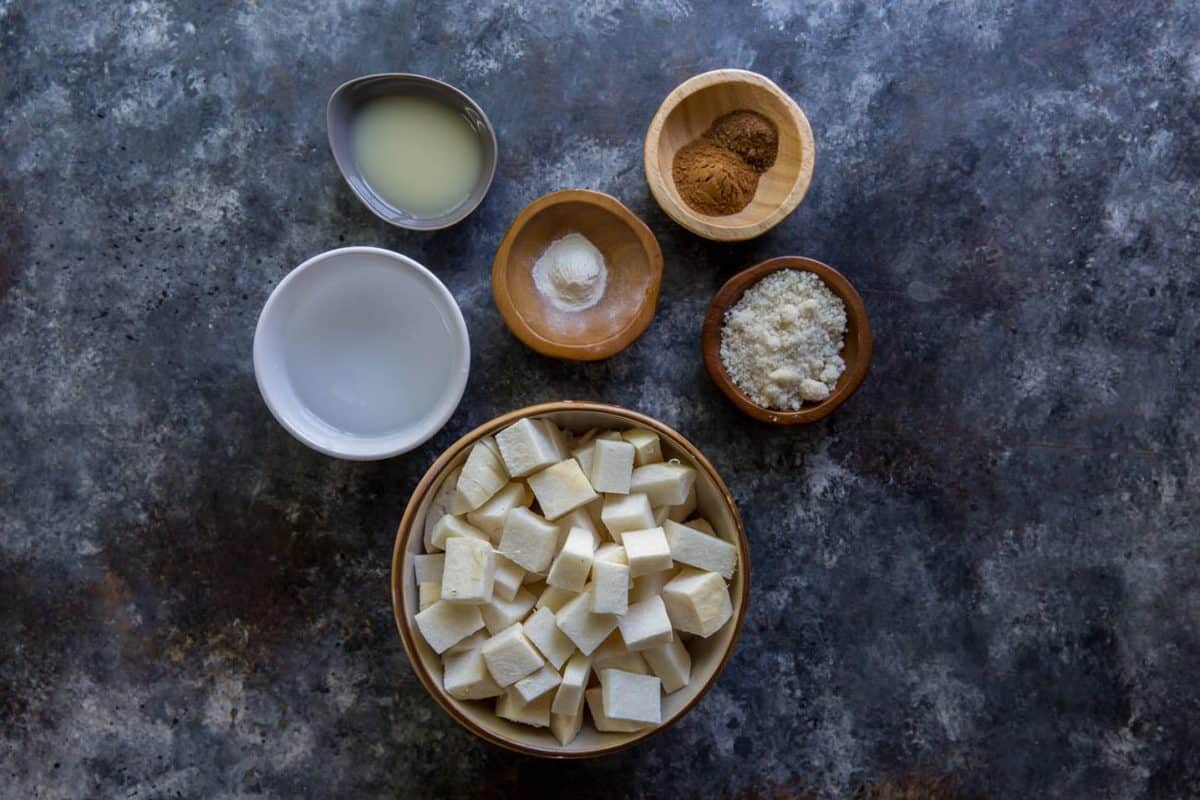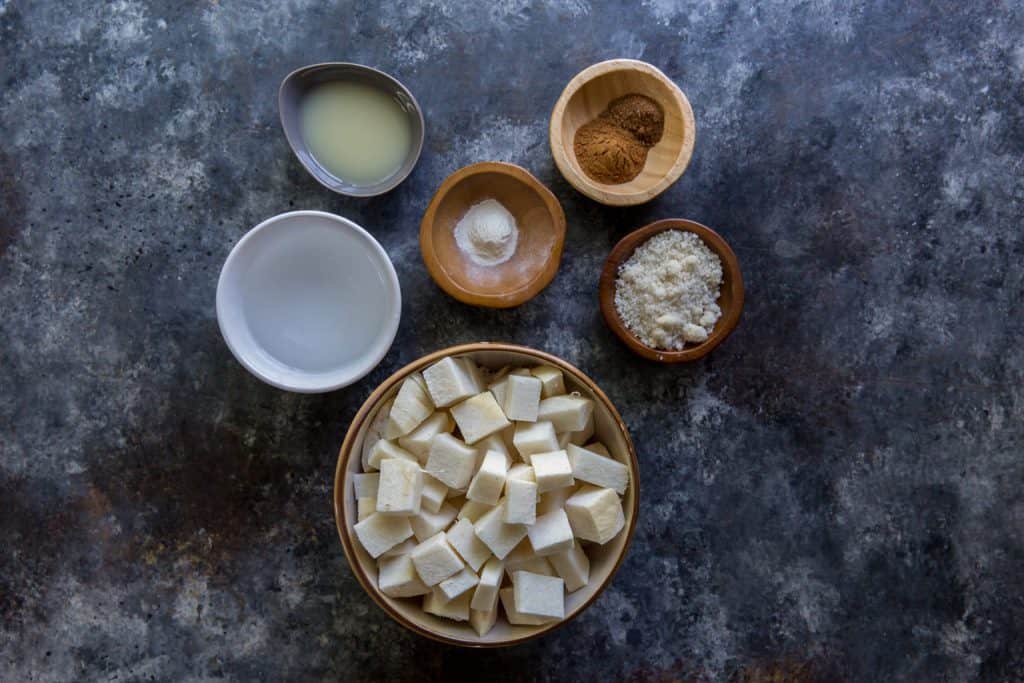 Making Keto Apple Crisp
This keto apple crisp recipe is the perfect mock apple crumble for those who want a fall dessert that fits their keto diet. It's coconut flour free, doesn't require any messy melted butter, and tastes even better topped with a dollop of whipped cream.
The Crumble
To make this keto crumble topping with minimal prep time, begin by whisking together the almond flour, pecans, erythritol, stevia, cinnamon and salt. Once the topping is whisked together add in the butter, vanilla extract, and stevia. Use two knifes or a pastry cutter to incorporate the butter into the dry topping. It should be coarse and crumbly, almost sand like. Set the topping aside because it will be used shortly.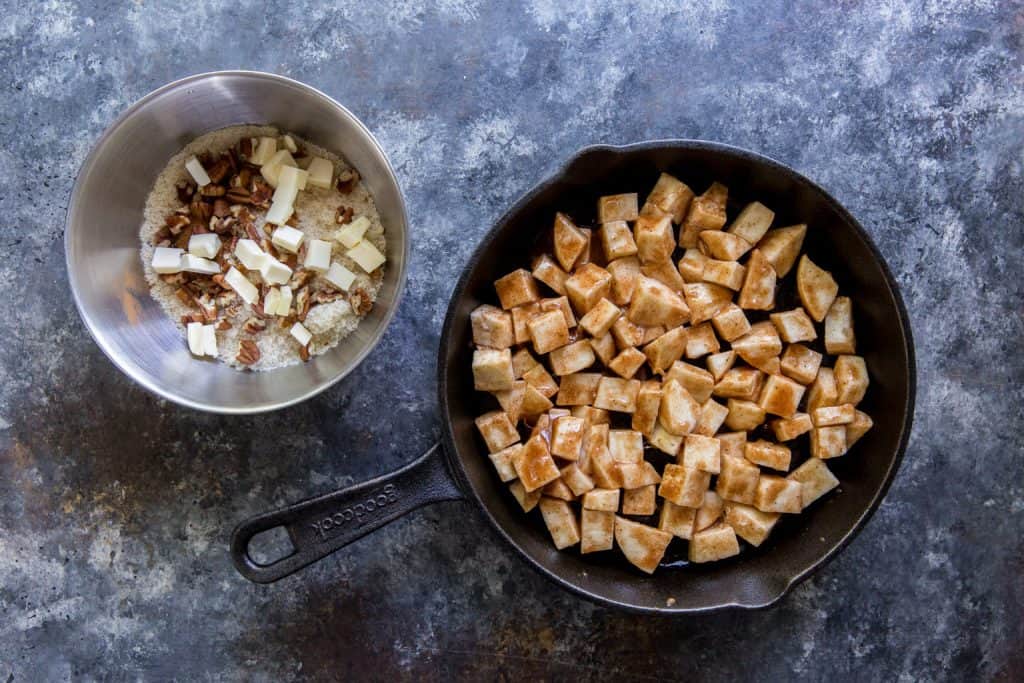 The "Apple" Base
To make your keto apple crisp base begin by preheating the oven to 400F. Next in a bowl mix together the xanthan gum and water. Whisk well to insure there are no clumps of powder. In a separate larger bowl combine the jicima, erythritol, stevia, lemon juice, cinnamon, and nutmeg. Toss the jicima in the sweetener and spices, then add the water/ xanthan gum mixture and stir well.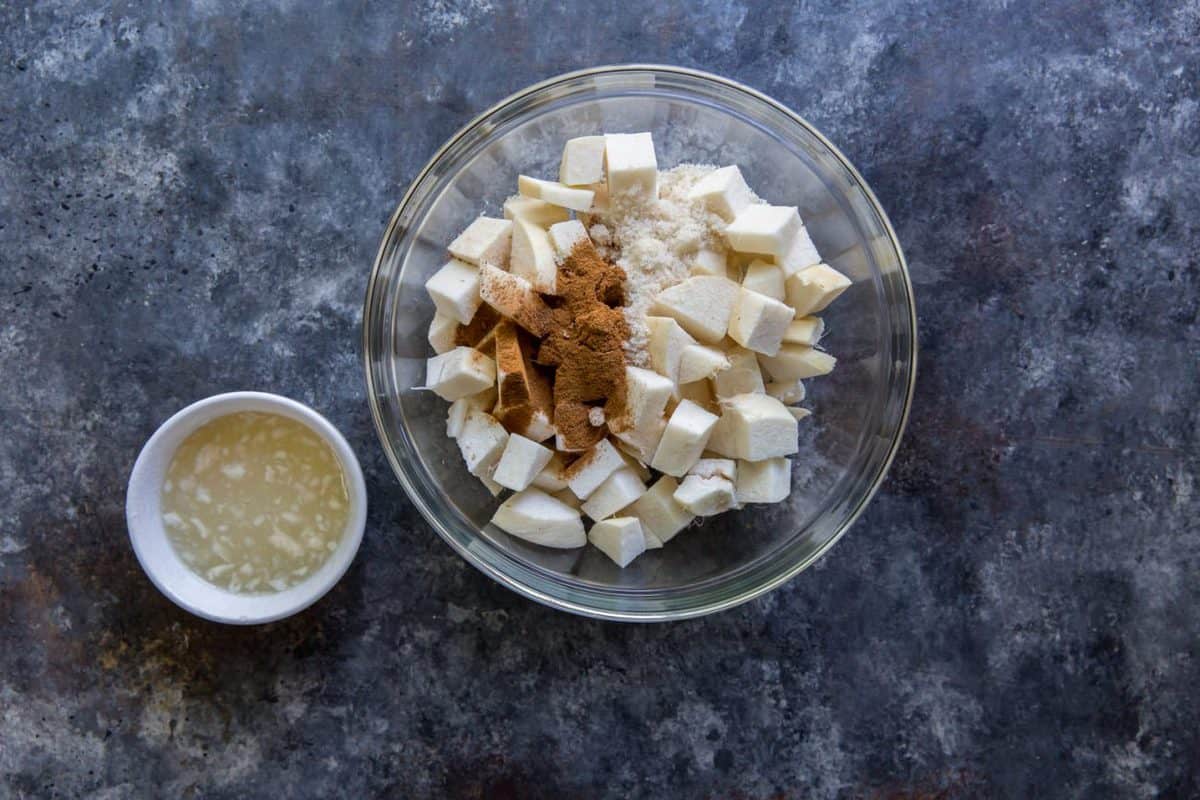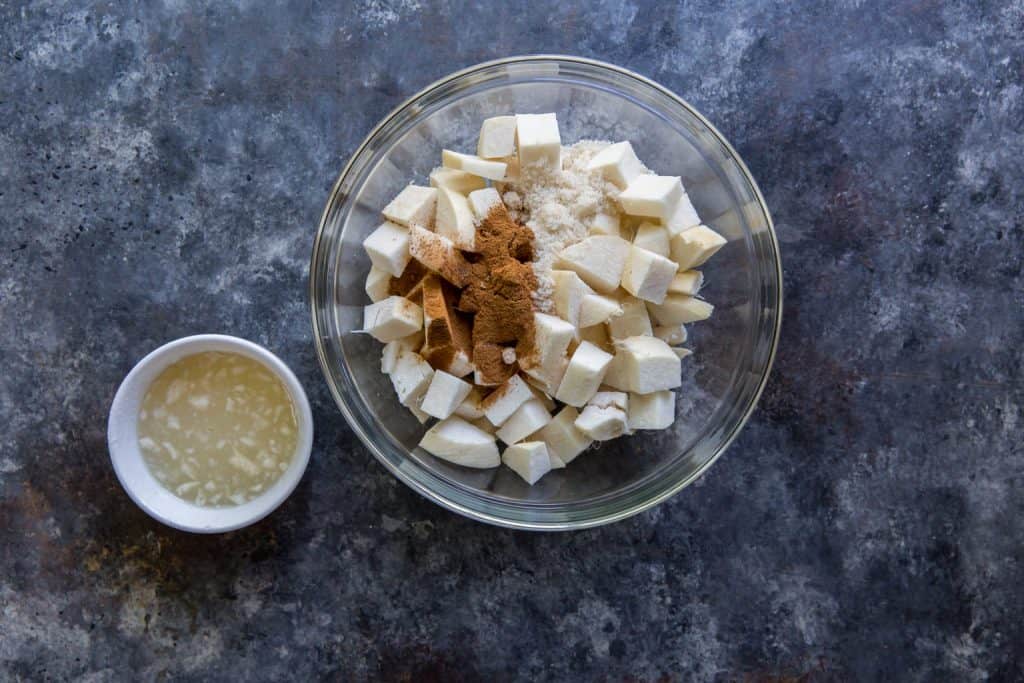 Add all of the jicima into a 10-inch cast iron skillet or 8×8 baking dish.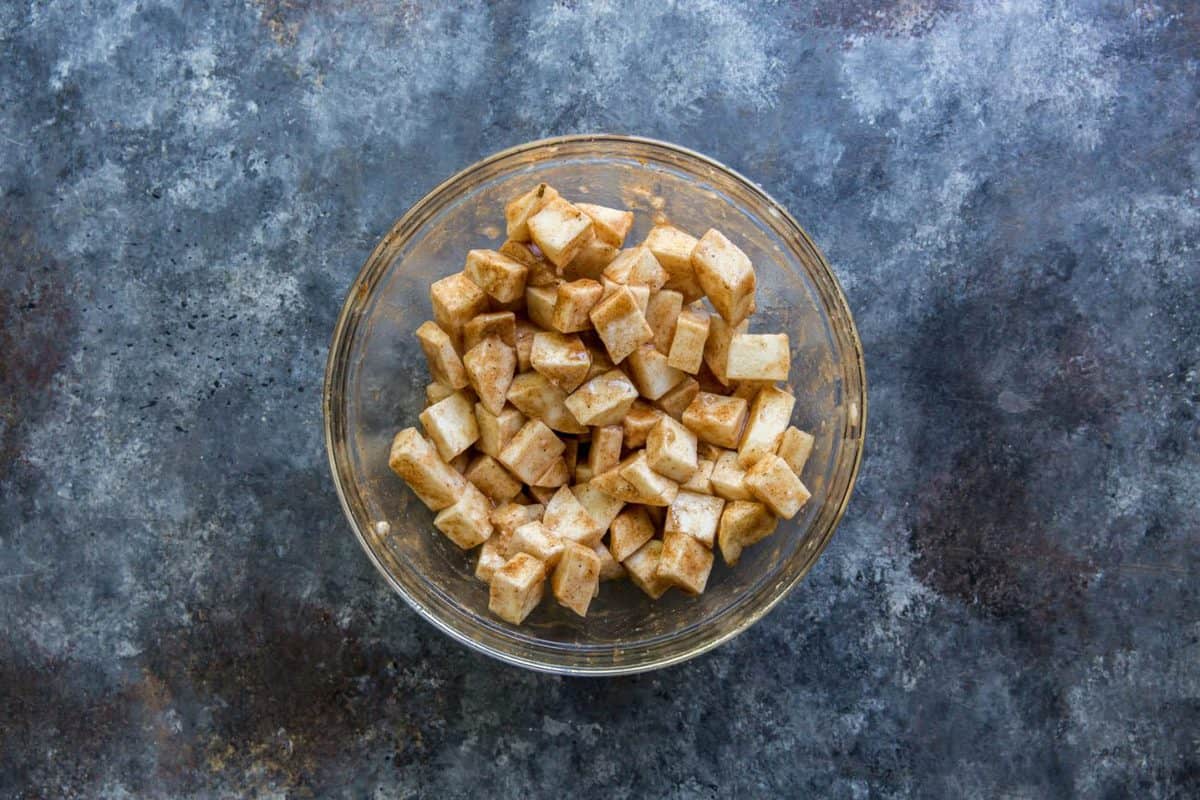 Sprinkle the crumble mixture evenly on top. To avoid burning your keto apple crisp topping, cover it tightly with foil and bake 25 to 30 minutes. After 30 minutes is up, remove the foil and cook an additional 5-10 minutes. It should be bubbling a bit, and the crumble should have browned.
Allow to cool 5-10 minutes before serving. Top the apple crisp with sugar free vanilla ice cream.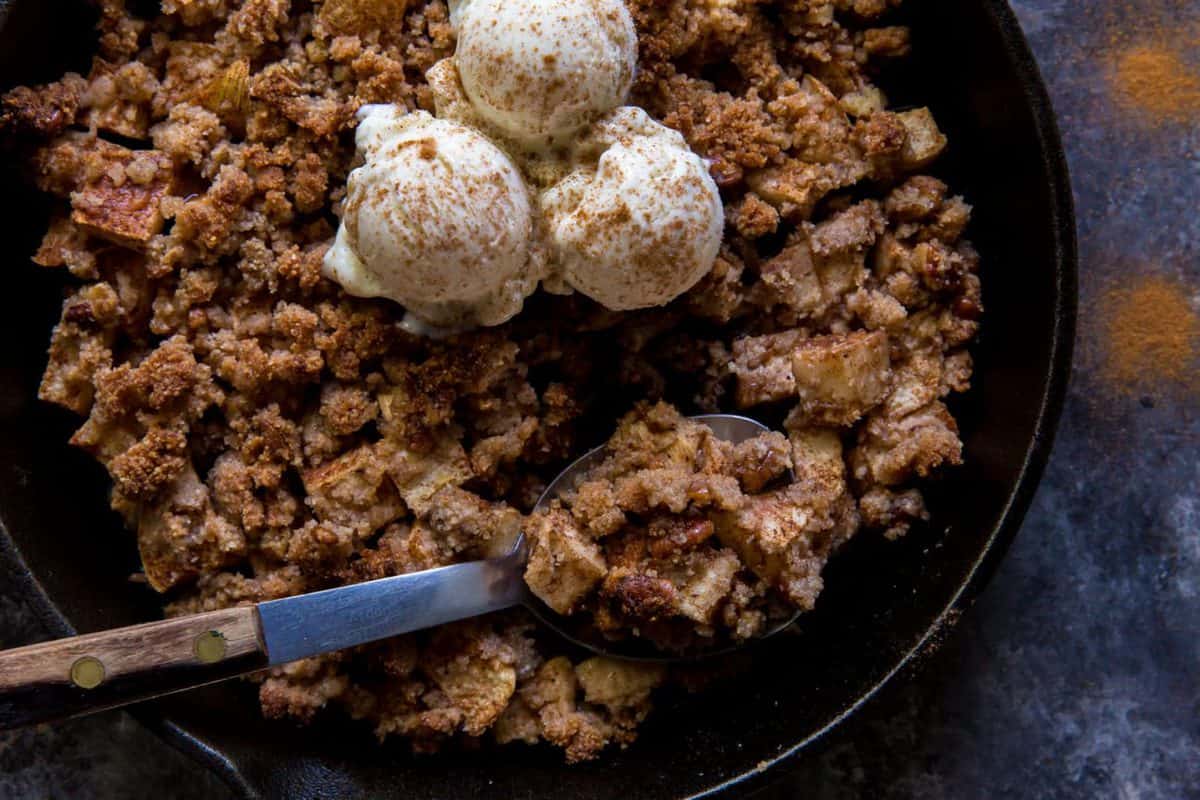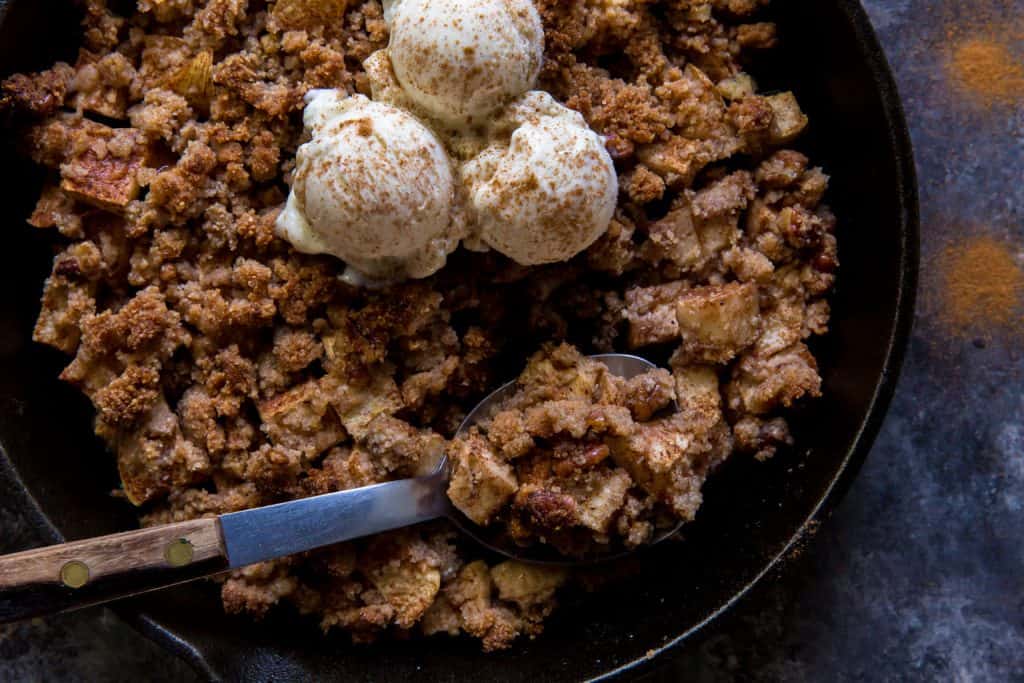 Storing and Reheating Keto Apple Crisp
To store any leftover keto apple crisp recipe, place the remainders in an airtight container. Make sure it goes in the fridge to avoid going bad. In order to reheat low carb apple crisp you will want to heat the oven to 350F and place all leftovers in a baking dish to re- crisp.
Tips for Making Low Carb Apple Crisp
Cover if the Crumble is Burning– It's common when making keto desserts that have almond flour or nuts to burn. This is because the crumble topping will often brown and bake under direct heat faster than the center. To avoid a burnt crisp topping, cover the cast iron with aluminum foil and allow the center to cook the rest of the way.
Don't Over Bake– Just like any traditional apple crisp you don't want to over bake the center. An apple crisp recipe will quickly go to mush if over baked, and so will our keto jicima crisp recipe.
Add More Nuts and Seeds– Chopped nuts and seeds add a lovely extra crunch to the apple crumble. Try nuts like walnuts, almonds, or even sunflower seeds for a bit more crunch.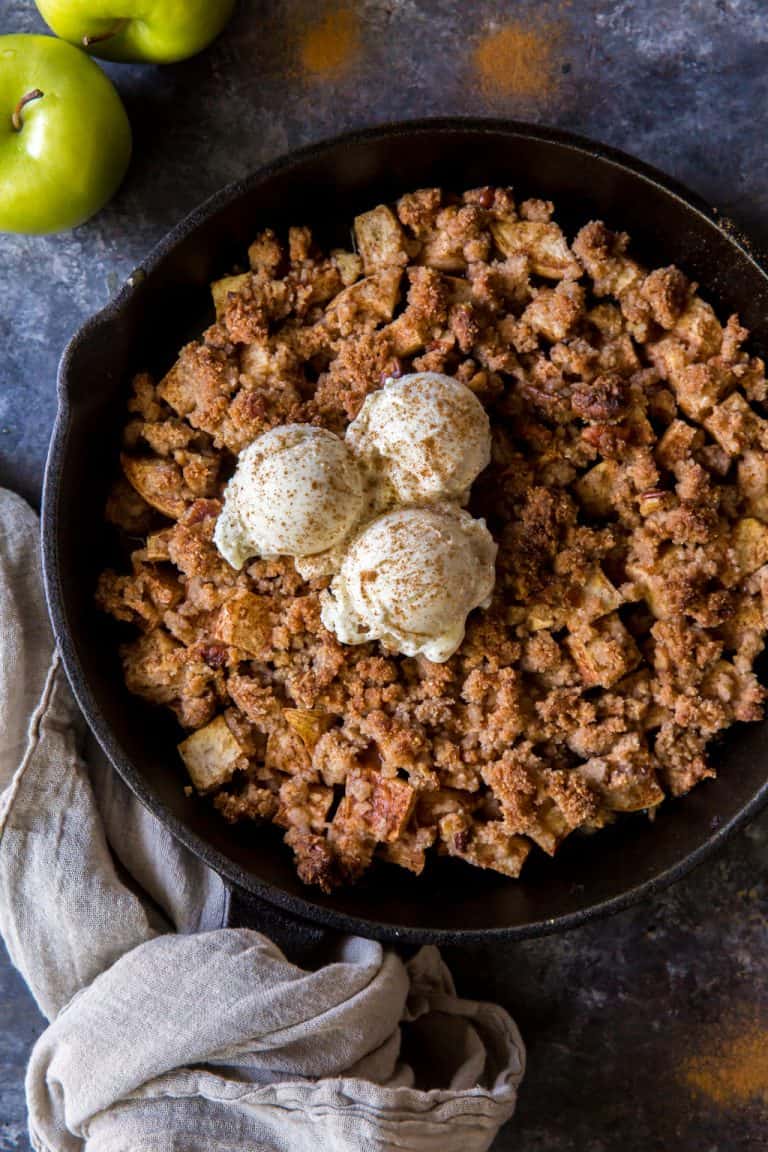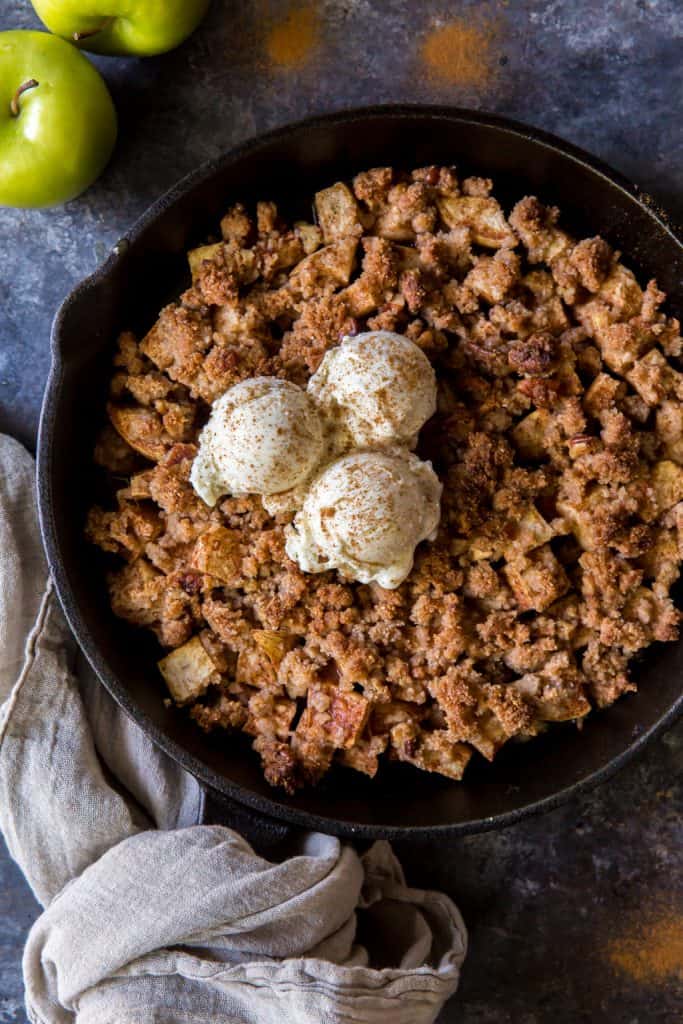 More Comforting Keto Desserts
Making an apple crisp keto is easy once you know how. Don't skip out on any more of your favorite comforting keto desserts. Some of our favorites are:
Keto Cinnamon Rolls– We love the swerve brown sugar replacement for the inside of these cinnamon rolls. They are sweet, gooey, and packed with icing.
Keto Banana Bread– Warm keto banana bread is the perfect breakfast or mid day pick me up with a pat of butter. Make a loaf or two and store to enjoy all week.
Deep Fried Keto Donuts– The options are endless for keto donuts. If you've tried this recipe you know it tastes good with anything from brown sugar and cinnamon, to peanut butter and jelly!
These are just a few of our favorite keto comfort foods to enjoy on a cold night or rainy day. For even more healthy keto desserts check out the dessert section of our website.
Keto Apple Crisp
This dessert takes just over 10 minutes to whip up and 30 minutes to bake. It's the perfect fall dessert with a hefty serving size of just 5 net carbs and less than 200 calories. The nutrition information of desserts don't get much better than that! Our keto apple crisp is the best of the best. It skips traditional apples or mushy zucchini to give you the most authentic apple flavor without the carbs. Try this mock apple crisp and let us know what you think in the comments below.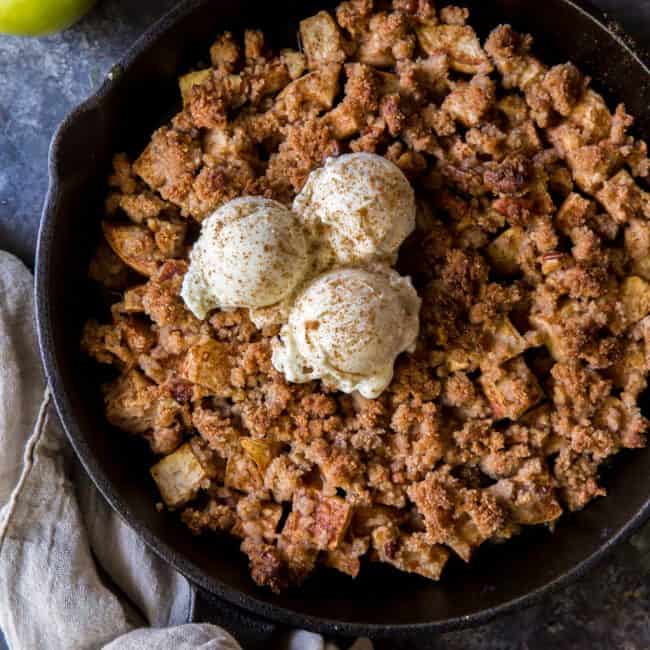 Keto Apple Crisp
A sweet cinnamon spiced "apple" crisp baked to perfection. Perfect for topping with keto ice cream!
Servings 5
Calories per serving 172kcal
Prep Time: 20 minutes
Cook Time: 35 minutes
Instructions:
Crumble Topping
In a large bowl, whisk together almond flour, pecans, erythritol, stevia, cinnamon and salt. Next add in the butter chunks, stevia, and vanilla.

Use a pastry cutter or two knives to blend in until the mixture resembles coarse crumbs. Set aside.
The "Apple" Base
Preheat oven to 400F. In a small bowl, combine water and xanthan gum, whisking until combined.

In a separate large bowl, combine jicama, erythritol, stevia, lemon juice, cinnamon, and nutmeg, tossing to coat. Add water/xanthan mixture and stir well.

Spread mixture in a 10-inch cast iron skillet or 8×8 casserole dish. Sprinkle the crumble mixture evenly on top. Cover tightly with foil and bake 25 to 30 minutes.

Remove foil and cook an additional 5-10 minutes, or until mixture is bubbling and crumble is browned.
Nutrition Facts
Keto Apple Crisp
Amount Per Serving
Calories 172
Calories from Fat 126
% Daily Value*
Fat 14g22%
Saturated Fat 4g20%
Trans Fat 1g
Cholesterol 12mg4%
Sodium 111mg5%
Potassium 149mg4%
Carbohydrates 11g4%
Fiber 6g24%
Sugar 2g2%
Protein 3g6%
Vitamin A 161IU3%
Vitamin C 18mg22%
Calcium 45mg5%
Iron 1mg6%
* Percent Daily Values are based on a 2000 calorie diet.