Peanut butter is a tasty, convenient snack for when you're on the go. It's packed full of nutrients like vitamin E, which fights free radicals in your body. But is peanut butter keto-friendly?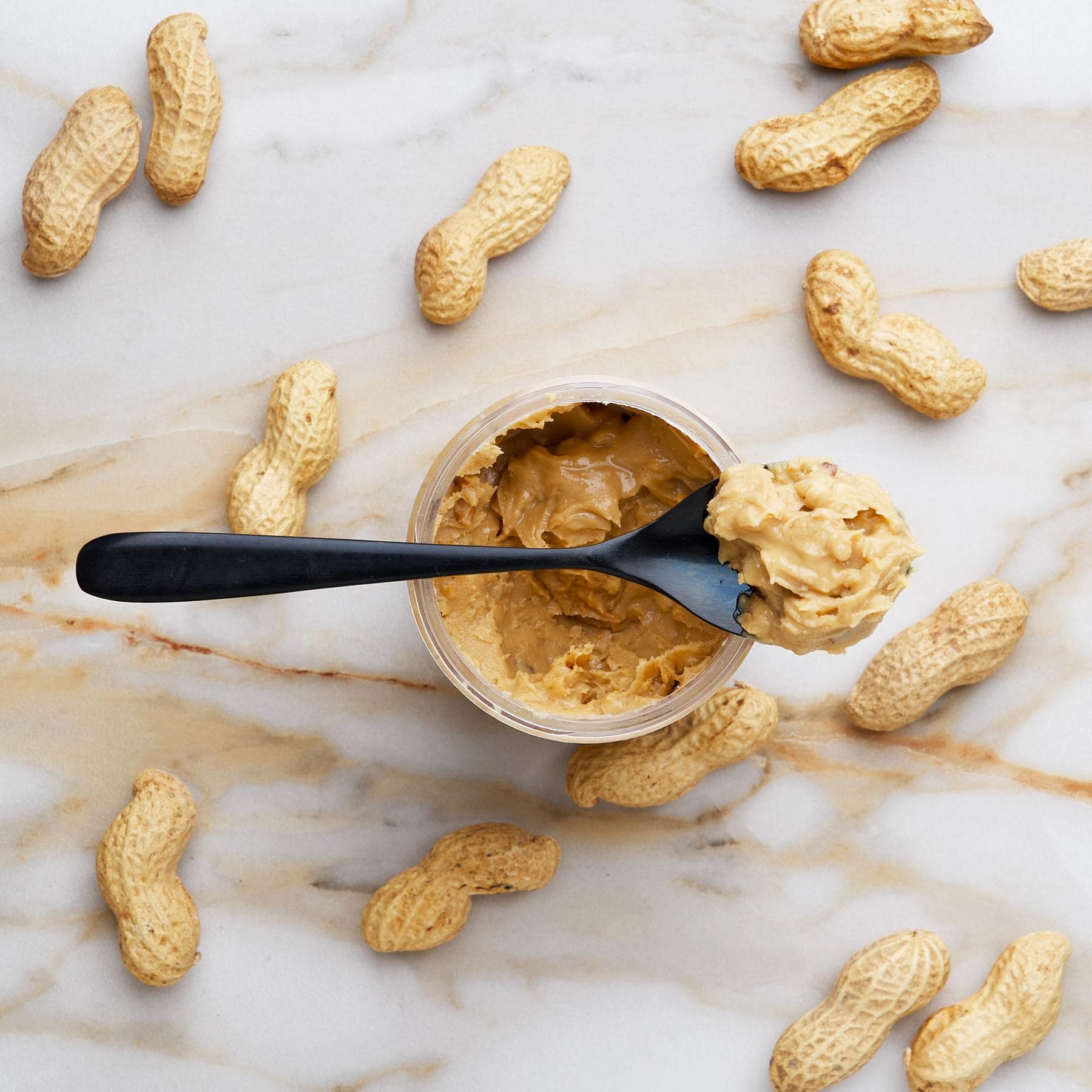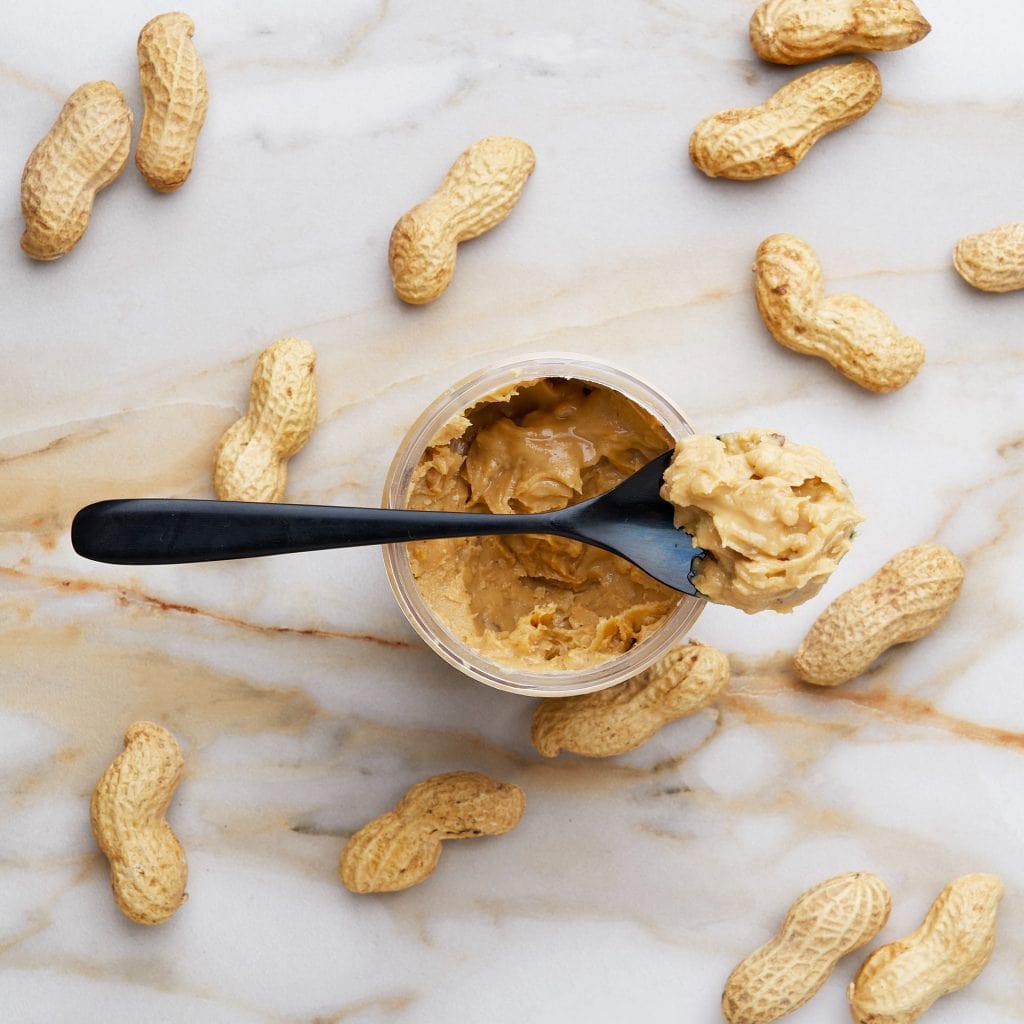 This article goes through everything you need to know about snacking on peanut butter while doing keto. I'll cover macronutrient content, healthy keto peanut butter brands, yummy recipes and some alternatives.
Can You Eat Peanut Butter On A Keto Diet?
Traditional peanut butter is keto-friendly if eaten in moderation. Even though companies add toxic ingredients like sugars and hydrogenated oils, a serving only contains 10 grams of carbs. But these weird oils trigger inflammation, leading to chronic issues like heart disease and cancer.
But if you can get natural peanut butter that avoids these ingredients, it's 100% keto-friendly and you won't have to limit consumption.
This makes for a satisfying snack, and because it has a protein content of eight grams per serving, it keeps you fuller for longer. Peanut butter also has a glycemic index or GI score of 14. So you aren't spiking blood glucose or insulin levels, promoting insulin sensitivity.
Keto Peanut Butter Nutrition Facts
Two tablespoons of keto-friendly peanut butter contain around:
Two grams of net carbs
16 grams of fat
Eight grams of protein
Three grams of fiber
190 calories
If you love peanut butter and don't want to eat it in moderation, keto peanut butter is a must. With only two grams of net carbs, you can spread it on your low-carb sandwiches, top it with ice cream or make it in a smoothie.
Now let's look at some health benefits of eating keto peanut butter.
Health Benefits Of Keto Peanut Butter
Here are some benefits to snacking on peanut butter regularly.
It's Rich In Essential Nutrients
Peanut butter contains hard-to-find nutrients like vitamin E, iron, potassium and niacin. So eating it can help fill in these nutrients if you lack them.
For example, vitamin E is a fat-soluble vitamin found to reduce oxidative stress caused by free radicals in your body. This oxidative stress is a significant cause behind many chronic diseases like Alzheimer's, multiple sclerosis and even cancer.
Fortunately, four tablespoons of peanut butter contain 36 percent of your daily vitamin E needs. You can fulfill your remaining requirements with foods like eggs, meat and vegetables.
Peanut Butter Keeps You Full
Because peanut butter offers eight grams of protein and 16 grams of fat per serving, it keeps you full, making it easier to lose weight.
This is because each macronutrient impacts your body differently. Protein lowers ghrelin, the hunger hormone while increasing peptide YY levels, an essential hormone for satiation. 
A 2005 clinical trial found that boosting protein intake from 15 percent to 30 percent resulted in overweight participants eating almost 500 calories less. So if you're looking to lose weight, implement more peanut butter into your diet.
But peanut butter offers even more fat, which is also found to reduce appetite. Fat leaves your digestive track last, promoting fullness. This makes peanut butter a good snacking option to keep you going between meals.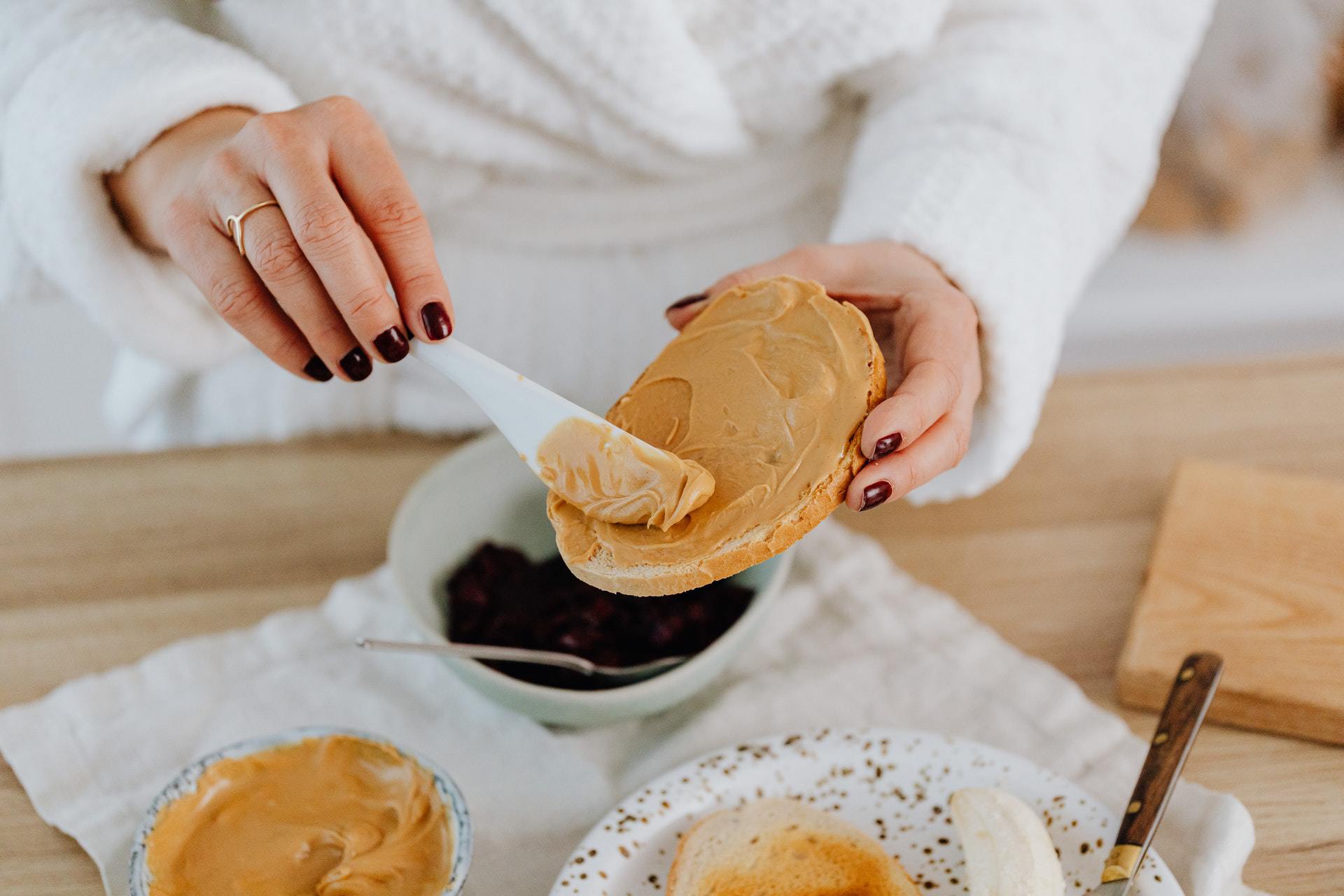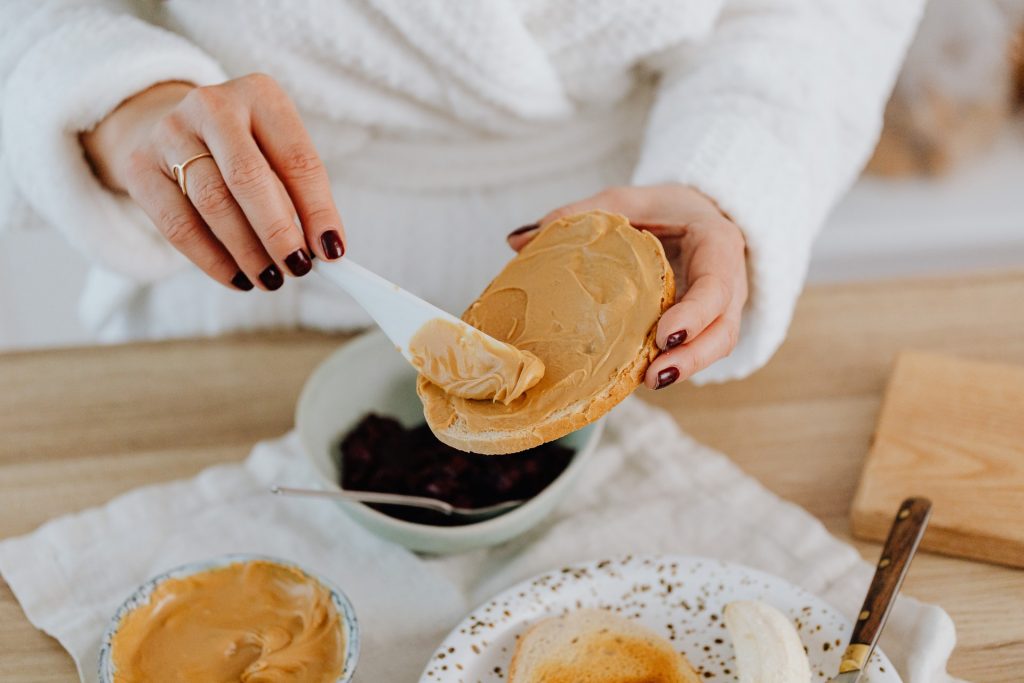 It Decreases Your Chance Of Getting Heart Attacks And Stroke
Peanut butter has large amounts of monounsaturated fats. Studies find that these monounsaturated fats decrease LDL cholesterol and triglycerides. This means less plaque in your arteries, lowering your risk of heart attacks and strokes. 
So if you have a family history of heart disease or stroke, start implementing peanut butter into your diet immediately. 
Now let's cover some of the healthiest peanut butter brands on the market.
6 Healthiest Keto Peanut Butter Options
Opt for these alternatives if you want to avoid added sugars and weird oils.
Santa Cruz Organic Peanut Butter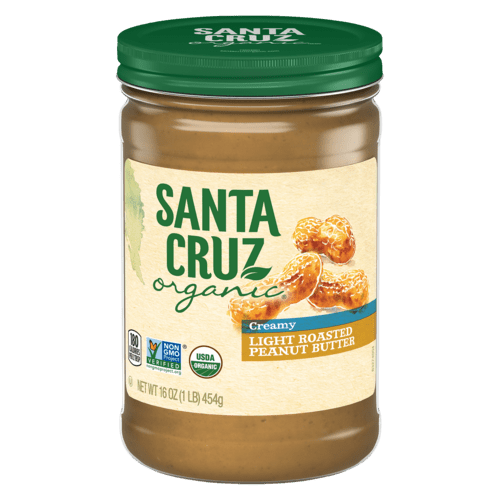 Best For: Keto dieters looking for yummy low-carb peanut butter that only uses two ingredients. 
This organic peanut butter contains no GMO, added sugars, hydrogenous oils, gluten, trans fat or artificial ingredients. This makes it one of the best options for keto dieters because you stay in ketosis and avoid inflammation.
Here's the macronutrient profile of one serving:
Two net carbs
16 grams of fat
Eight grams of protein
You'll only find two ingredients on the label; organic peanuts and salt.
Feel free to choose between the dark or light roast. The dark roast is more robust, making it better for keto sandwiches, while the light option is smoother, which goes well with desserts. 
Old Fashioned Crunchy Peanut Butter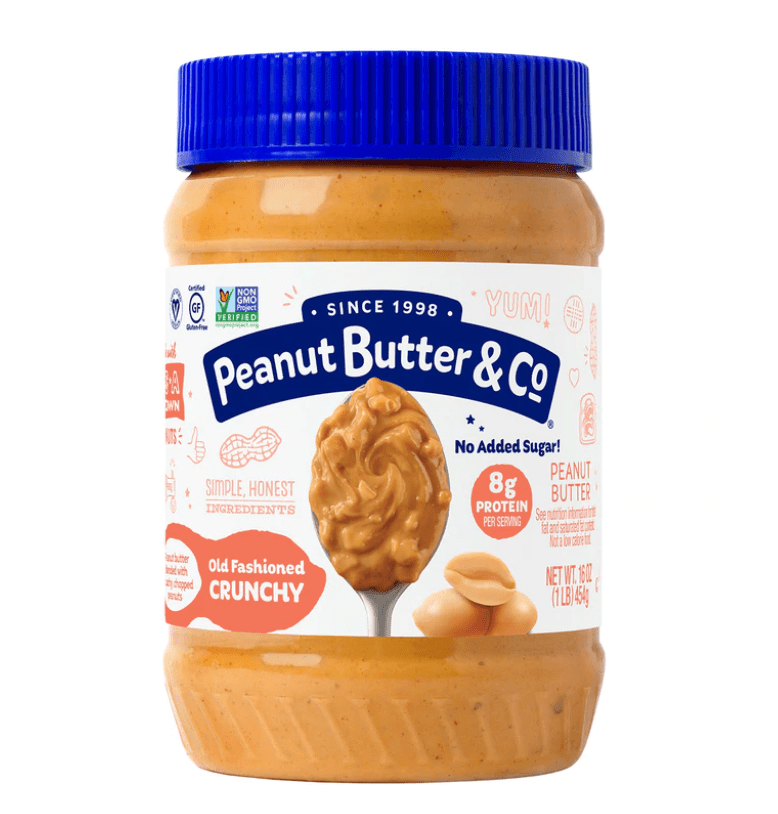 Best For: Anyone who wants a large variety of flavors to choose from.
Like Santa Cruz, Peanut Butter & Co. only uses two ingredients. This way, you know you're not consuming sketchy additives like high-fructose corn syrup or vegetable oils.
One serving contains:
Eight grams of protein
Three grams of fiber
Four grams of net carbs
No added sugars
40 mg of sodium
Peanut Butter Co. sources peanuts from US farmers, so you're supporting local businesses when buying Old Fashioned Peanut Butter.
But what sets Old Fashioned Peanut Butter apart is it offers flavored peanut butters:
Mighty Maple
Dark Chocolate Dreams
Crunch Time
Smooth Operator
Cinnamon Raisin Swirl
If you're overwhelmed by all the options, consider the variety pack. This way, you can try a little bit of each to find which one you like best. So you'll never get bored of one flavor.
Crazy Richard's 100% All-Natural Creamy Peanut Butter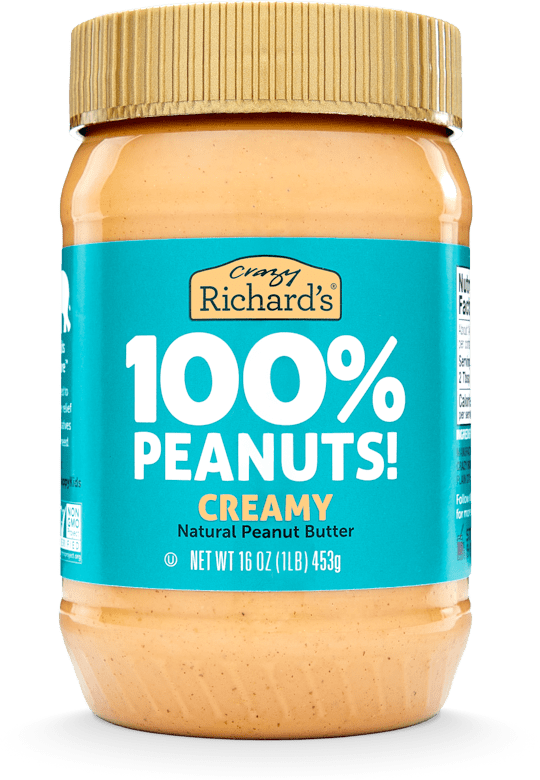 Best For: Those looking to reduce their salt intake.
If you want to reduce your salt intake, consider Crazy Richard's 100% All-Natural Creamy Peanut Butter. 
The only ingredient is peanuts, and they use the natural oils from peanuts to get a creamy texture. So you won't get chunks that break your keto bread.
One serving of Crazy Richard's peanut butter contains:
16 grams of healthy fats
Two grams of net carbs
No added sugars 
Eight grams of protein
230 mg of potassium
If you're experiencing keto flu, use Crazy Richards because the high potassium content allows you to boost potassium intake within seconds. Since the texture is so smooth, you can eat it without anything else.
By eating four tablespoons, you already consumed 460 mg of potassium. This is four times higher than what you'll find in most supplements.
Kirkland Organic Creamy Peanut Butter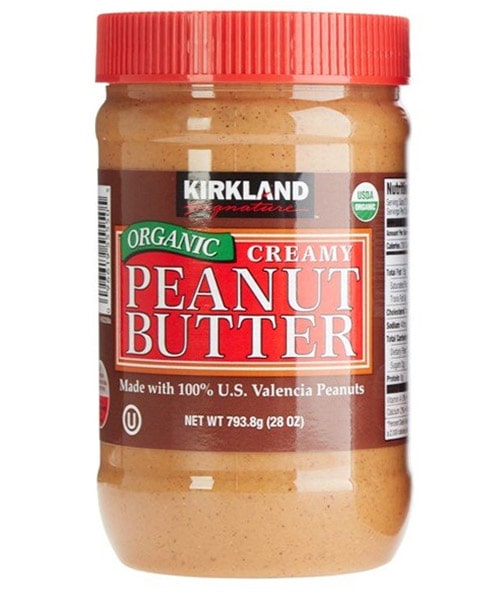 Best For: Keto dieters who want to use Valencia nuts due to the low aflatoxin levels.
What makes Kirkland unique is it uses Valencia peanuts. These nuts have the lowest amount of aflatoxin. This is a mycotoxin that many doctors consider the most potent naturally occurring carcinogen. 
So if you're eating Kirkland peanut butter, you won't have to worry about this carcinogen.
Here are the nutritional facts for one serving of Kirkland peanut butter:
Four grams of carbs
Two grams of sugar
15 grams of fat
Eight grams of protein
Also, Kirkland only sources nuts from farms in the US that don't use pesticides and herbicides like glyphosate. 
An interesting fact about glyphosate: Glyphosate was introduced in 1974. And if you look at any graph showing the rate of peanut allergies, it suddenly spikes around this time. So although there aren't studies linking glyphosate to peanut allergies, it's a possibility that peanuts don't cause peanut allergies but rather glyphosate. 
Spread The Love NAKED Organic Peanut Butter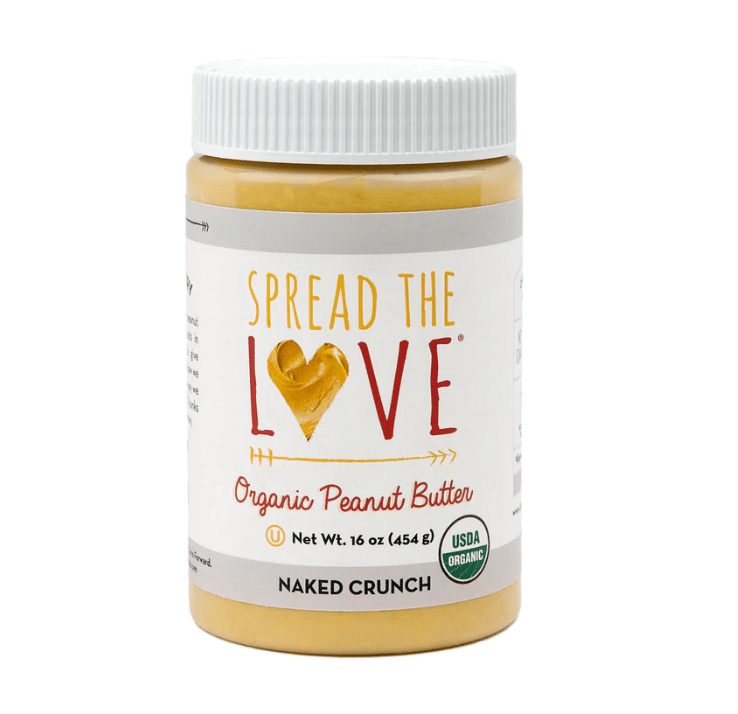 Best For: Keto dieters who're on a budget.
Spread The Love is a small brand based in California, and its top-quality peanut butter comes in a 16-ounce glass jar. This way, you aren't consuming BPA and other chemicals found in plastic that can seep into foods. It's also vegan, GMO-free and sugar-free.
One serving of Spread The Love contains:
180 calories
15 grams of fat
Four grams of carbs
Seven grams of protein
Spread The Love is an affordable option for those on a budget because it offers a subscription plan. With this monthly subscription, you'll save money and won't have to go online to order every time.
Once Again – Natural Old Fashioned Peanut Butter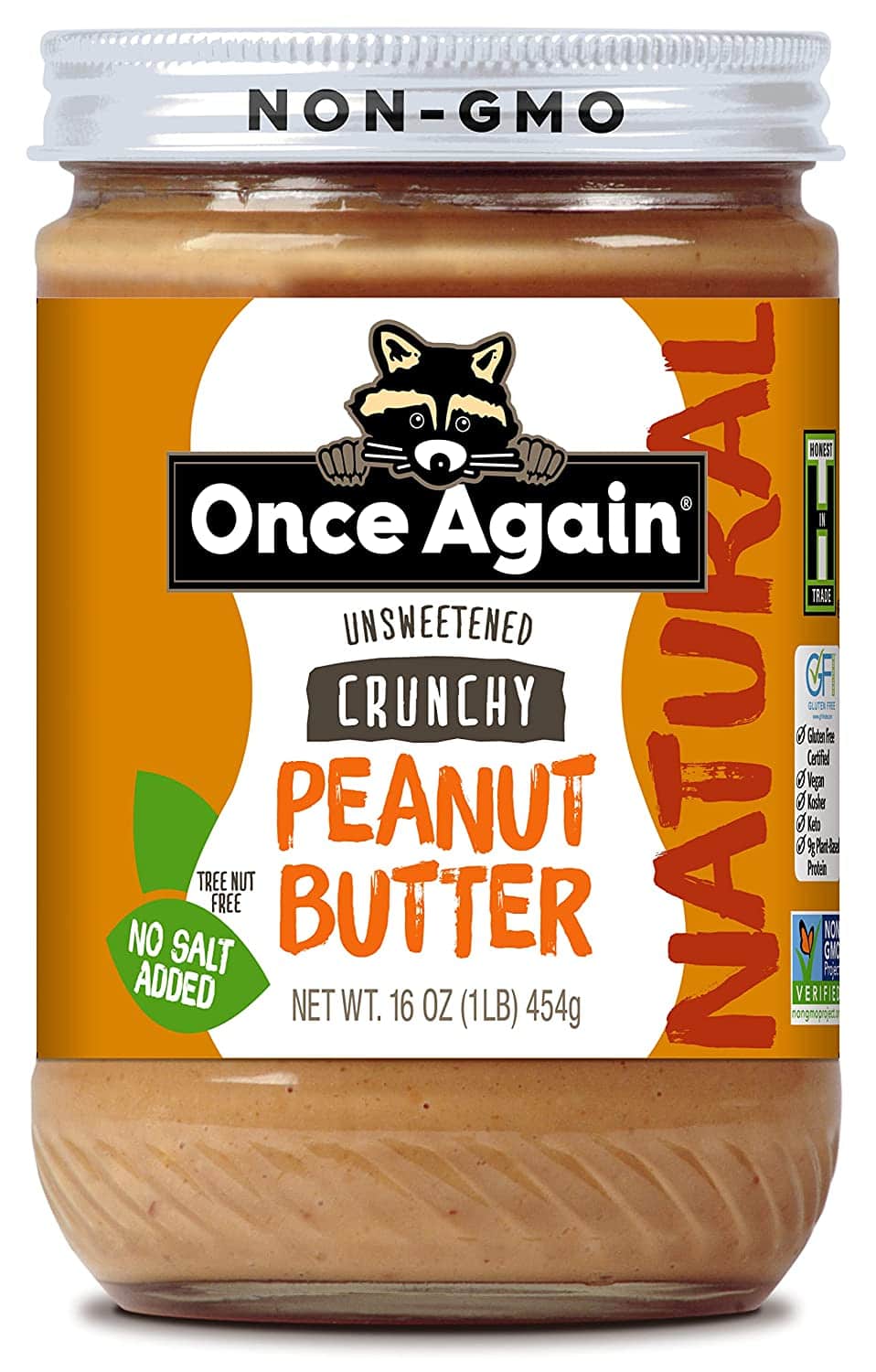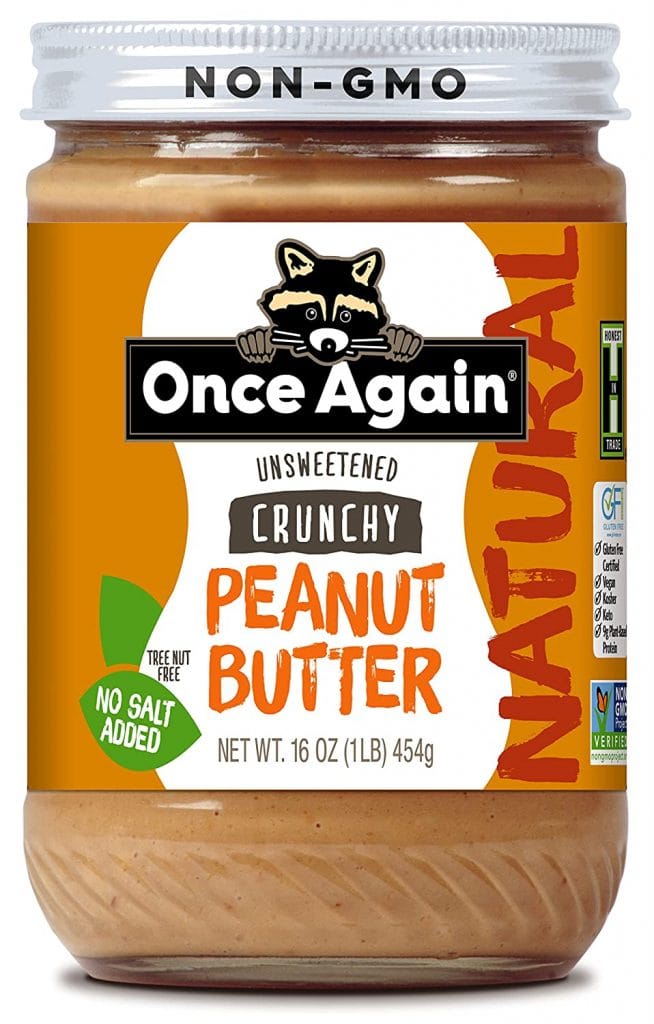 Best For: Anyone who prefers the earthy taste of dry, roasted peanuts.
Once Again makes this peanut butter by roasting and grinding peanuts until they're creamy, and then adding crunches. It only uses dry, roasted, blanched peanuts, so you aren't eating added ingredients. 
A serving of Once Again contains:
190 calories
16 grams of fat
Three grams of carbs
Three grams of saturated fat
But if you don't feel like making peanut butter sandwiches all the time, consider these tasty recipes.
How To Introduce Peanut Butter Into Your Ketogenic Diet
Here are some of my favorite, easy-to-make peanut butter recipes.
Peanut Butter Balls
To make these peanut butter balls, you'll only need three ingredients:
Two cups of peanut butter
A half a cup keto syrup
¾ cup coconut flour
This only takes three to five minutes to make.
First, mix your peanut butter, keto syrup of choice and coconut flour in a large mixing bowl. If it's too thick for your liking, pour some milk or water. Next, use your hands to mold the mixture into small balls, place it into the refrigerator for 30 minutes and enjoy!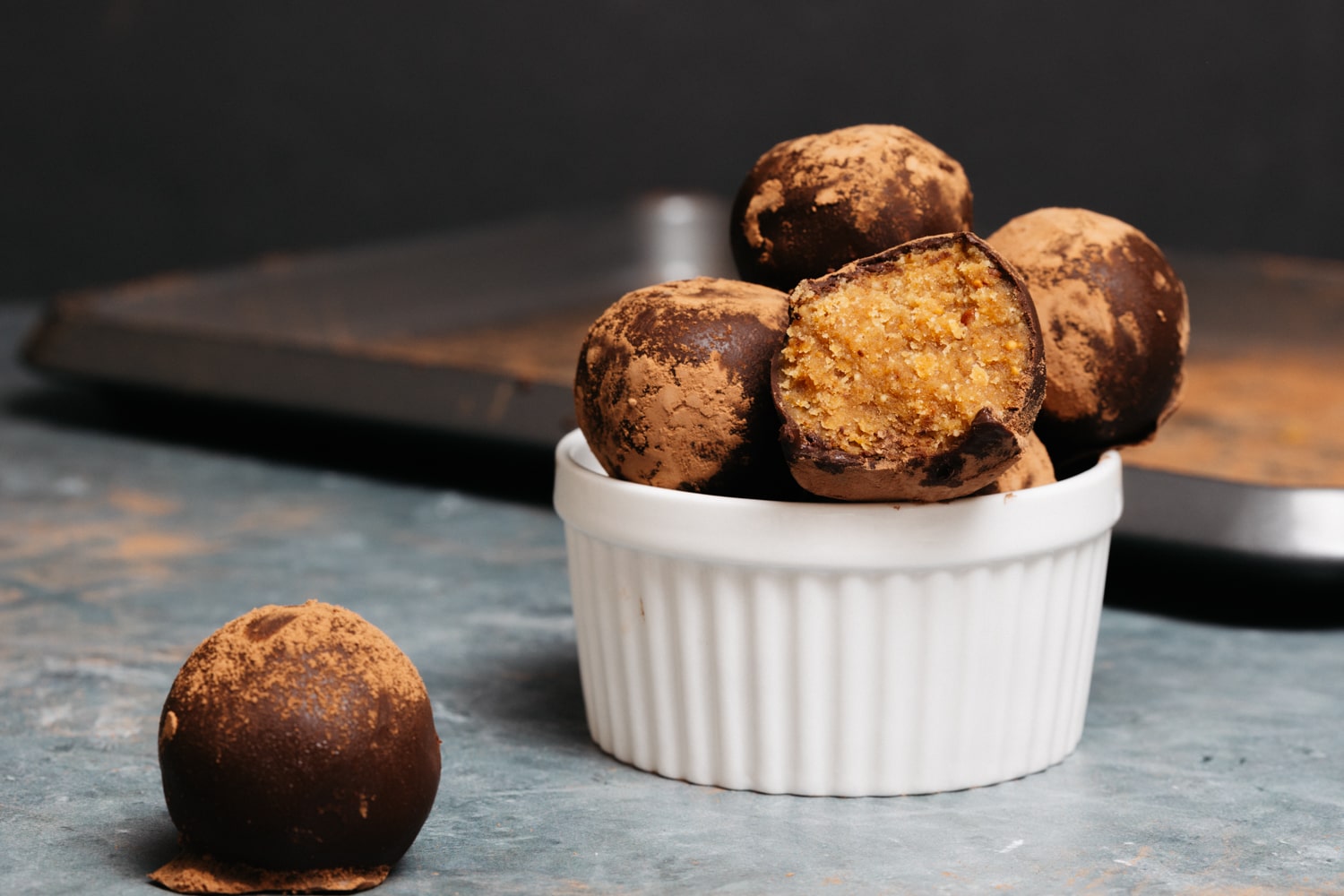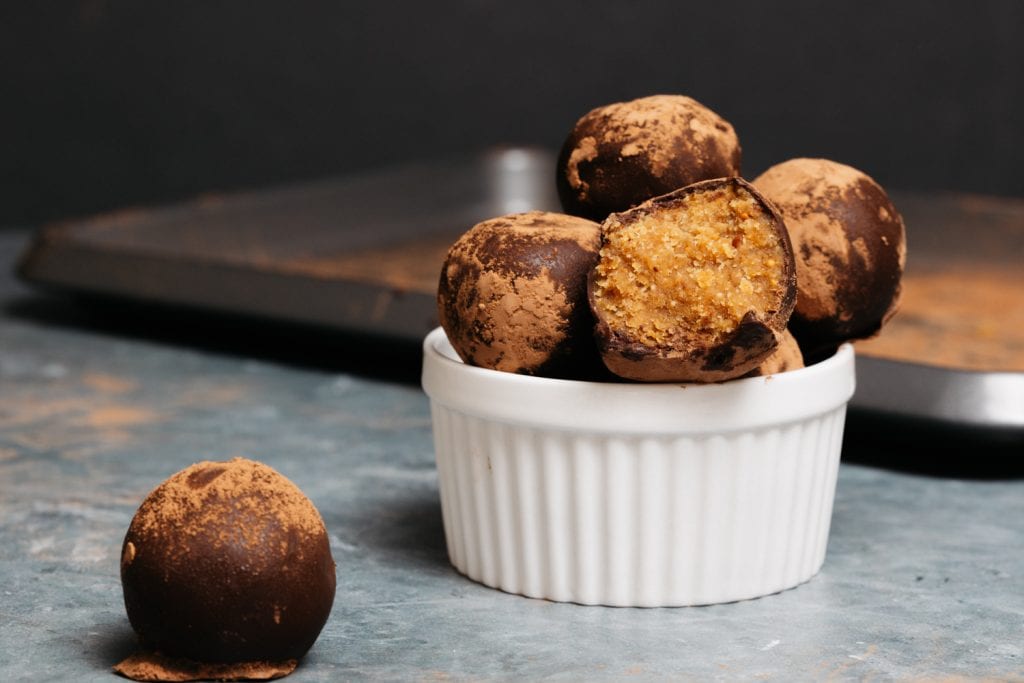 Peanut Butter Cookies
This four-ingredient peanut butter cookie is a yummy snack or dessert for when you're short on time. For this convenient recipe, you'll need:
One cup of peanut butter
A half a cup keto syrup
One egg
One teaspoon vanilla extract
First, preheat your oven to 350 degrees Fahrenheit and line a tray with non-stick paper. Get a large mixing bowl and mix your peanut butter, keto syrup, egg and extract.
Roll this dough into one-inch balls, place it on your non-stick paper and use a fork to gently press it down. The last step is to bake these cookies in your oven for 15 minutes at 350 degrees Fahrenheit. Let it cool for a few minutes and serve when it's finished!
Keto Peanut Butter Fudge
Make this keto fudge if you're looking for a quick snack that helps reduce sugar cravings. It takes a few minutes and requires four ingredients: 
A half a cup of butter
A cup of keto peanut butter
Three tablespoons of erythritol
Two teaspoons of vanilla extract
Add your butter and peanut butter to a mixing bowl and pop it in the microwave for a minute, so it melts. Next, whisk this mixture using a hand or electric beater and add the erythritol and vanilla extract.
Once it's well mixed, get a bread loaf tray and line it with non-stick paper. Pour your mixture into this tray, tap the tray on the table a few times and toss it in the freezer for 30 minutes. When it's ready, serve and store it in the fridge.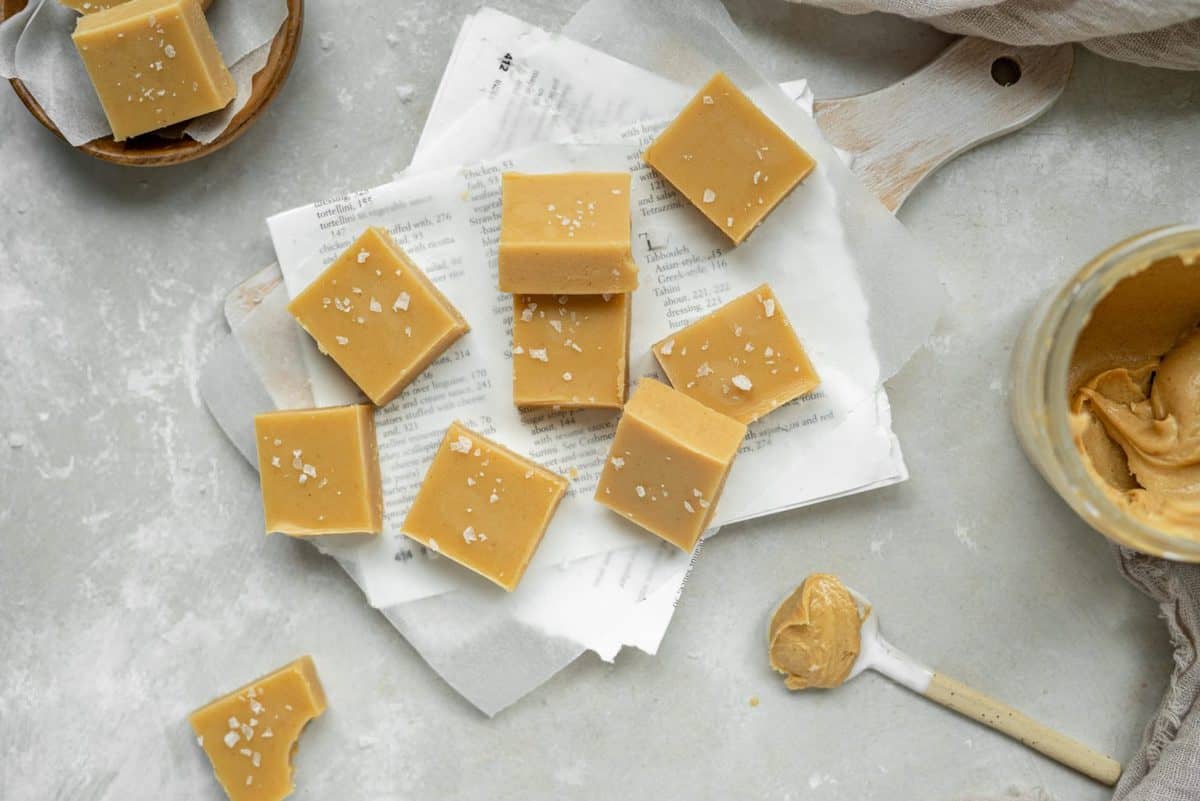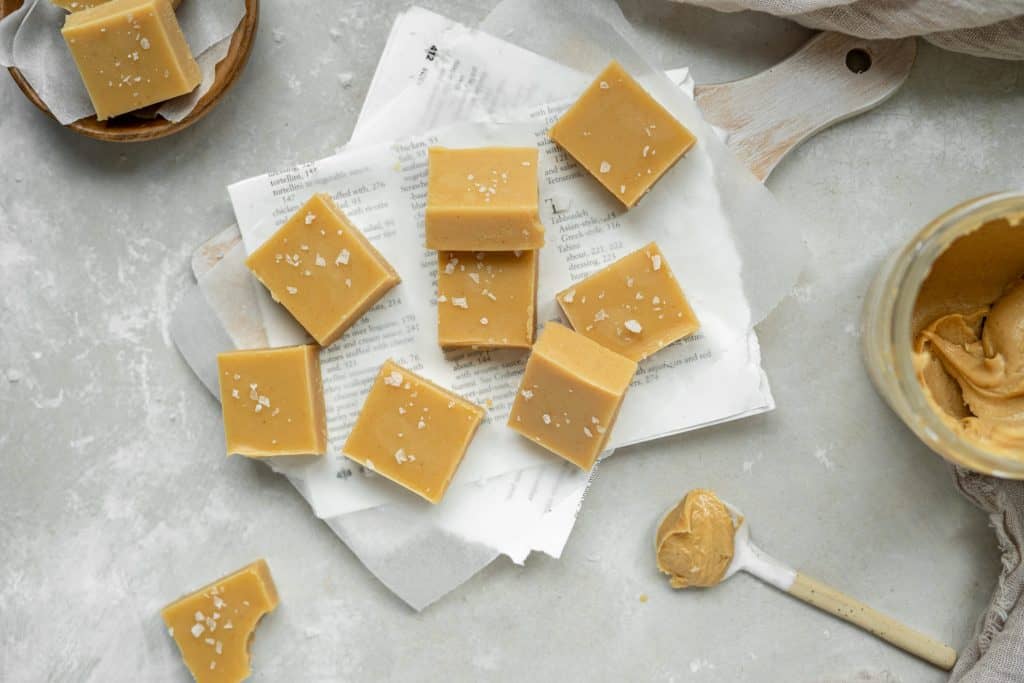 Alternatives To Keto Peanut Butter
If you're getting tired of eating peanut butter, try these alternatives.
Almond Butter
A two-tablespoon serving contains six grams of carbs, making it a healthy choice for keto dieters.
Like peanut butter, almond butter offers a lot of vitamin E. This helps with aging since vitamin E improves skin and fights free radicals. But almond butter also has omega 3, which boosts brain power. 
Sunflower Seed Butter
Sunflower seed butter is another delicious snack for keto dieters. One serving has six grams of carbs and protein and 18 grams of fat. You can make sunflower seed butter at home using sunflower seeds and coconut oil. But if you don't have time, many brands also sell quality sunflower butter.
Keep in mind it doesn't taste like peanut butter. It has an earthy, toasty flavor which goes well with desserts.
Macadamia Nut Butter
Macadamia nut butter is a delicious base for many recipes like stir fry, curry paste or marinades. It has the lowest carbs per serving out of all nut butter. A serving only contains one gram of total carbs, 13 grams of fat and 121 calories.
The low protein and high carb ratio helps increase fat intake. If you're eating many eggs, meat and fish, you're already getting plenty of protein. So macadamia nuts provide a quick boost in fat without much protein.
Final Thoughts On Eating Peanut Butter On Keto
Many peanut butter brands use added sugars and hydrogenous oils to make their products taste better and last longer. You want to avoid these ingredients because although they might not knock you out of ketosis, they'll trigger inflammation.
Instead, opt for healthy nut butter from brands like Santa Cruz, Old Fashioned, Crazy Richard's, Kirkland, Spread The Love or Once Again.
You could implement peanut butter into your diet by making peanut butter balls, cookies or fudge since it only takes a few minutes, and you can pop it in the fridge and snack on it for the next month.
If you're getting tired of eating peanut butter, consider alternatives like almond, sunflower or macadamia nut butter.
Looking for other guides on keto friendly foods? Check out our posts on is mayo keto?, is cinnamon keto?, is edamame keto?, is balsamic vinegar keto?, is oat milk keto? and is watermelon keto?