Tofu is a soy product that offers health benefits like improved memory and brain power. But how many carbs does tofu contain and is it keto-friendly?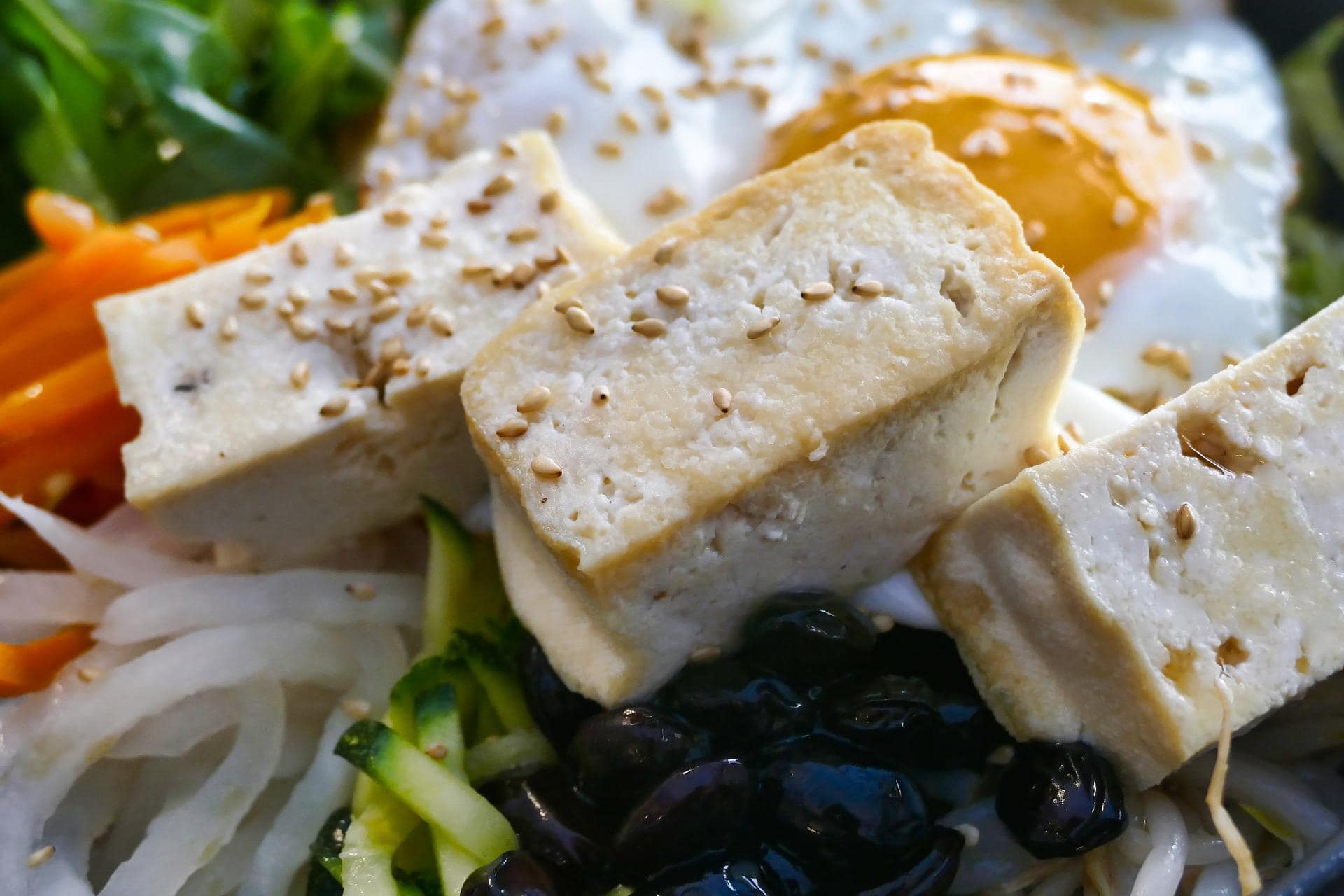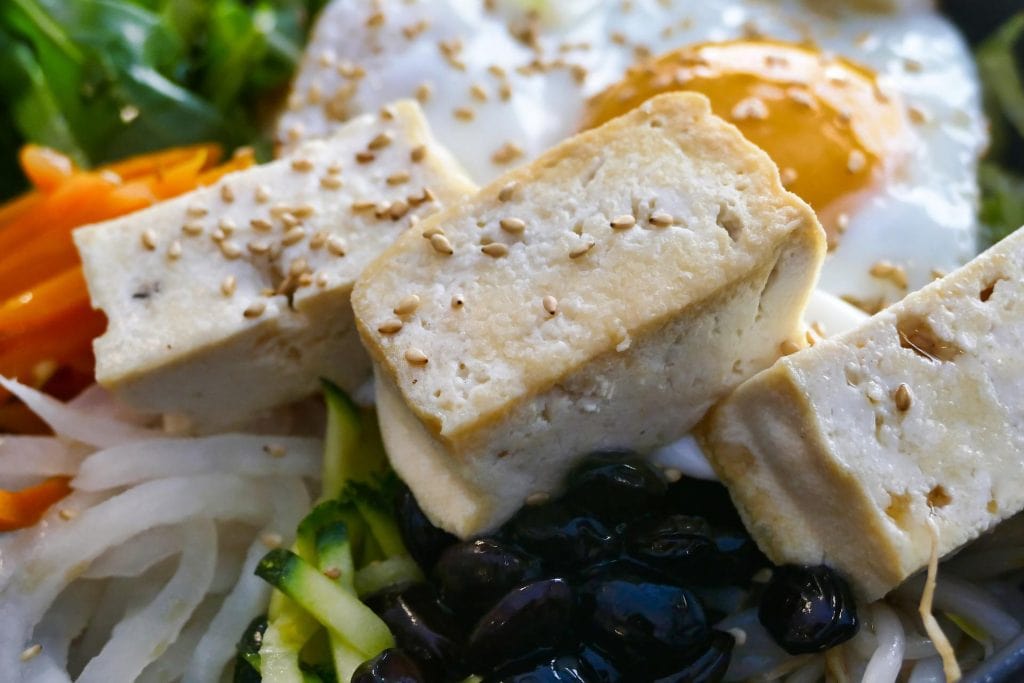 This article goes through everything you need to know about eating tofu on keto. I'll cover the carbs in tofu, potential health concerns, tasty recipes and alternatives.
Is Tofu Keto-Friendly?
You can eat tofu on a low-carb diet. A 150 gram serving only has 2.8 grams of net carbs and 12 grams of protein. This makes it a practical option for vegan and vegetarian keto dieters looking to up protein intake. 
Manufacturers make tofu by compressing condensed soy milk into small white blocks. They also use nigari, a coagulant that helps tofu solidify and keep its form.
A Chinese chef discovered tofu around 2000 years ago when he accidentally curdled soy milk when adding nigari seaweed to it. Since then, tofu has been a staple in Chinese diets and recently became popular in the West.
But avoid GMO tofu because companies modify soybeans to optimize growth and pest resistance. Instead, opt for organic, GMO-free tofu. 
Tofu Nutrition Facts
One serving of firm tofu contains:
2.8 grams of net carbs
12 grams of soy protein
Seven grams of fat
114 calories
0.5 grams of fiber
0.3 grams of sugar
Trace amounts of healthy nutrients like iron, magnesium and calcium 
This makes it a low-calorie source of bioavailable protein since you're getting 12 grams of protein for only 114 calories. Tofu is also quite filling due to the high fat and protein content, making it easier to lose weight.
A Word Of Caution
You're probably aware of the health concerns surrounding soy. But tofu healthy or are these concerns real?
Soy is a phytoestrogen, meaning it's structurally similar to estrogen. So it binds to receptors because the body thinks it's estrogen. 
This overloads estrogen receptors with too much estrogen, and several studies show this isn't good for men or women. A 2019 paper looked at almost 80,000 women and found an increased breast cancer risk in participants with a diet rich in soy.
A 2007 study found that men who ate soy foods had significantly lower testosterone levels. A follow-up paper concluded those who ate many soy products also had a lower sperm count.
So reduce the number of soy products like tofu in your diet to avoid adverse health effects. However, consider these simple recipes if you're looking for tasty ways to eat tofu in moderation.
How To Introduce Tofu Into Your Diet
Here are some of my favorite ways to make tofu.
Crispy Baked Tofu
Crispy baked tofu is an easy recipe that's perfect if you're time-limited. Serve it on its own with a keto sauce or use it with meals for extra protein. Get the extra firm tofu, not the silken alternative for this recipe, because it's too soft to work with.
Here are the ingredients you'll need to make crispy baked tofu:
150 grams of tofu
One tablespoon of toasted sesame oil
One teaspoon of sea salt
Half a teaspoon of garlic powder
A pinch of cayenne pepper
Half a tablespoon arrowroot powder
First, drain all the water out of your tofu. You can do this by slicing a block of tofu in half, laying it onto a cloth, folding the cloth over the tofu and putting a pan on top.
Let it sit for 10 to 20 minutes because this removes all water, resulting in the crispiest tofu possible. 
Now, preheat your oven to 400 degrees Fahrenheit. Cut the dry tofu into tiny blocks and toss it in a mixing bowl. Drizzle one tablespoon of toasted sesame oil on top to help the seasoning stick.
Add your salt, garlic powder, cayenne pepper and arrowroot powder and mix. Arrowroot might be high in carbs, but you're only using half a tablespoon which contains three grams of carbs.
Once you've mixed the tofu and seasoning, put it on a tray with non-stick paper, bake for 20 minutes at 400 degrees and enjoy!
Make sure to take a look at our Spicy Almond Tofu recipe!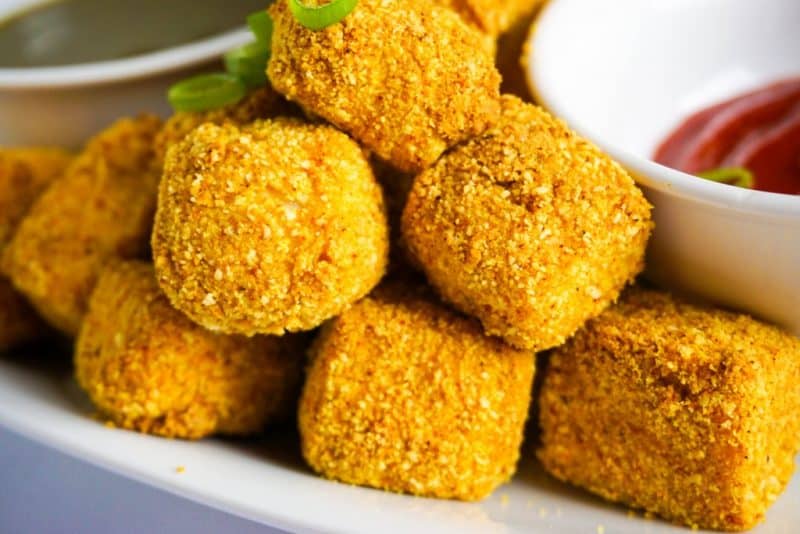 Grilled Tofu Skewers
These tofu skewers are a fun recipe when having friends and family over for a barbeque. You'll need:
150 grams of extra firm tofu
Three tablespoons of sesame seeds
Two cloves of garlic
Two teaspoons of garlic paste
¼ cup of sesame oil
¼ cup of keto brown sugar
⅔ cup of soy sauce
A half a teaspoon xanthan gum
200 grams of oyster mushrooms
First, toss your sesame seeds into a pan and roast it for a few minutes to release the flavors. Next, use a pestle and mortar to grind your seeds and add some salt.
Set it aside once it has a powdery consistency, and prepare the teriyaki sauce. Simply add your soy sauce, keto brown sugar, garlic, ginger paste and sesame oil to a pot on medium heat. When it comes to a boil, add your xanthan gum and sesame seeds and let it simmer.
Cut your oyster mushrooms into long strips and tofu into blocks and mix it with this marinate. Cook the mushrooms and tofu in a hot pan until it has some color, and now comes the fun part. Feel free to get creative when putting your mushrooms and tofu on skewers. 
You could even add red pepper, onion and celery. Last, use a pastry brush to marinate your skewers, pop them onto the grill and serve!
Vegan Tofu Stir Fry
This vegan tofu stir fry is another quick, high protein meal you can make after a long day at work. It's also pocket-friendly for those on a budget. 
For this recipe, you'll need:
150 grams of tofu
Half a tablespoon arrowroot powder
A tablespoon of sesame oil
A tablespoon soy sauce
Two cloves of garlic
A cup of broccoli
Half a cup of carrots
A cup of chopped mushrooms
Your favorite keto sauce 
A tablespoon of erythritol
First, drain all the water from your tofu and toss it in a bowl with arrowroot flour, sesame oil and soy sauce. Remove and let it sit in the oven at 400 degrees Fahrenheit for 20 minutes like in the first recipe.
Next, add coconut oil to a hot pan with your garlic, broccoli, carrots and mushrooms. What I like about this recipe is how flexible it is. You can play around with the quantities of vegetables to get the perfect mix.
If you're busy, simply get some mixed vegetables at your grocery store, add them to a pan and you won't have to buy individual vegetables.
Once your vegetables have some color, toss in the fried tofu with your favorite sauce and keto sweetener. If you like some extra spiciness, feel free to use jalapenos or Thai chilies.
After a few minutes, remove your pan from the heat and enjoy.
Tofu Vindaloo
This low-carb tofu vindaloo is the perfect recipe if you're looking to spice up your diet. For this meal, you'll need:
200 grams of tofu
Eight large red chilies
A stick of cinnamon
Four cloves
Black pepper
A pinch of rye seeds
Cumin powder
20 grams of ginger
20 grams of garlic
Two tablespoons of wine vinegar
50 grams of onion
50 grams of chopped tomato
Turmeric powder
First, add your chilies, stick cinnamon, cloves, black pepper, rye seeds and cumin powder to a hot pan for a few minutes. You just want to toast it, so it starts releasing flavor. 
Once it's toasted, put it in a blender and blend your spices until it's fine. Add your ginger, garlic, wine vinegar and coconut oil and blend it again. You'll notice it has the consistency of a paste. If it's too thick, add some water.
Now that your vindaloo paste is ready, drain your tofu and bake it in the oven for 20 minutes at 400 degrees Fahrenheit. When it's crispy, add your tofu to the vindaloo paste and stir. 
In a hot pan, toss in your onion, chopped tomato, coconut oil, garlic cloves and turmeric, and once it has some color, add your vindaloo tofu. Pour eight cups of water and for extra flavor, use a touch of red or white wine.
Let this sit on low heat for one hour while stirring every 10 minutes.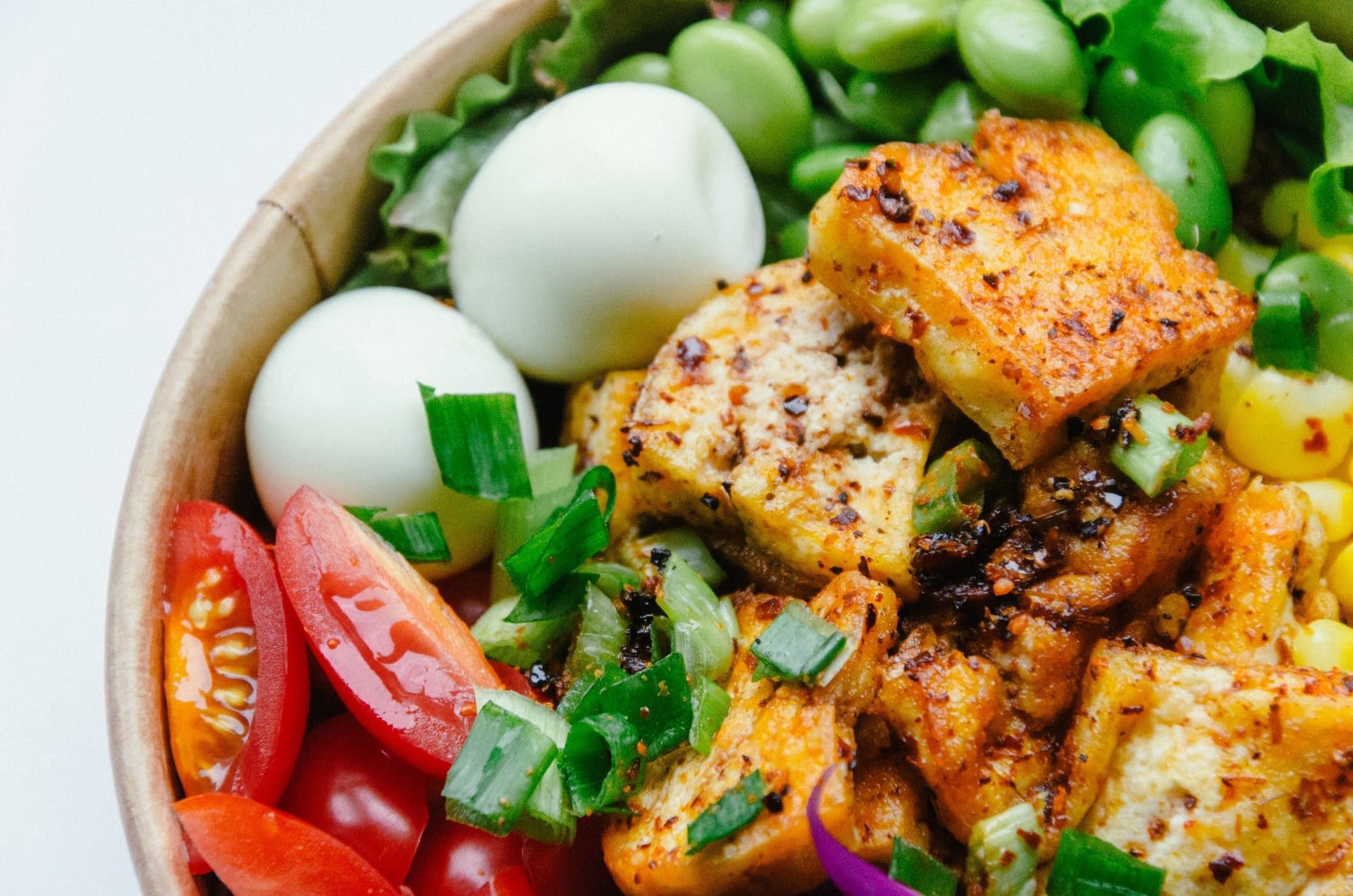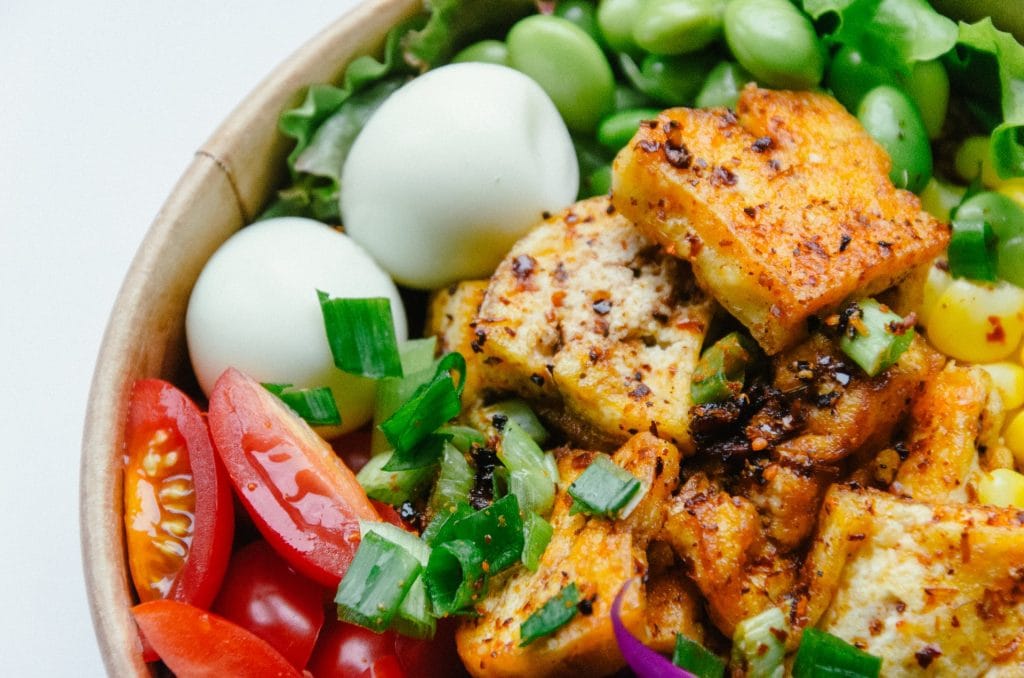 Keto Teriyaki Tofu
For this teriyaki tofu, you'll need:
200 grams of tofu
⅔ cup of soy sauce
¼ cup of keto brown sugar
Two teaspoons of minced garlic
Two teaspoons of ginger paste
¼ cup sesame oil
A half a teaspoon xanthan gum
Some sesame seeds
Prepare your tofu by draining it, cutting it into blocks and putting it in a 400 degree Fahrenheit oven for 20 minutes.
While your tofu is baking, add your soy sauce, keto sugar, garlic, ginger paste and sesame oil to a pot on medium heat and whisk. Once it comes to a boil, lower the heat and add your xanthan gum. Let it simmer while stirring for a few minutes, and remove your pot from the heat.
The last step is to transfer this sauce to another pan, add your crispy tofu and let it cook for a minute or two. You can add some sesame seeds or salt and pepper for extra flavor and enjoy!
But if you're looking to spice up your keto diet, consider these tofu alternatives.
What Are Some Alternatives To Tofu On Keto?
Here are some tasty silken tofu alternatives.
Tempeh
Tempeh is a traditional Indonesian food and the manufacturing process is similar to soft tofu. A 150 gram serving offers 30 grams of complete protein, making it a good protein source for vegan keto diets.
Tempah won't interfere with ketosis because it only contains five grams of carbs. It's also nutrient-dense, so you'll consume electrolytes like:
Potassium
Magnesium
Calcium
Iron
Seitan
Seitan is simply wheat meat made by mixing flour and water into a sticky dough. Manufacturers rinse this dough with water to remove starch. It contains 14 grams of carbs per 100 grams and can be a keto-friendly alternative to tofu if consumed in moderation.
Even though it's made from wheat flour, seitan has little in common with bread. However, if you're managing celiac disease, avoid seitan.
What makes seitan unique is the taste. It tastes like bland chicken, so you can add it to almost any dish, and it'll adapt the flavor.
Edamame
Edamame is young soybeans harvested before they're ripe, and you can eat it in moderation on keto. A half a cup serving of edamame contains 120 calories, four grams of fiber, 2.5 grams of fat, nine grams of carbs, 11 grams of protein and essential amino acids.
Edamame is also found to relieve migraines, clear acne and reduce inflammation. It works well as a snack if you're busy. Simply toss bacon and butter in a pan with some boiled edamame, and you're good to go. You could even use it to make spaghetti which helps with carb cravings.
Final Thoughts On Carbs In Tofu
Tofu is a nutrient-dense, low-carb meat substitute that's high in protein. This makes it perfect for those who don't eat meat and want to increase their protein intake.
But it's important to limit soy intake because studies find it has adverse health effects for both men and women due to soy isoflavones.
If you're implementing tofu into your ketogenic diet, it doesn't have to be boring. You can bake tofu using recipes like tofu vindaloo or keto teriyaki. These recipes only take a few minutes, so it's easy to cook something on the go. But if you're looking to add some variety to your diet, consider tempeh, seitan and edamame.