If you love Wendy's food, our keto Wendy's menu guide is the perfect option for you.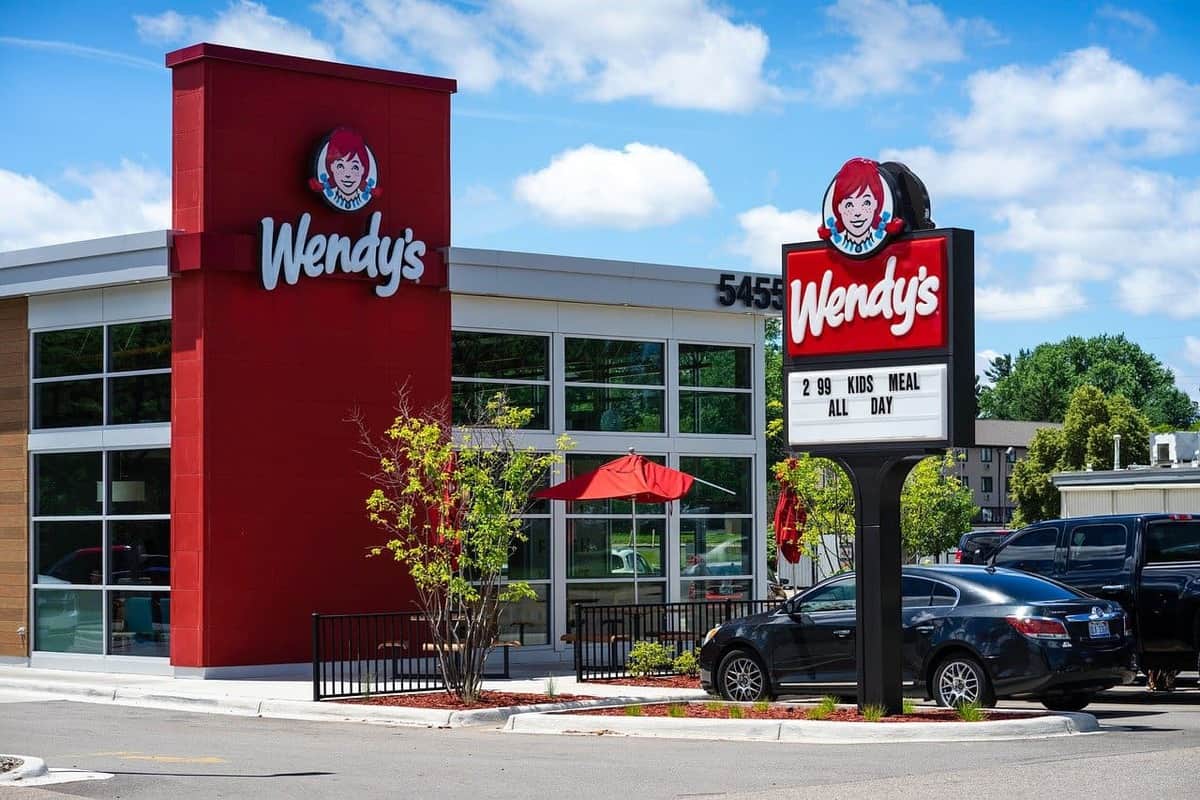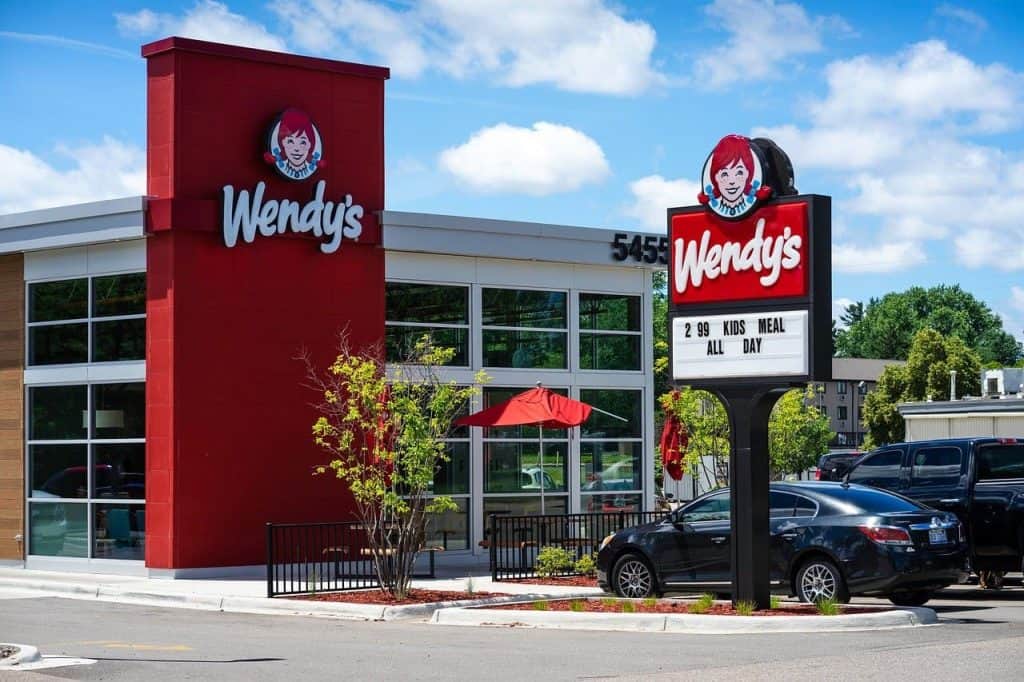 How to Order at Wendy's Low Carb Edition
This keto Wendy's guide breaks down everything from tips and tricks to calories and macros. They have a wide variety of menu options, but also carb options that you definitely want to avoid on keto.
Helping people find good healthy options on their ketogenic diet while out is why we made this guide! To order at Wendys start by:
FREE PRINTABLE: Keto Food List
Join 150,000 others to get a FREE keto food list and new recipes every week!
Downloading their Mobile App– Thankfully Wendy's created an app that will do macros calculations for you on the spot. If you are a big Wendy's lover it's probably best to download this app and see where your net carbs are for each meal.
Order Your Meal "Low Carb" – They probably won't know what this means so be sure to throughly explain how you want your order made. If you get a burger and want to make it keto, specify that you don't want a bun.
Ask for no Bun– Like we say above make sure to start off your order by asking for no bun. Most items come with some kind of main carb that brings up the total carbs. For a burger you can ask to have a lettuce wrap. Or simply ask for the patties to be put in a salad container.
Skip the ketchup– Most original style ketchups have high fructose corn syrup or sugar. Per little packet it could be between 3-5g of sugar and carbs each. Instead of original ketchup you can try mustard or bring your own sugar free ketchup.
Get all Sauces on the Side– Not only does this help control calories, but also overall carbs. Some burger sauces and salsas can have extra sugar and hidden carbs. Ask for sauces on the side so you still have a dressing. Just make sure you check the net carbs per sauce and watch the amount you use.
Skip the French Fries– We know this one is the hardest, but most sides like fries, hash browns, onion rings, ect. are breaded and too high in carbs. Instead of eating too many carbs, just ask for a side salad with a keto friendly dressing option like ranch.
Now that you are prepared to order let's start talking about the best keto Wendy's options. Grab your cup of Joe and let's talk breakfast!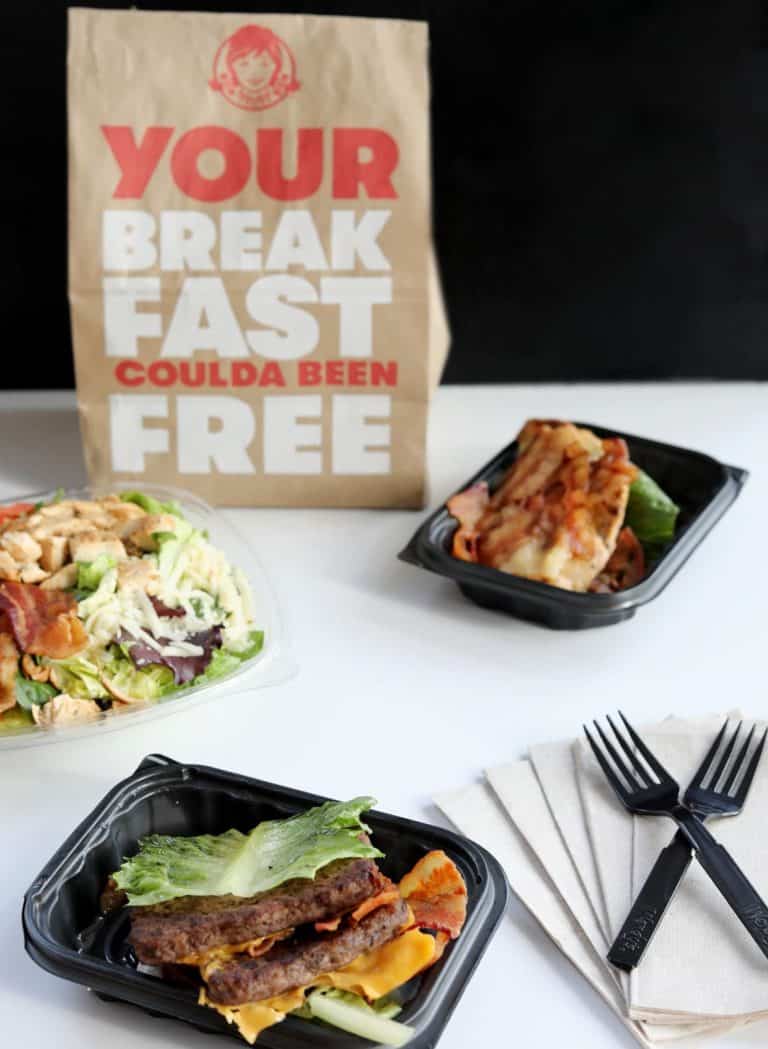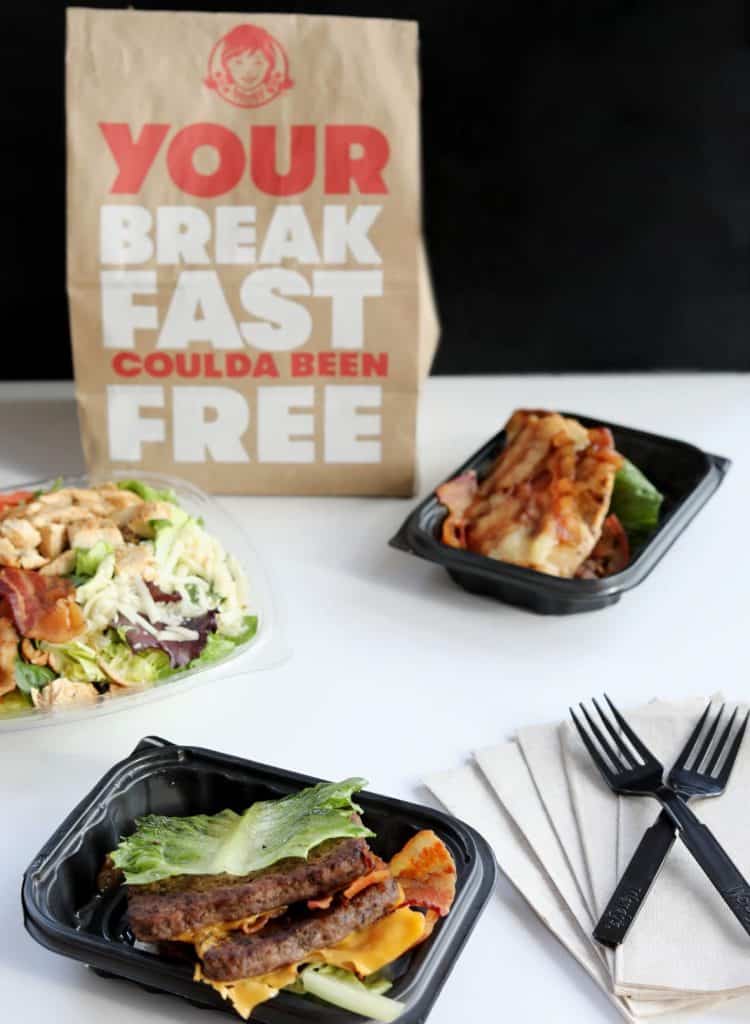 The Best Breakfast Options for Keto at Wendy's
Fast food breakfasts can sometimes be iffy, but thankfully we were able to find quite a few good breakfast options to eat low carb at Wendy's. Remember to start by asking for your breakfast without the bun, biscuit, or croissant! Some great breakfast menu items are:
Bacon Egg & Cheese- Ah the classic bacon egg and American cheese breakfast sandwich. This is one of the best keto options at almost all fast food restaurants.There are190 calories, 2 grams of carbs, 0 grams of fiber, 2 net carbs, 6 grams of fat, and 12 grams of protein.
Sausage Egg & Cheese- Another one of the typical keto options at a fast food stop. It's high in protein and low in carbs when you ask for no bun. Wendy's sausage egg and American cheese sandwich has 370 calories, 3 grams of carbs, 0 grams of fiber, 3 net carbs, 33 grams of fat, and 17 grams of protein.
The Breakfast Baconator- This high protein breakfast sandwich is specific to Wendy's and is perfect if you're trying to eat keto on the go. There are560 calories, 6 grams of carbs, 0 grams of fiber, 6 net carbs, 47 grams of fat, and 29 grams of protein.
A Sausage Patty on the Side Has-  240 calories, 2 grams of carbs, 0 grams of fiber, 2 net carbs, 22 grams of fat and 9 grams of protein.
A Side of Bacon Has- 60 calories, 1 carb, 0 grams of fiber, 1 net carb, 4 grams of fat, and 4 grams of protein.
There is one more light option that isn't fully low carb or keto, but is keto diet friendly. That is going to be their strawberries. A side of their strawberries have 20 calories, 5 grams of carbs, 1 gram of fiber, 4 net carbs, 0 grams of fat and no protein.
We wouldn't recommend getting any of these lettuce wrapped because something about hot eggs and lettuce just doesn't mix… BUT, you can instead ask for it bun- less in a clamshell with a fork and knife for easy eating!
Keto at Wendy's Lunch & Dinner Menu Edition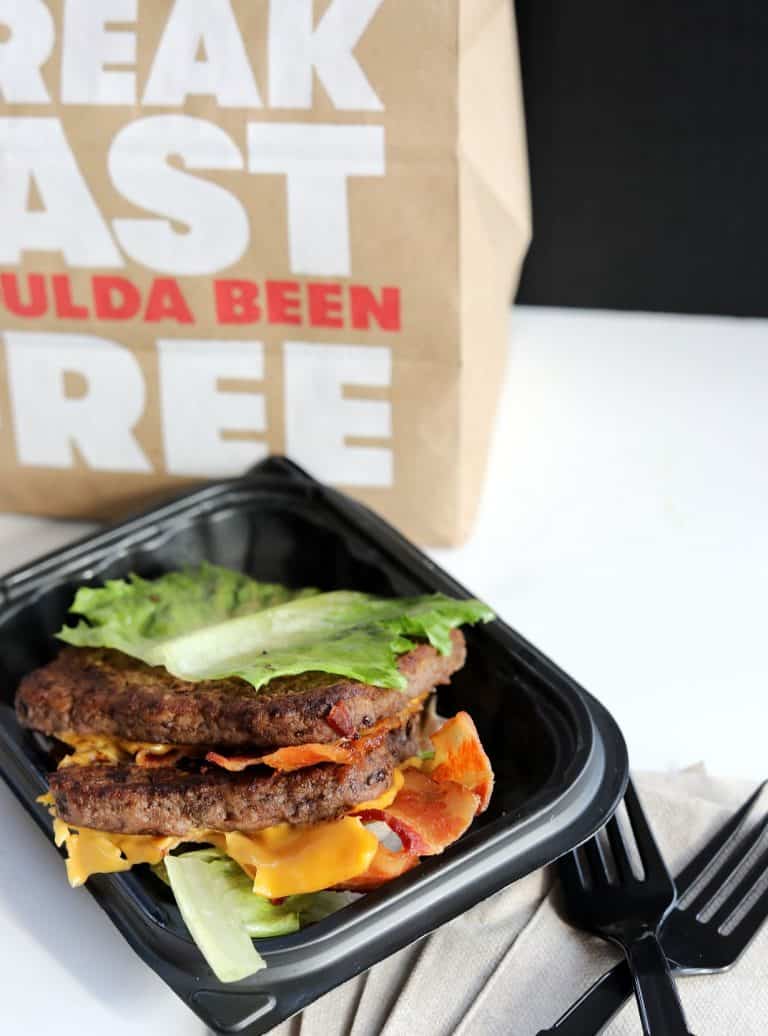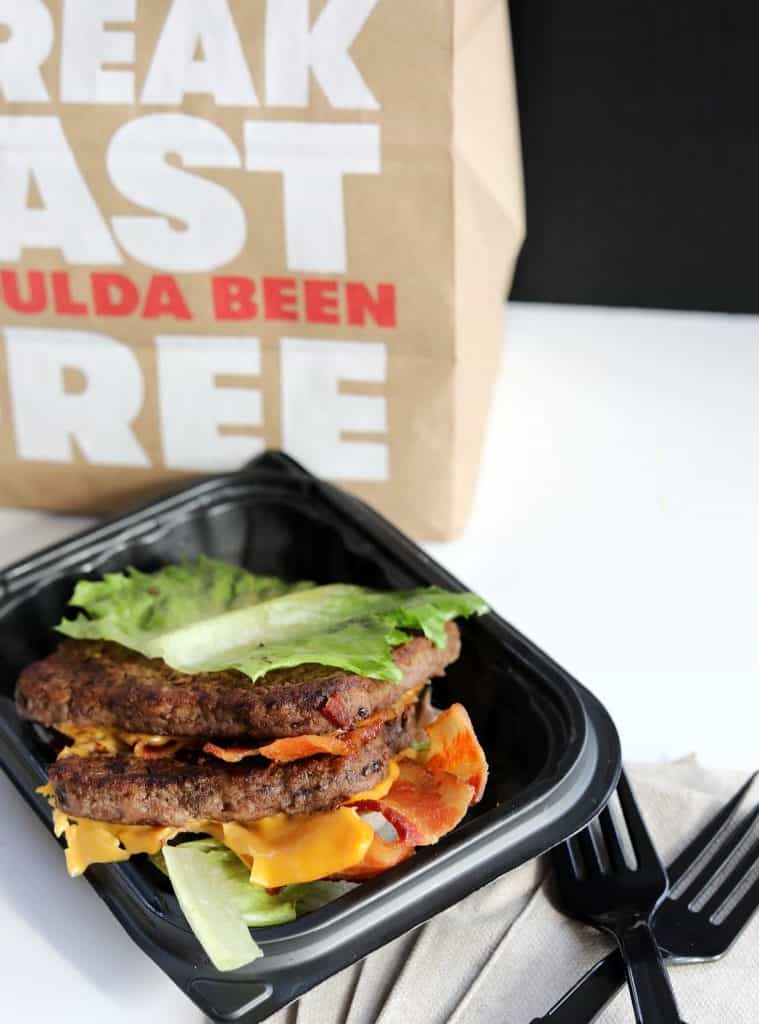 Now that we've made it past breakfast time it's time to talk main meals. You can totally consume Wendy's on a keto diet, but it's important to make sure you are removing excess carbs and adding back in extra protein and fat.
Keto Friendly Burger Options
It's only fitting to start with burger options at one of the leading fast food burger joints out there. The burger options at Wendy's are plentiful so let's start with discussing how to order their burgers.
Order your burger without the bun and instead ask for a lettuce wrap or plastic clamshell for the patties.
All sauces should be on the side. Controlling your low quality added oil intake is super important for inflammation and health.. You can even skip their cheap sauces and bring your own if you're feeling extra fancy.
Finally, skip the sides. Yes that even means the fries and crispy potato wedges. Even just a few of them are loaded with carbs and excess calories.
The Burgers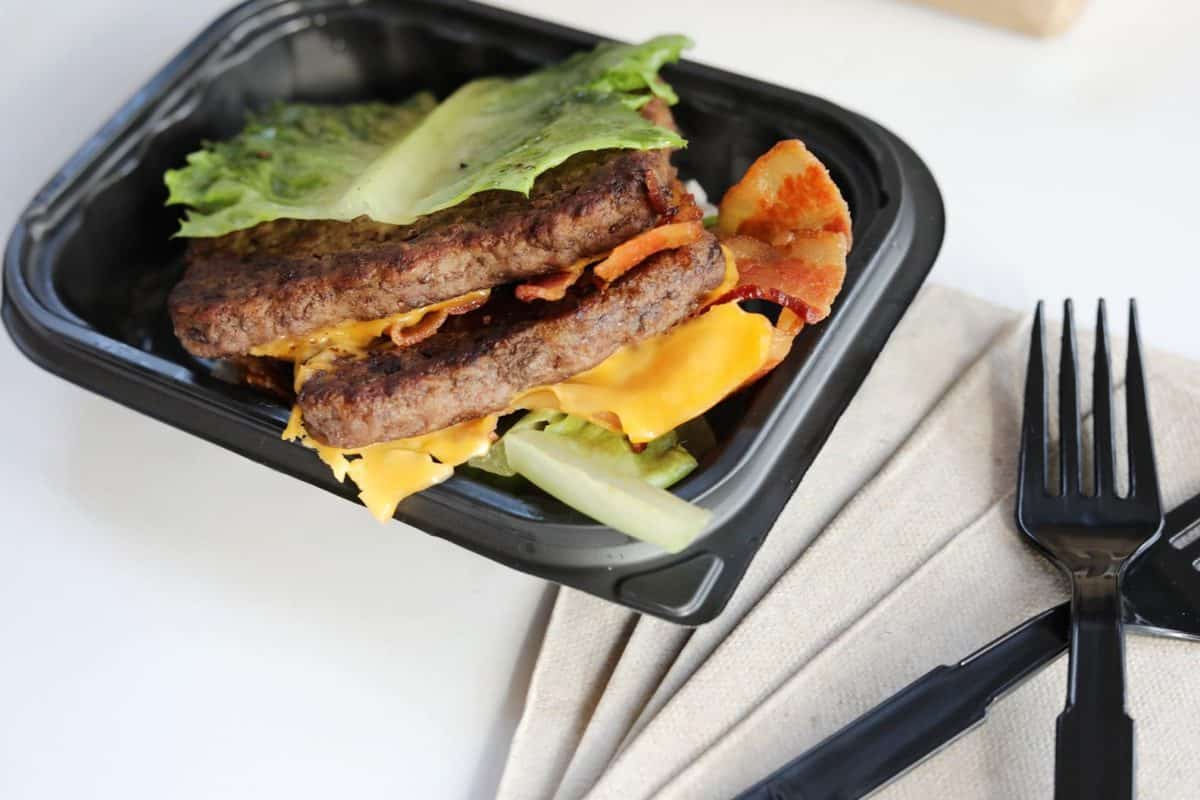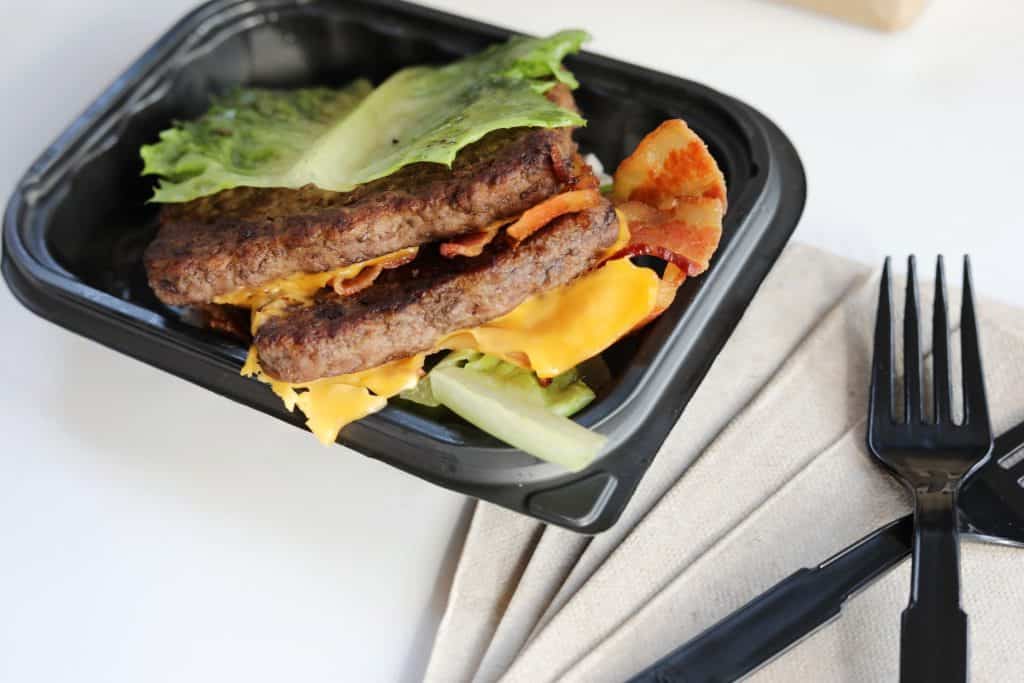 We have our lettuce wrap ordered and are ready to fill it, so let's discuss burgers. Some keto friendly burgers are:
The Baconator- The baconator no bun is a classic keto meal, perfect for any keto Wendy's lover. It's high protein, high fat, and only 6 net carbs per lettuce wrap burger. Nutrition information: There are 740 calories, 6 grams of carbs, 0 grams of fiber, 57 grams of fat, and 52 grams of protein.
Son of Baconator- Exactly as it sounds this is a smaller, yet equally delicious version of the original baconator. Instead of two regular patties, it's made with two junior patties which is perfect for anyone looking for a less calorie dense keto friendly meal option. Ina baconator no bun there are 450 calories, 3 grams of carbs, 0 grams of fiber, 3 net carbs, 37 grams of fat and 29 grams of protein.
Double Stack- In a standard double stack without the bun there are 260 calories, 2 grams of carbs, 0 grams of fiber, 2 net carbs, 19 grams of fat, and 20 grams of protein.
Dave's Single- Sometimes when you're eating keto fast food you want a lighter option. This single patty burger is simple with just lettuce, tomato, onion, and pickles. In each burger there are 380 calories, 6 grams of carbs, one gram of fiber, 5 net carbs, 32 grams of fat, and 25 grams of protein. It may not be a Wendy's baconator, but it is a great easy option.
Dave's Double- A bigger version of the single having 640 calories, 7 grams of carbs, 1 gram of fiber, 6 net carbs, 49 grams of fat, and 44 grams of protein per burger.
Dave's Triple- Just when you thought there couldn't possibly be more, there is. Get a Daves triple for 920 calories, 8 grams of carbs, 1 gram of fiber, 7 net carbs, 70 grams of fat, and 66 grams of protein. Fast food is ridiculous, but at least it's keeping us full!
For the kiddos, or the young at heart try a:
Or A Jr. Cheeseburger Deluxe- Just takeaway the bacon and you have 210 calories, 3 grams of carbs, 1 gram of fiber, 2 net carbs, 17 grams of fat, and 12 grams of protein.
A Jr. Bacon Cheeseburger- It has 260 calories, 3 grams of carbs, 0 grams of fiber, 3 net carbs, 21 grams of fat, and 15 grams of protein.
While you may need a fork and knife to eat your Wendy's baconator, these are all still fantastic options to eat low carb fast food burgers. If you want to make your burgers even lower in carbs make sure to ask for no onions and tomatoes to save on carbs.
Chicken Sandwiches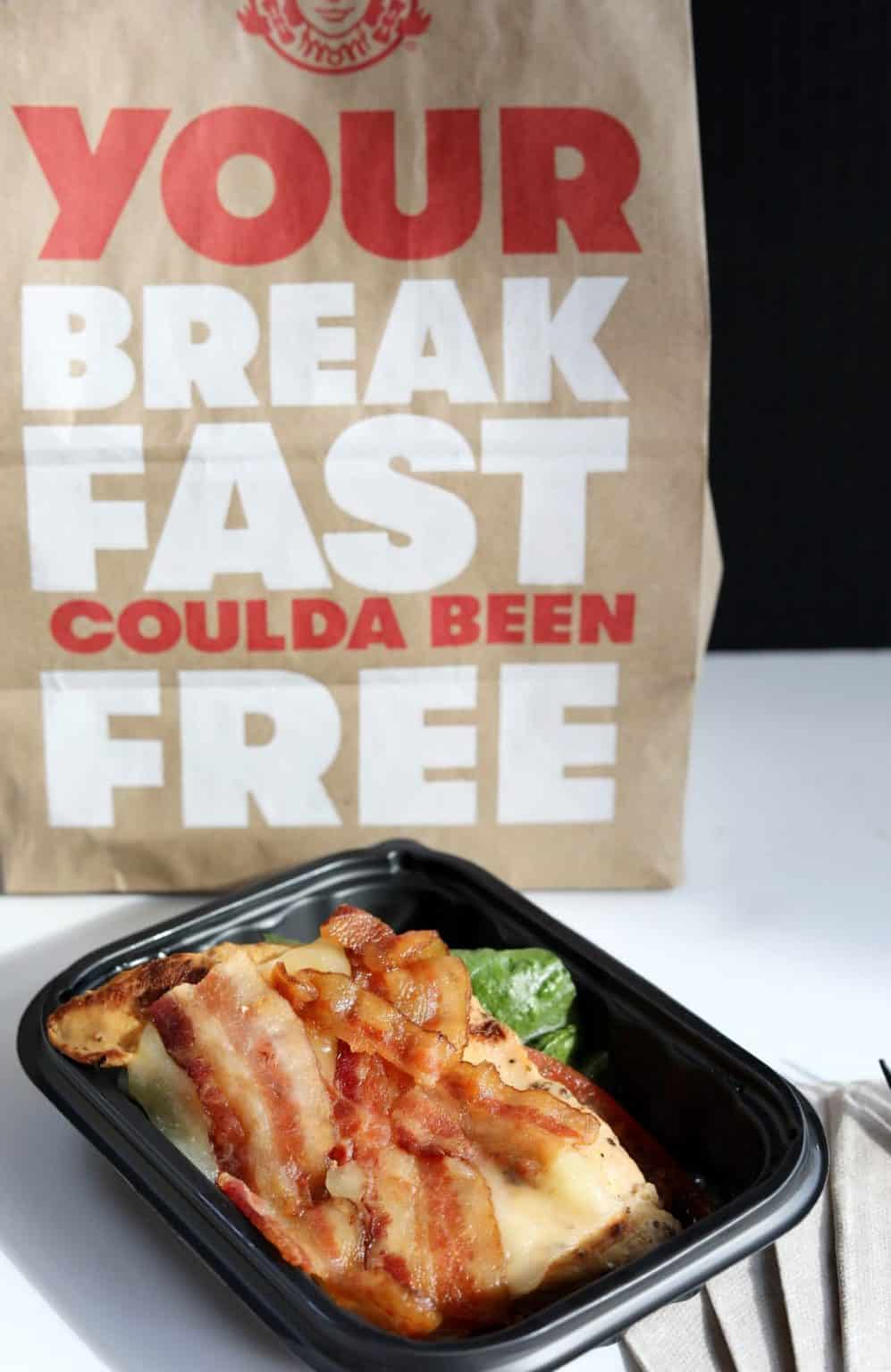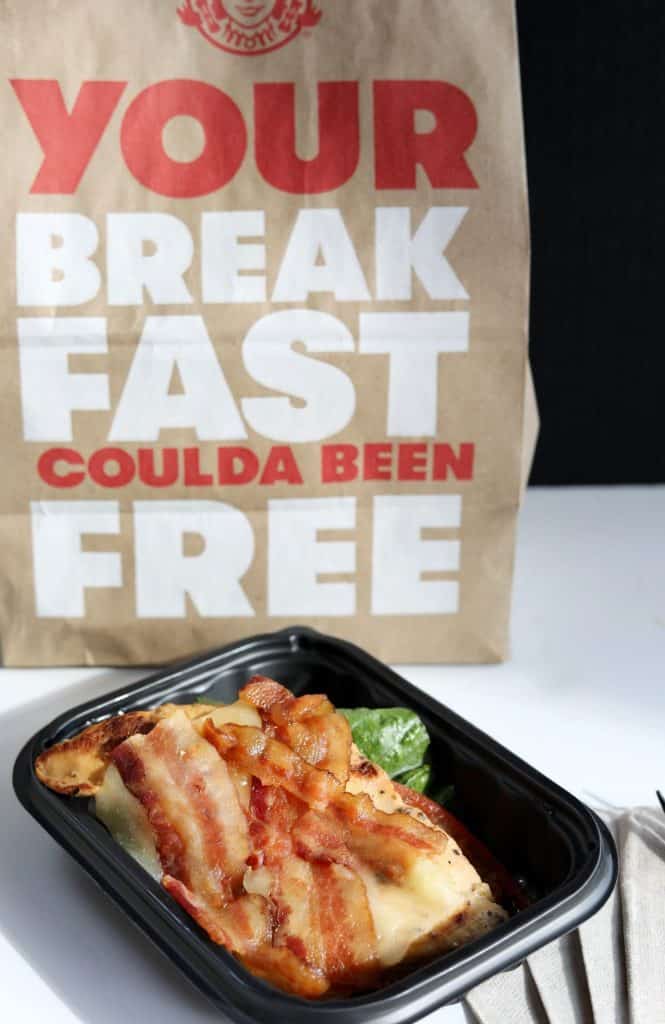 If you prefer chicken, or were hoping for a sandwich with a few less calories, these are the "burgers" for you. Wendy's keto options for chicken might be larger than any other fast food restaurant. Just make sure whatever sandwich you pick, you ask for grilled chicken, no bun.
Grilled chicken is totally keto friendly because it doesn't have any breading. If you want a burger's toppings; but on chicken, you can always just ask for your favorite burger with chicken subbed out for the patty. Some of the best keto grilled chicken sandwich options are:
The Grilled Chicken Sandwich- This is their original grilled chicken sandwich so it's quite the classic! Make sure to ask for it without honey mustard to save on carbs. Per sandwich ordered Wendy's keto style there are 140 calories, 1 gram of carbs, 1 gram of fiber, 0 net carbs, 2 grams of fat, and 29 grams of protein.
Grilled Asiago Ranch Club- The Wendy's grilled asiago ranch club can be made keto by removing the bun. It has bacon, ranch, asiago cheese, and lettuce. Per sandwich there are 330 calories, 3 grams of carbs, 1 gram of fiber, 2 net carbs, 19 grams of fat, and 38 grams of protein.
Grilled Bacon Jalapeño Chicken Sandwich- If you like spice this is the Wendy's keto option for you. It's juicy, spicy, and filled with bacon. Just make sure you request no onion tanglers because they are fried and breaded. Each Wendy's keto grilled bacon jalapeño chicken sandwich has 320 calories, 3 grams of carbs, 0 grams of fiber, 3 net carbs, and 40 grams of protein.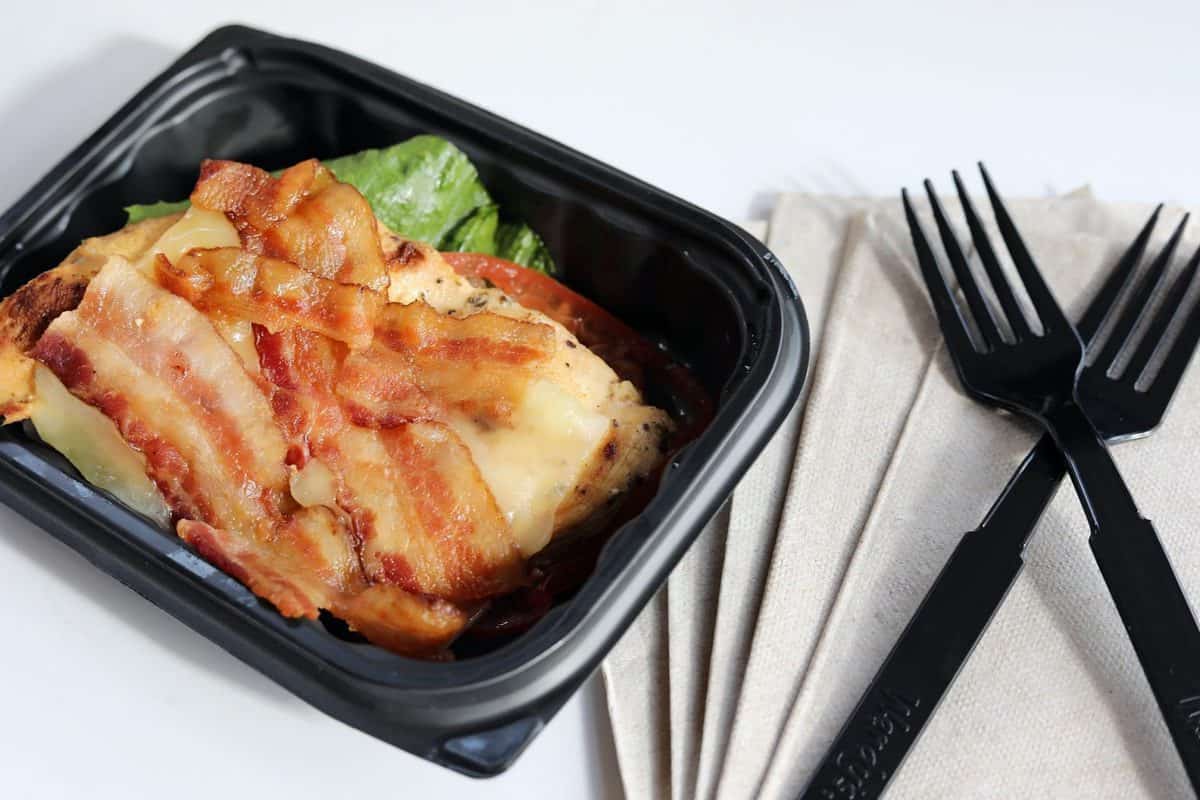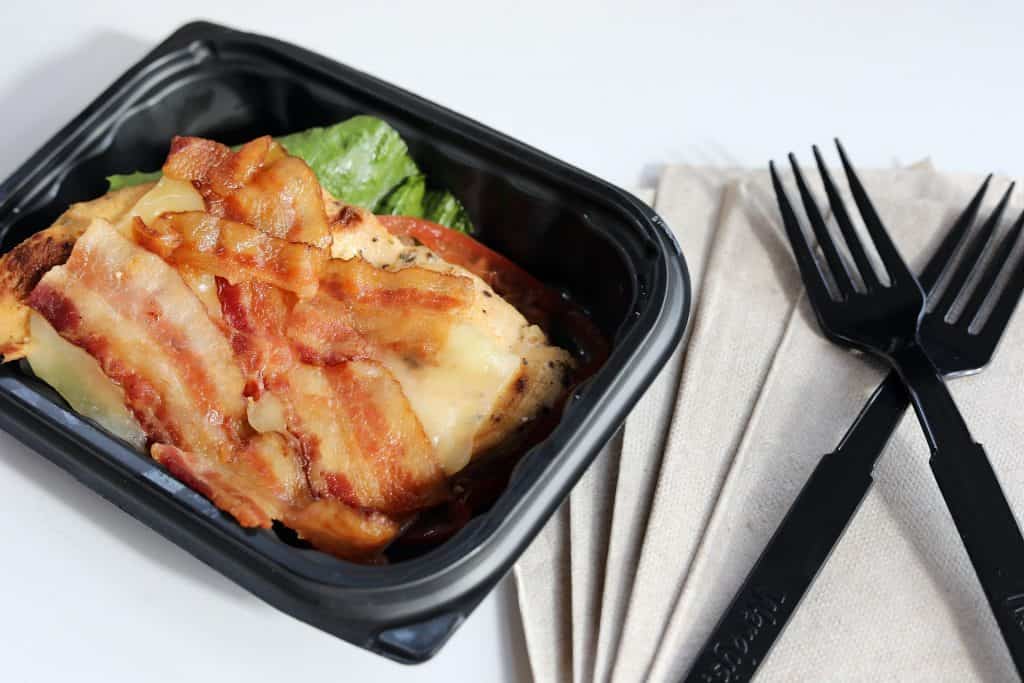 Each of these chicken sandwiches are low in net carbs making keto at Wendy's a breeze. If your Wendy's still has the grilled avocado blt chicken sandwich that's a great Wendy's keto option too. We just sadly haven't seen it lately.
Chicken sandwiches are the best way to get in your protein on the secret Wendy's keto menu. Just make sure to eat keto options you say no bun!
Keto Friendly Salads at Wendy's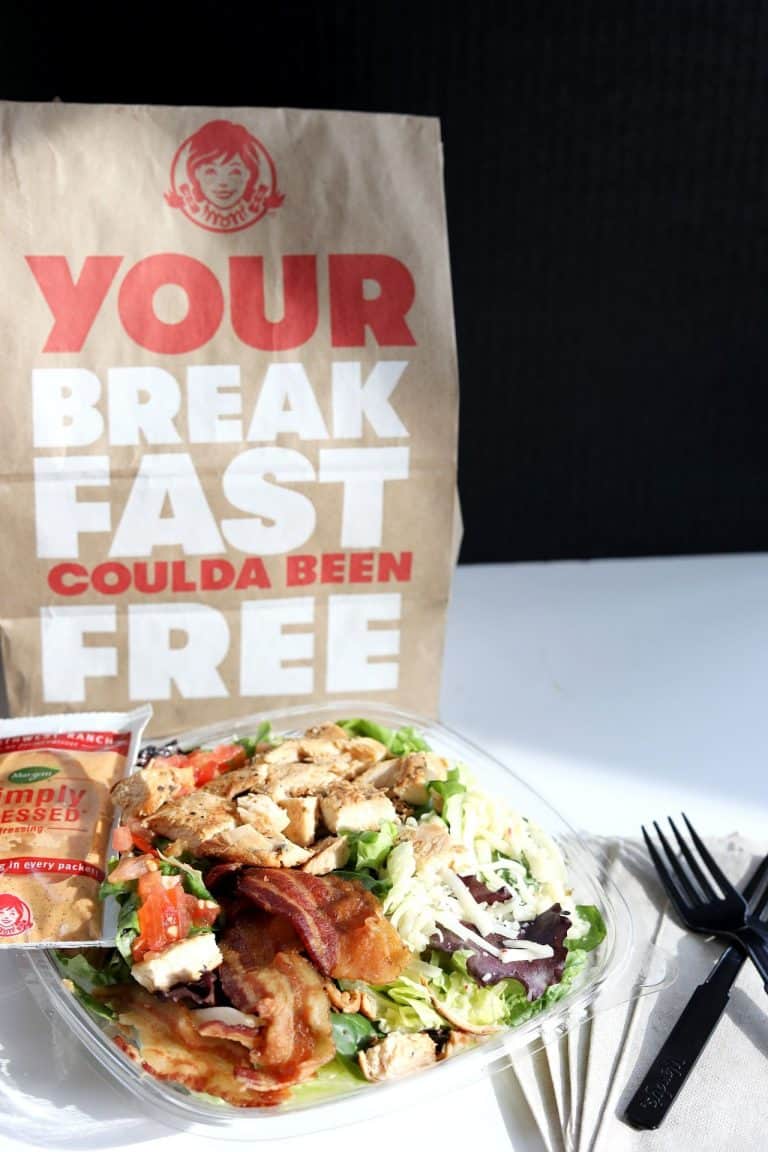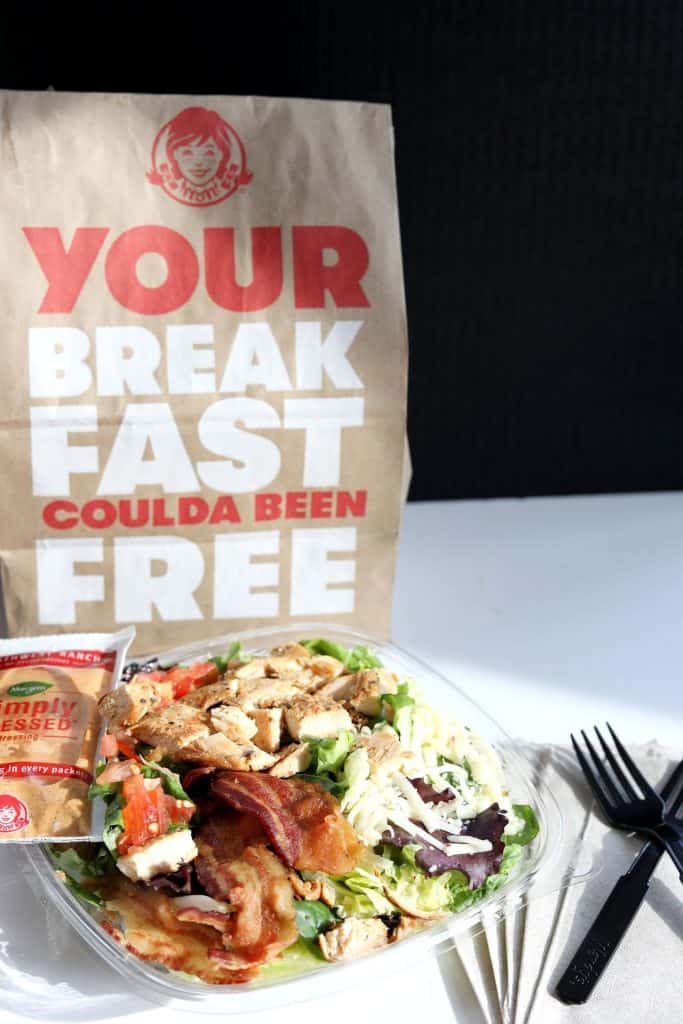 If you want to stay keto at Wendy's but aren't all about burgers salad may be a good option for you. Each of these salads are high fat and high in fiber to keep you full.
Some of our favorite Wendy's keto salads are:
The Parmesan Caesar Chicken Salad (Grilled Chicken)- This salad is loaded with parmesan and chicken so you get a ton of protein. Plus the caesar dressing will help to up the fat of this meal. Each salad WITH dressing is 440 calories, 7 grams of carbs, 3 grams of fiber, 4 net carbs, and 42 grams of protein. 28 grams of fat | 8g carbs | 5g fiber | 2g sugar | 49g protein | 3g net carbs
Southwest Avocado Chicken Salad (Grilled Chicken)- The southwest avocado chicken salad is our favorite because it has tons of toppings. There are layers of chicken, bacon, grated cheese, avocado, and tomato. Per salad WITHOUT dressing there are420 calories, 12 grams of carbs, 6 grams of fiber, 6 net carbs, 25 grams of fat, and 39 grams of protein.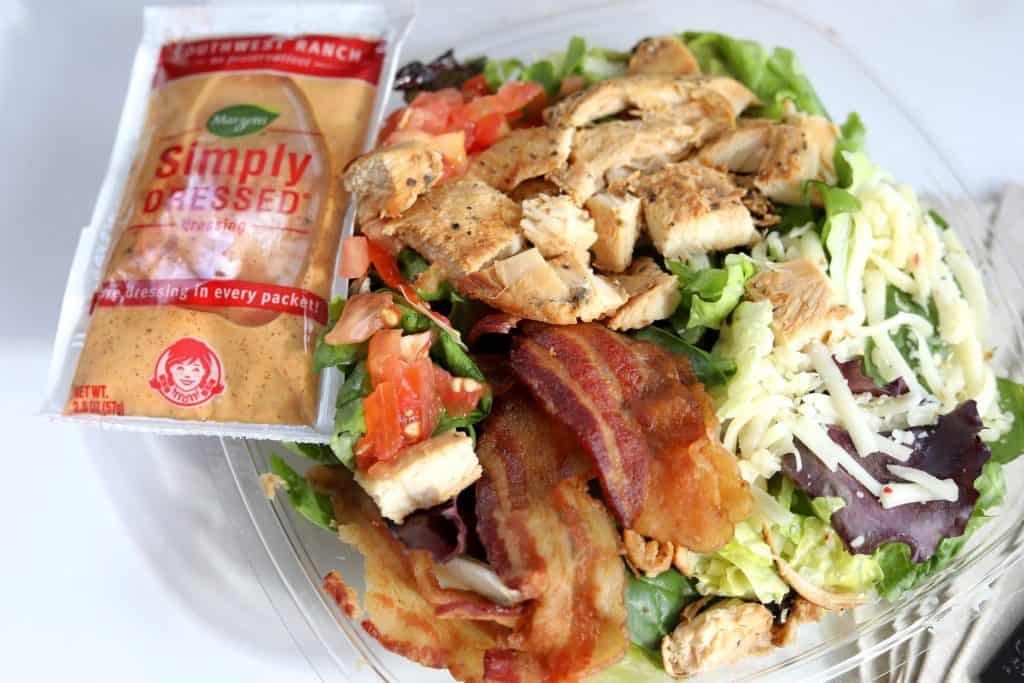 We have heard of some people getting the jalapeños popper salad too, but just don't think it's worth it. You would need to ask for no crispy jalapeños, no croutons, and grilled chicken instead of fried.
Basically if you want a salad that's keto at Wendy's, stick with one of these two options!
Salad Dressings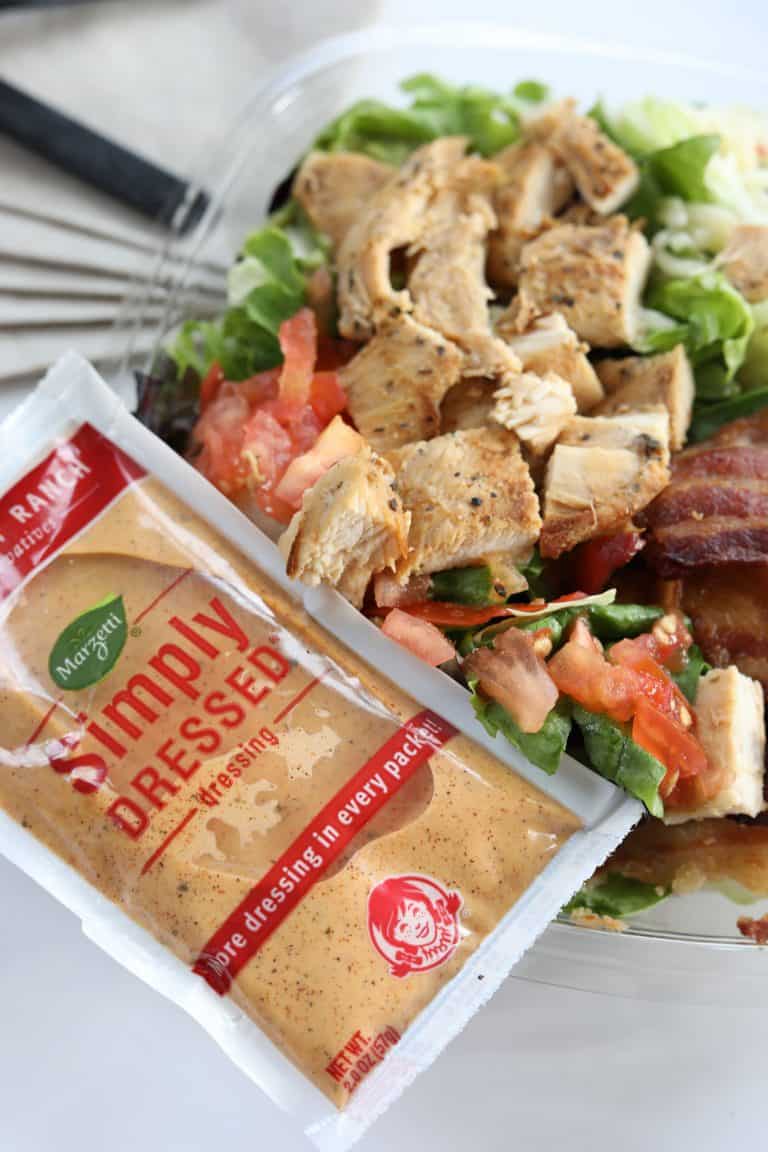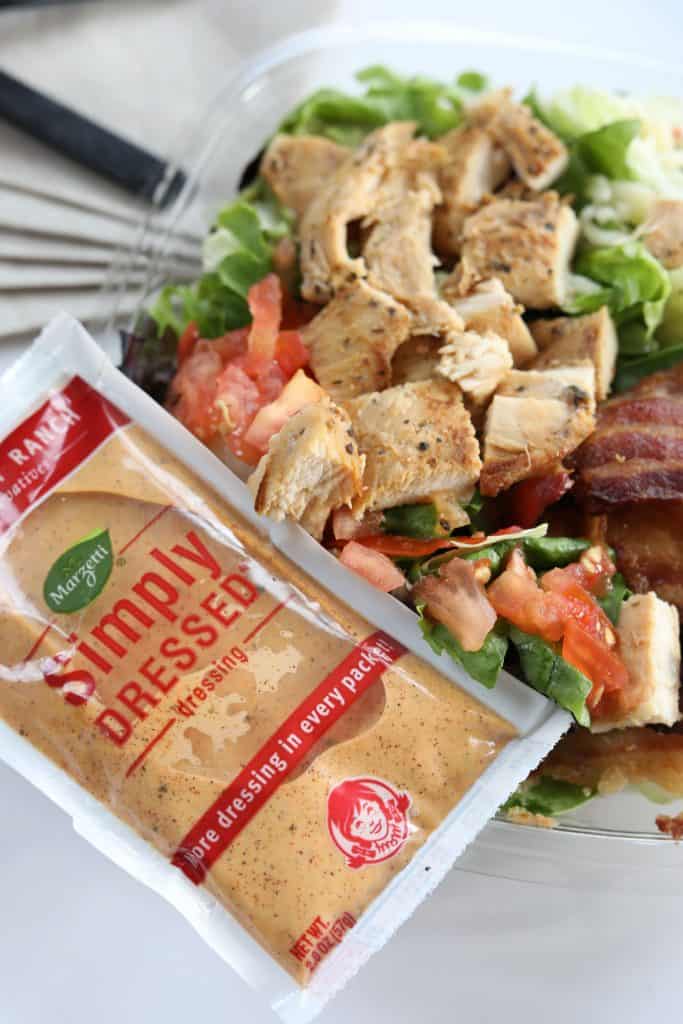 Personally we don't use a salad dressing packet from fast food restaurants. Our keto diet is low inflammation, and vegetable oils will do the opposite. They are high in omega sixes which increase inflammation.
If you do decide you like dressings too much after you already had to give up that oh so delicious taco salad, we've got you covered. Some of the best low carb options for salad dressings at Wendy's are:
The Classic Ranch Dressing- Per packet of the classic ranch dressing there are 100 calories, 2 grams of carbs, no fiber, 2 net carbs, 10 grams of fat, and 1 gram of protein.
Caesar Salad Dressing- Which is included in the caesar salad has 80 calories, 1 gram carbs, 1 net carb, 8 grams of fat, and less than a gram of protein.
Southwest Ranch Dressing- Per packet there are80 calories, 2 carbs, 1 net carb, 8 grams of fat, and one gram of protein.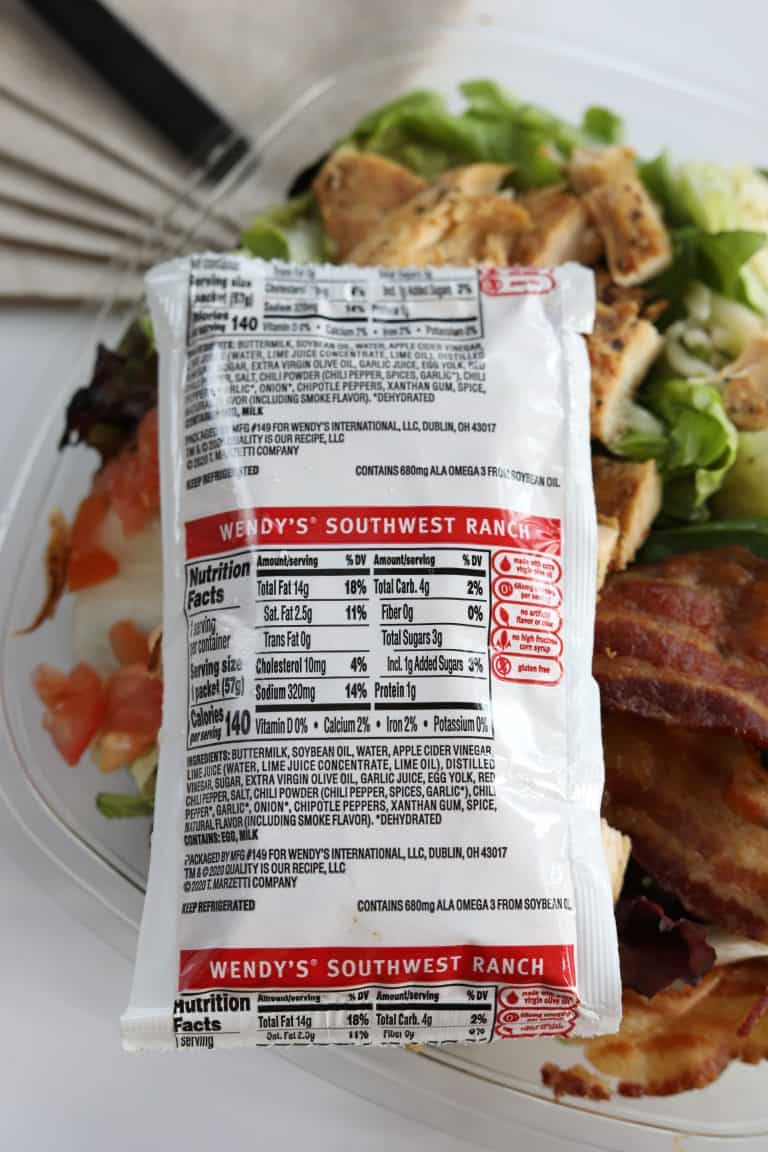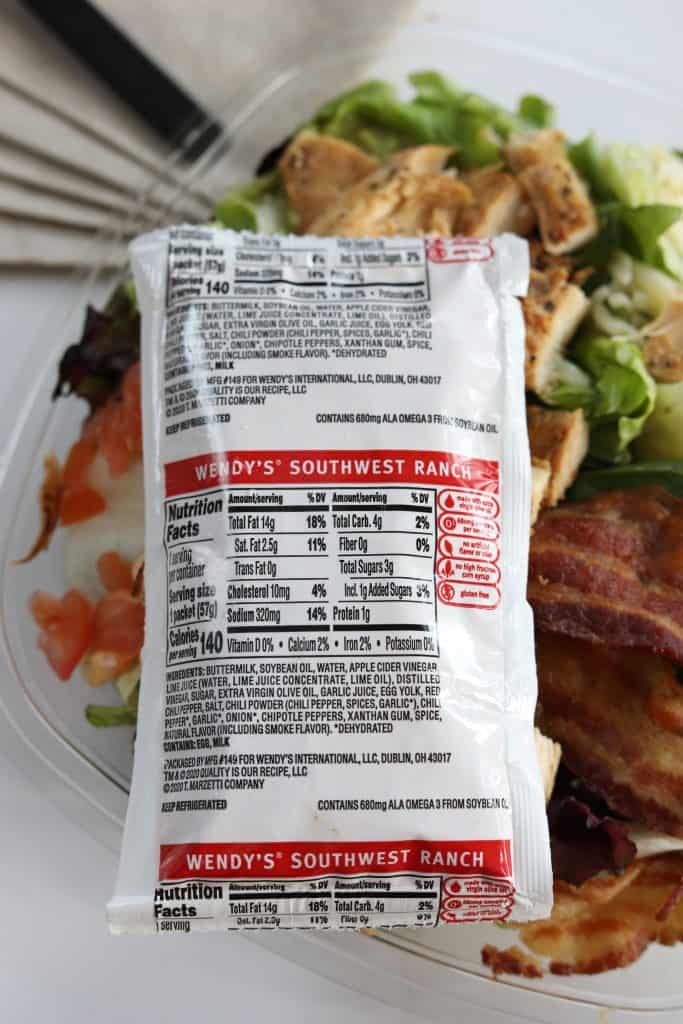 The vinaigrettes are not keto and actually have quite a bit of sugar which is why we chose not to include them. Whichever dressing you choose make sure it fits within your macros.
Sides & Soft Drinks
Sadly there are actually NO sides available for a keto dieter at Wendys. Yes, that even includes the delicious chili. There are just too many beans! They do however have diet coke and zero sugar lemonade that make great keto low sugar drink options.
They do also sell unsweetened ice tea and coffee for those interested. Each drink had 5-10 calories and 0-2 grams of carbs.
More Keto Meal Guides
If you're looking for more keto and low carb options on the road here are some of our favorite fast food restaurant guides.
Taco Bell – For when you're craving American Mexican foods.
Chick- Fil- A – Fresh chicken sandwiches and the nicest employees!
Mcdonalds – An American staple, need I say more.
Starbucks – America's most popular coffee shop.
Chipotle – One of the healthiest takeout options.
Buffalo Wild Wings – The best chicken wing establishment out there!
Leave a comment below if there are other guides you would like to see us create.