Can you even get any Pizza hut keto options? It's not easy, but possible! The key is to pick the right foods and avoid those that you shouldn't eat on keto. In comparison to other fast food restaurants we've reviewed, Pizza Hut was definitely one of the most difficult ones!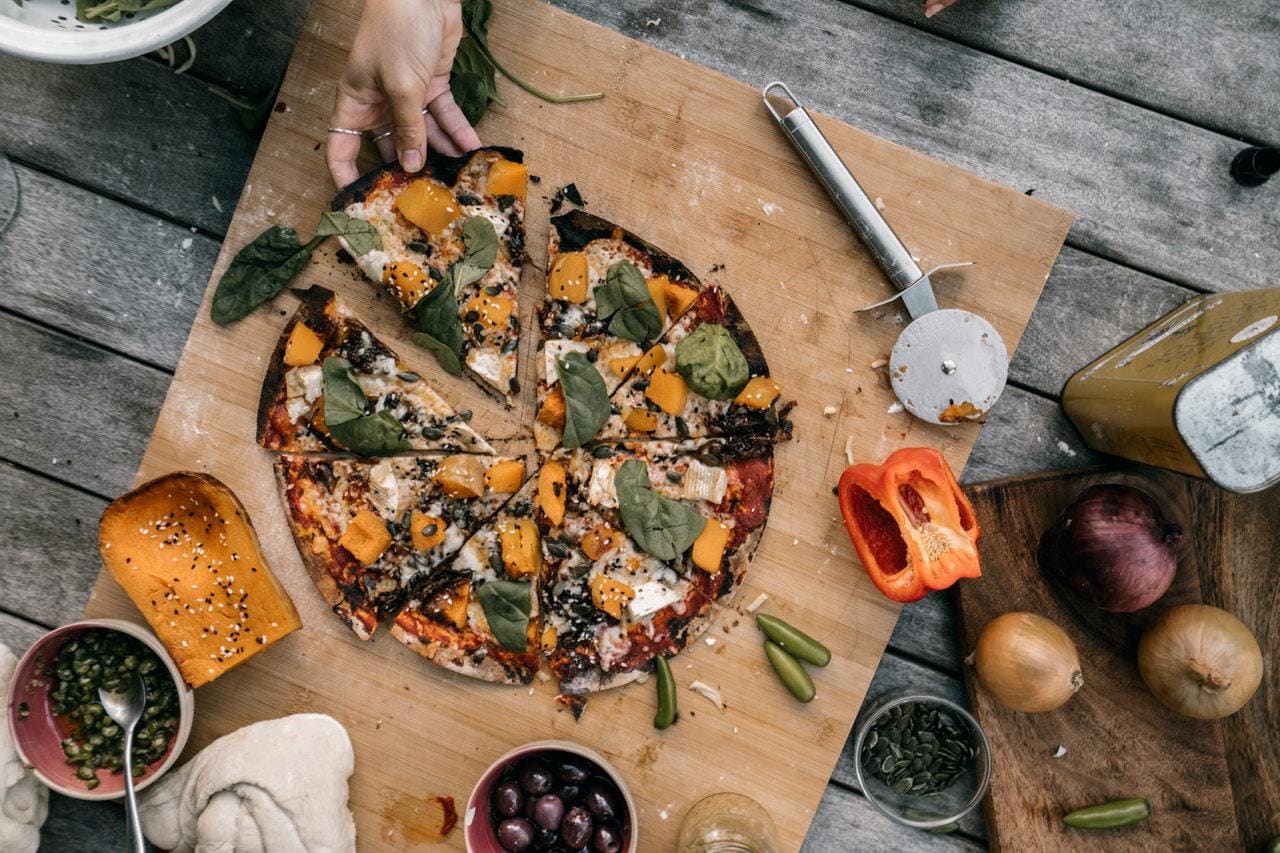 3 Tips on How to Eat Keto at Pizza Hut
Guys, let me tell you – out of all the fast food places we've written about, this is by far the one that takes the cake for being really difficult. Pizza Hut keto options are scarce, but not impossible. Here are the three major tips on how to eat out at Pizza Hut when you're on the keto diet:
1. Stick to Salads (if possible)
Pizza Hut menu is kind of tricky because it doesn't list everything that's available. Some locations offer more options than others and if the location you're in offers salads, that's your best bet.
Remember to remove croutons and stay away from dressings that have a high carb count. Several salads are also okay when you first look at them, but then when you dig a little deeper you'll see that they're not.
For example, their Crispy Chicken Caesar Salad is made with crispy, breaded chicken, and not all locations will help you out even if you ask them to swap it for the grilled option.
2. Create Your Own Pizza and Skip the Crust
I know this sounds ridiculous, but it's the reality of Pizza Hut keto options. Eating low carb isn't all that difficult, but then when you try to eat out it can get tricky.
Order a pizza, skip the crust and simply scrape off the low carb pizza toppings. If you want to, you can also get a side salad and a keto friendly dressing on the side.
3. Avoid all Temptations
And Pizza Hut has plenty of them. For example, get water instead of soda. Well, what about coke zero? It's keto, but know that diet soda is still bad for you and has tons of artificial sweeteners inside.
Oh, but Pizza Hut has wings! The only keto Pizza Hut wings you can get are some of the traditional bone-in wings. Each one of their bone-out wing options has a flour-like coating and isn't okay on keto – even the ones with buffalo sauce or the lemon pepper rub!
For example, 1 lemon pepper rub bone-out is 6g of carbs per wing. Although the macros fit, I doubt you'll be satisfied with eating just one or two chicken wings.
Is There Such a Thing as Keto Pizza?
Of course, there is, but not at Pizza Hut for sure. With the Pizza Hut keto menu being nearly non-existent if it wasn't for the salads, I'd definitely recommend you make your own and satisfy your cravings.
We highly recommend you try our Keto Chicken Crust Pizza recipe with only three ingredients (and you can eat the whole pizza!) or try our Keto Fathead Pizza. Both are low carb, keto friendly, and taste just like the real thing.
Are Pizza Hut Wings Keto?
You're in luck because some of the Pizza Hut chicken wings are keto and low carb!
Traditional bone-in wings (per wing):
Naked – 80 calories; 4.5g fat; 9g protein; 0g total carbs; 0g net carbs
Cajun Rub – 80 calories; 2.5g fat; 9g protein; <1g total carbs; <1g net carbs
Garlic Parmesan – 140 calories; 11g fat; 10g protein; <1g total carbs; <1g net carbs
Lemon Pepper Rub – 80 calories; 4.5g fat; 9g protein; <1g total carbs; <1g net carbs
Ranch Rub – 80 calories; 4.5g fat; 9g protein; <1g total carbs; <1g net carbs
If you are looking for some chicken wings keto recipes, check out Crispy Oven Chicken Wings as well as Easy Baked Chicken Wings that you will definetely love!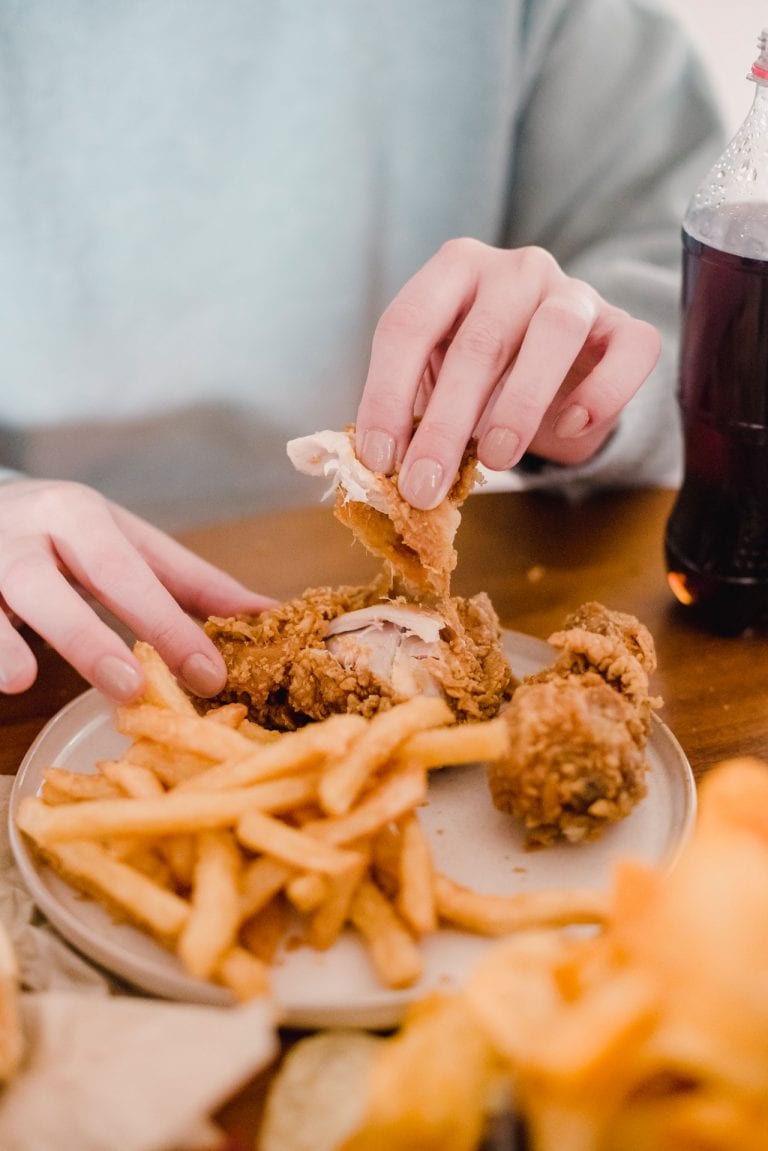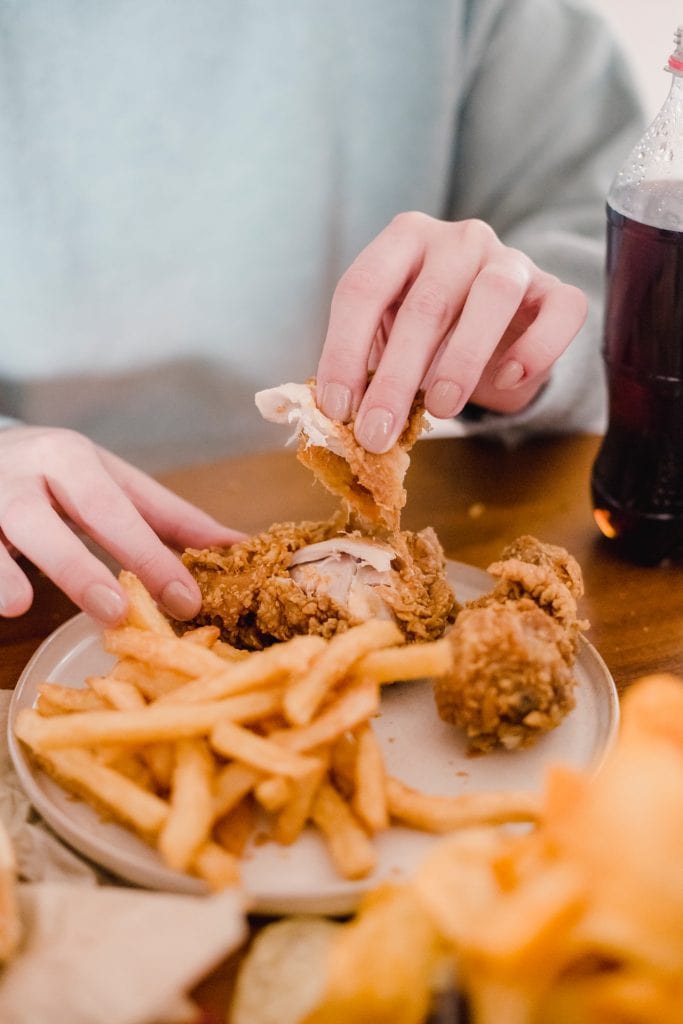 Can I Eat Pizza Toppings and No Crust?
Pizza Hut won't probably accommodate you if you ask for toppings only in a bowl or something. This definitely depends on who is there and what Pizza Hut rules they follow.
If you want to order low carb, get a pizza with keto friendly and low carb toppings, scrape them off and eat it without the pizza crust.
Toppings
Although this isn't ideal, if you really want to get the taste of a pizza without the carbs, simply order one and scrape off all the toppings. Pizza Hut isn't keto diet friendly at all, so it's quite difficult to eat low carb.
Remember that not all toppings are okay on the ketogenic diet. For example, we're all for eating red onions, but in moderation. According to Pizza Hut's nutritional guide, a large pizza has 16g of carbs coming from red onions only.
That's too many carbs and that's why we excluded these kinds of toppings from the list.
Applewood smoked bacon
Beef
Diced Roma tomatoes
Green bell peppers
Chile peppers
Mushrooms
Black olives
Grilled chicken
Italian sausage
Pepperoni
Ham
Slow-roasted ham
Seasoned pork
Banana peppers
Jalapeno peppers
Pizza Hut Keto Friendly Salads
Salads are always good, but it's important to remember that not all of them are low carb and keto friendly!
Pick from the ones we've listed for you below and remember to avoid the Crispy Chicken Caesar Salad (unless you swap crispy chicken for grilled chicken) as well as the Buffalo Chicken Salad. The wings used in this salad are coated with corn maltodextrin and a bunch of other high carb, unhealthy ingredients.
Garden Salad (no croutons, no dressing)
This salad has a blend of leafy greens such as iceberg lettuce, cheddar cheese, cucumbers, red onions and sliced Roma tomatoes. It's a wonderful choice for those who are keto and vegetarian!
Nutrition info: 50 calories; 1g fat; 3g protein; 10g total carbs; 8g net carbs
BLT Salad (no croutons, no dressing)
Here you'll get a leafy greens blend, applewood smoked bacon, Parmesan cheese and sliced Roma tomatoes. Say no to the croutons and say no to the dressing. Instead, pick a different one from our list below.
Nutrition info: 170 calories; 12g fat; 10g protein; 9g total carbs; 6g net carbs
Chicken Caesar Salad (no croutons, no dressing)
In this salad you'll get a leafy greens blend, baked chicken and Parmesan cheese. Skip on the croutons and the dressing and swap it for something more keto friendly, like the Royal Cesar Marzetti salad dressing. You can also get a Classic Caesar Salad on the side (it's smaller).
Nutrition info: 290 calories; 17g fat, 29g protein; 9g total carbs; 7g net carbs
Zesty Italian Salad (no croutons, no dressing)
leafy greens blend, ham, pepperoni, fresh red onions, Mediterranean black olives, Parmesan cheese, sliced banana peppers, sliced Roma tomatoes
Nutrition info: 270 calories; 19g fat; 15g protein; 13g total carbs; 9g net carbs
Don't forget to check out the best keto salad recipes you and your family are going to love.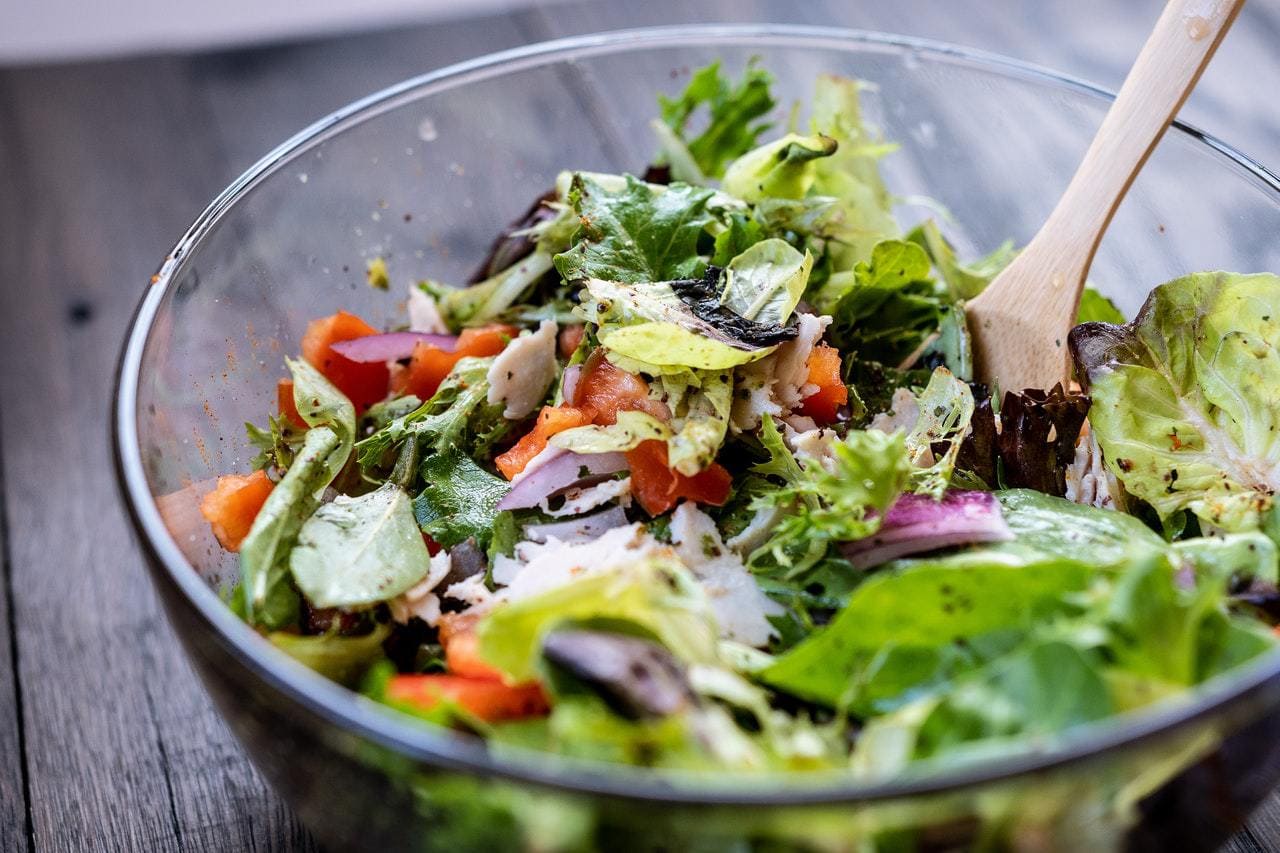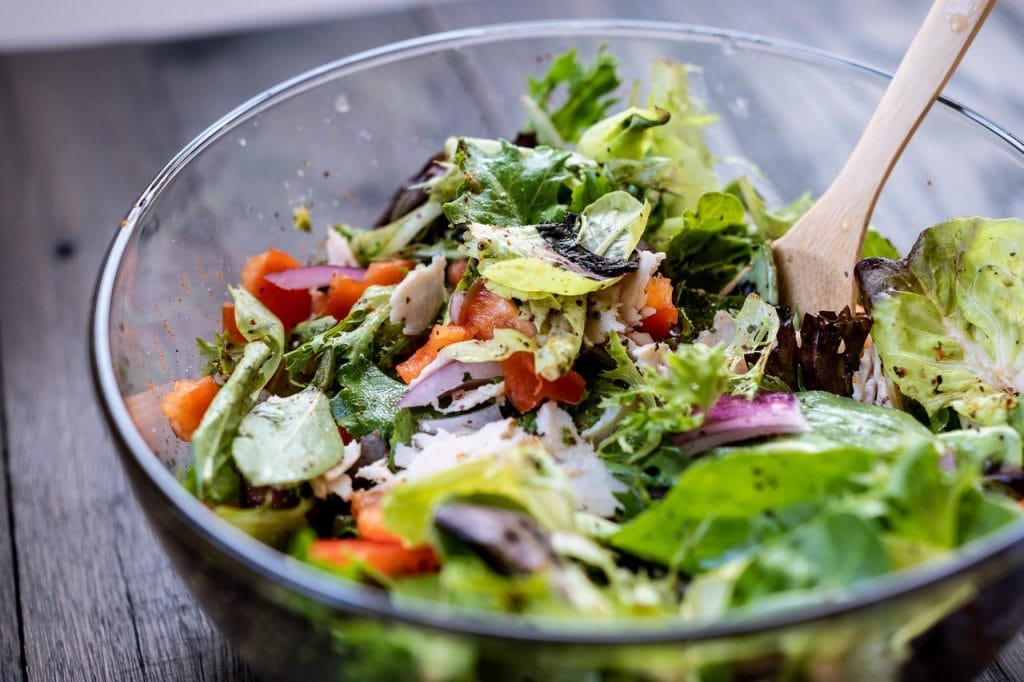 Keto Friendly Salad Dressings
Blue Cheese Marzetti (1.5 oz): 200 calories; 21g fat; 1g protein; 2g total carbs; 2g net carbs
Buttermilk Ranch Marzetti (1.5 oz): 200 calories; 22g fat; 0g protein; 2g total carbs; 2g net carbs
Light Italian Marzetti (1.5 oz): 15 calories; 1g fat; 0g protein; 2g total carbs; 2g net carbs
Royal Caesar Marzetti (1.5 oz): 180 calories; 18g fat; 1g protein; 2g total carbs; 2g net carbs
Our Final Opinion
There are not too many keto diet friendly options at Pizza Hut, but if you must eat there, you best bet to eating low carb is to get a salad or the naked bone in wings with a dry rub or a dipping sauce on the side.
Stay away from pizza unless you're eating custom toppings only, skip on any bread and sandwiches, desserts and high carb, sugary drinks.
For more guides on how to stay keto at places like Pizza Hut, check out our guide on eating low carb at Burger King, Five Guys, Olive Garden, Jack in the Box, and much more here.